"At a time when our planet is experiencing terrifying and unprecedented levels of change, what corresponding transformations have you witnessed in your lives, yards, neighborhoods, jobs, relationships, or mental health?" That's the question that Tajjia Isen and I asked the contributors to this anthology. We wanted to hear their personal stories, allow then to serve as witnesses of this incredibly complex moment in history. – from the Introduction
This is what climate change is. It's what it does to the psyche, along with the body and the places we love. It's nearly invisible until the moment something startles you into attention. A creeping catastrophe waiting with arms outstretched to deliver a suffocating embrace. And once the knowledge is gained, there is no unknowing it. You are no longer climate blind. You see and cannot unsee.
Things change. Often it happens too slowly for us to notice. Sometimes processes have been evolving for a while and take a sudden, tipping point jump into the observable. But often it takes being away for a while to get a visceral sense of change.

Tajja Isen – image from Catapult, where she is Editor in Chief
What do you notice, and what slips by as just the normal range of expected experience? I have been around long enough to have personal elements that fit in with the editors' approach. I was not keeping track of the frequency or height of the snowfalls that marked winter growing up in the Bronx. Does it snow more now? Less? Maybe, but not that I could say from personal observation, particularly. Although there was a stretch of years when it began to seem that snow was a thing of the past. Then it returned. I would have to look through tables of data to really know. Summers were hot growing up, days in the 90s, maybe a few in triple digits. Fire hydrants, including the one in front of the apartment building where I was raised, were opened, sometimes by friendly firefighters, sometimes by unauthorized people, so kids like me could get some relief from the heat. Are NYC summers hotter now? I don't really know off the top of my head. Again, I would have to check tables of historical data. But I do know that Summer nights in New York were increasingly uncomfortable over my many years there, with overnight lows far too often in the 80s. Yes, the city holds the heat well, but it held it well during the entirety of my life. Something had changed. Then there was Superstorm Sandy.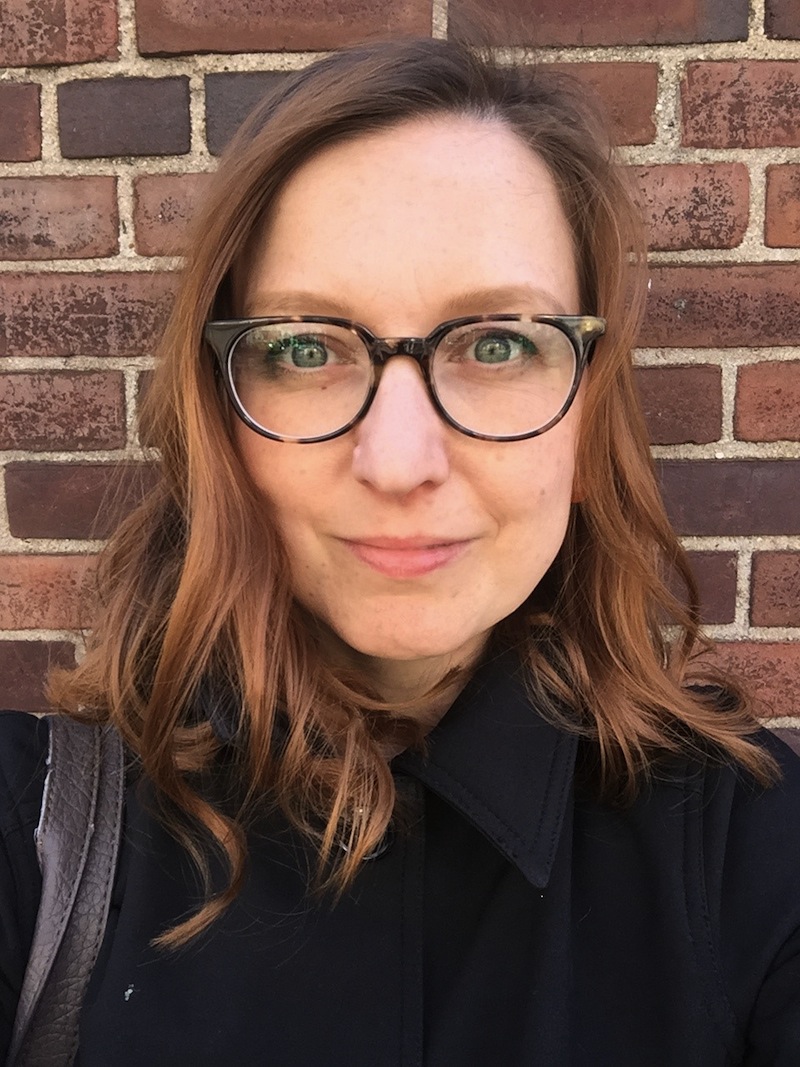 Amy Brady – image from LitHub
In a way, the editors asked their contributors to respond to a lawyerly question: What did you notice and when did you notice it? With the extra of asking how the noticed change(s) impacted them. Editors Amy Brady and Tajja Isen have put together essays from nineteen writers from around the world, each exploring what they have noticed.
In 2022, we are witnesses to one of the most transformative moments in human history: a time when climate change is altering life on Earth at an unprecedented rate, but also a time when the majority of us can still remember when things were more stable. We are among the first—and perhaps one of the last—human populations to have memories of what life was like before. To us, the "new normal" is not how it's always been. Our lives jostle against incongruous memories of familiar places. We are forced to confront, in strange and sometimes painful ways, how much those places have changed.
Being swamped with relentless tales of big scale environmental horror can have a numbing effect. Numbers, estimates, projections, possible outcomes, blah, blah, blah. We can stop hearing after a while, tune it out. Outrage is appropriate and we experience that, but it is not something we can endure continuously. At our core, humans are creatures of story, not statistics. For as long as we have existed people have concocted origin stories, not origin reports. So, maybe story is a better way to communicate, to connect, to inform people, some people anyway, about the real on-the-ground reality of global warming. And that is what we have here.
These nineteen stories are memoirish, covering the far reaches of the planet and a range of personal experiences. Landscapes that have been transformed by warming, devastating long-term drought, massive reduction in wildlife, invasive species wreaking havoc on formerly stable ecosystems, growing public consciousness of particles per million in the air, and on.
Some are a bit tangential. In Unearthing, Lydia Yuknovich focuses on the harm done by the Hanover, Washington facilities that produced much of the fissile materials used in America's nuclear bombs. Her witness to the very personal impact of radioactive pollution on a peer growing up is not really a global warming tale, however heart-breaking. Some focus less on personal global warming miseries to look more at human interactions, class, racial and gender politics coming in for some attention
Some tales are wonderful in their strangeness. Walking on Water looks at how those charged with relocating both people and native deities to make way for a huge dam in Africa interact with local people and customs. Signs and Wonders notes, and celebrates, the increasing weirdness in the world, as long-hidden things begin to reappear when landscapes change and glaciers recede.
Some offer strong imagery. In Cougar, Terese Svoboda builds on an experience she had while driving, in which she narrowly avoided hitting a cougar that was making a dash across a Nebraska highway. She looks at ways the creature is making a comeback, among other elements in her story, and sees cause for hope that humanity can find a way as well.
In The Development, one of my favorite stories in the collection, Alexandra Kleeman notes a slice of green near her Staten Island apartment and pays attention as this (at least temporarily) abandoned piece of NYC is taken over by nature, plants left alone to grow, to spread, wildlife moving in. The optimism of regeneration lives side by side with the dread that it is only a matter of time before developers carve a pristine, straight-line urban walkway out of it.
Lacy M. Johnson tells of her religious father, in Leap. He was a white collar at a coal plant, justifying the environmental carnage being caused as God giving people the Earth to use however we want.
Some focus on illness. Warming has expanded the range of ticks that carry Lyme disease to the chagrin of well, everyone. Having had the pleasure some years back, I can very much relate to this concern. Lyme disease gets a mention in two of the stories. Porochista Khakpour's Season of Sickness tells of his travails with Lyme and the joys of black mold in his apartment, and on. Is warming only generating more risks, or is it also impacting our resistance?
The collection is rich in beautiful writing and insight. The sense of place is particularly strong throughout. It certainly offers a prompt most of us can work from. What have you noticed? And how has it impacted your life?
One change that stands out from personal experience is a product of the others, expectations. Growing up, most of us, I believe, expected that the physical world would continue on pretty much as it had. That is no longer the case for anyone who pays any attention to environmental events in the world. While the fear of imminent and instantaneous destruction in the 1950s and 1960s, helped along by duck-and-cover drills during the Cold War, may have dissipated, (although it has certainly not been eliminated) the existential threats of today have more to do with our less flash-bang demise. The ticking up of temperatures worldwide makes us all frogs in the proverbial pot of warming water. And it seems an insuperable task trying to get those in charge of the range to turn off the flame, or at least turn it down enough. Will my children and grandchildren be able to see the places in the world I have been able to see? Will all those places even exist? What does warming mean for their longevity? Human lifespans increased significantly in the USA over the 20th century. I have already outlived my father. Will my children outlive me? We know that change is possible. When I was a kid it seemed that everyone smoked. After decades of effort, smoking was much reduced. Hope is a reason to go on, to keep trying, but one change I see is a whittling back of hope itself. Sure, there are positive developments. Electric cars have arrived and renewable energy production is growing as a percentage of overall supply. General awareness has surely grown. Our understanding of the complicated parts that make up global warming is expanding, increasing the possibility that fixes, or at the least ameliorations, can be identified, whether or not they are implemented. But is that enough to stave off the worst? Is anything, at this point, enough? Are we in the world of Don't Look Up, where the only sane response is resignation? I sure hope not.
We must learn to become conservationists of memory. Otherwise, this damage we have done to our planet will cost us our past, as it may already have cost us our future. And without a past or a future, what are we? Nothing. A flickering violence of a species, here such a short time, insatiable, then gone. – Omar El Akkad
Review posted – July 8, 2022
Publication date – June 14, 2022
I received a copy of The World As We Knew It from Catapult in return for a fair review. Thanks, folks.
This review has been cross-posted on GoodReads
=======================================EXTRA STUFF
Links to Amy Brady's personal, FB, Instagram, and Twitter pages
Links to Tajja Isen's's personal, Instagram, and Twitter pages
Interviews
—–Publishers Weekly – 'The Raw Data of Someone Else's Life': PW Talks with Amy Brady and Tajja Isen by Liza Monroy
—–Writer Unboxed – Seeking the Existential, the Intimate, and the Urgent: Essays That Model Masterful Storytelling by Julie Carrick Dalton
Items of Interest from the author(s)
—–LitHub – A list of pieces Brady wrote for LitHub
—–Orion Magazine – excerpt – Faster Than We Thought by Omar El Akkad