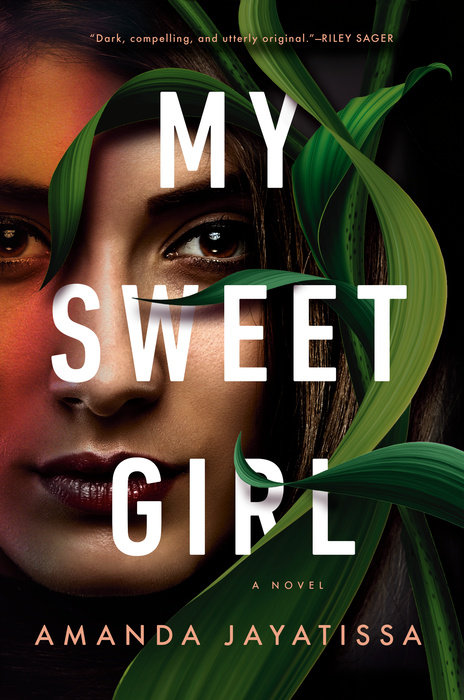 It didn't come easily to me. I had to work at it. But if I learned one thing from Mom, it's that it was usually worth it being the sweet girl.
"When you die, can I have your skin?" she asked calmly, tracing a finger over my face, before getting up and walking out of the room, leaving me so afraid that I couldn't move.
Paloma Evans is 30 years old, living in San Francisco. She had been adopted at age 12 out of a Sri Lankan orphanage, the Little Miracles Girls Home. Recently cut off from her parental funds, she engages in dodgy on-line behavior to make a buck, (One of her creepy clients appears to be stalking her) and had to take in a room-mate to help with the insane San Francisco rental costs. But the roomie, an Indian immigrant, learned her big secret, and is blackmailing her, which is bad enough. Arriving home after a few too many, she finds him dead in her kitchen. It gets worse. Chased out of her own apartment by the presumed killer, a seemingly spectral figure, she heads for the stairwell. But fingers close on her neck before she can escape. She wakes up hours later, in the stairway, a scolding neighbor barking at her, presuming she had passed out, drunk…again.

Amanda Jayatissa – image from Artra Magazine
Before she can figure out how to deal, the cops arrive. She tells them what she had seen, but when they look through the apartment, the body is gone. The detective does not believe her, and his skepticism is understandable. Paloma is a blackout drunk, unable to recall events that took place, actions she undertook during her blacked-out hours. She really has no idea what happened to the guy, but does remember that she had fled her apartment, looking around after discovering the body, and was chased out of the place by a ghost from her past.
Paloma may be an adult, but, despite years of therapy, she has carried from childhood a powerful belief in an old-country ghostly being called Mohini, (think the freaky girl who emerges from The Ring in desperate need of a makeover, dressed in white). Seeing that terrifying presence in her apartment just after discovering her roommate's body reinforces her belief. Losing hours after fleeing her apartment does not help. So what's going on?
Mohini is my favorite ghost story. She is one of the most famous urban legends here in Sri Lanka, a stereotypical woman in white…It's a story that is very special to me. It's a story we grew up whispering to each other around the candle in the night. I have actually dressed up as Mohini…to scare my cousins…It was hilarious. I knew that I needed to include this ghost story element into the book…It was the story that defined a lot of the scary stories of my childhood. – from the Books and Boba interview
The tale takes place in two timelines, alternating chapters, today, presumably 2018, give or take, as Covid is not yet a thing, and 2000, also give or take, when Paloma was a 12yo orphan in Sri Lanka. We follow her story there, her friendships, her interests, her hopes. The home is not a bad place, those in charge are a relatively benign pair, but on occasion the girls are given a class with the terrible, the horrible, the most feared Sister Cynthia, a sadistic witch of a person, who delights in physically harming the girls and threatening them with eternal damnation. (zero stars in RateMyTeachers) She is, unfortunately, in charge of Saint Margaret's Home for Girls, the place where those who are not adopted will be sent after they age out of Miracles, a terrifying prospect. The Evanses are a wealthy American couple, supporters of the orphanage, and many other charities. They are looking to buy adopt a child. The girls at the orphanage are all prepped for when potential adopting parents stop by for a look-see, orphanage management trying its best to make a good impression, get one of their girls adopted, and hopefully gain some extra financial support and good press from the adopters.
Paloma and Lihini are besties at Miracles. Physically similar, fair-skinned, similar in height, build and overall looks. They sleep together often, in the comforting child-like sense, not that other one. We see how their relationship evolves with each chapter back in Sri Lanka. As only one child will be selected, there is understandable tension between them.
Today, give or take, Paloma is frantic. She goes to stay at her parents' suburban house, as they are away, and remaining at the scene of the crime seems unwise. Was she hallucinating? This is not entirely impossible as she had been warned by her therapist that drinking on top of her new meds could do really bad things to her. But did we mention that Paloma is a blackout drunk? Paloma goes all Miss Marple trying to figure out what happened to her roomie, and why. Then the mysteries start to breed. A neighbor of her parents vanishes mysteriously, and who is that strange woman who seems to be spying on her?
The story is plenty fun enough on its own merits. But there is more going on here. Racial elements permeate. Lihini and Paloma stand out a bit from the rest of the girls because of their relatively fair skin, seen as an advantage for those hoping to be taken in by a westerner. There is a wonderful scene in a restaurant bathroom in which Paloma is mistaken for another Asian women by a somewhat inebriated white woman, an experience Jayatissa has had, and which many people she knows have had. It is not the only moment in the book in which someone is unable to tell two people of color apart. Toss in discussions with other POCs about stereotypes applied to South Asians. Her shrink, Nina, whom she likes, is raucously white, dressing in white, her office decorated all in white, and it is shocking when Paloma sees her wearing anything with color.
She kept all her pristine white files inside a pristine white filing cabinet, in a corner of her pristine white office. When I say pristine, I mean surgical-level clean. When I say white, I mean eyeball-searing, detergent-commercial white. She even asked her clients to take their shoes off so they wouldn't mess up the spotless shag carpet. And it always smelled like freshly laundered sheets. She probably had an air freshener tucked behind the couch or something, because there was never any laundry in sight.
Gender and madness permeates. The book opens with Paloma about to lose it, dealing with a bank employee who is not quite up to speed with the institution's processes.
I was suffering from the worst case of writers' block, and to say my mood was bleak would be an understatement. And then I had a really annoying experience with a customer service associate at my bank, where I found myself wanting to scream and shout and make a scene, but of course I didn't. I kept it together, like most of us are trained to do, went into a coffee shop, where I pulled out a notebook and a piece of paper and really let that customer service associate have it. I guess you could say that's how Paloma came about. – from The Big Thrill interview
Difficult women are often presumed to be nuts, and many have learned to couch their displeasure under a polite veneer. Paloma does that in the book. In fact, while one might think of her as foul-mouthed, the profanity in her internal monologue remains unspoken. This is not to say that Paloma is not abrasive and does not need considerable therapy. She certainly is and she certainly does. Orphanage girls must cope with potential. sexual predation, always knowing that they will be called liars or delusional if they report abuse. And there is the trauma of losing children that can drive women mad with grief. Also the danger of internalizing it when people keep telling her she is losing her mind.
Several classic novels are mentioned, among them Little Women, Anne of Green Gables, Oliver Twist, and, most significantly, Wuthering Heights, all present in the orphanage library, the last being Paloma's favorite. (Mrs. Evans was going to be my Catherine. She was going to save me.). Unsurprisingly, most have to do with orphans. (Wish she had found a way to fit in a reference to The Pirates of Penzance, as well) Thematically, there are concerns from those books that are reflected here. Sister Cynthia certainly represents a Dickensian nightmare of orphanage management. The girls in these are hassled in other ways by people at an orphanage or a placement. There are other elements of contemporary orphanage life that echo the perils of being parentless in the 19th century, including the timeless emotional pain of losing, or being left by, biological parents.
At first glance, My Sweet Girl offers us an unreliable narrator in the mold of The Girl on the Train's Rachel Watson, another troubled soul with a drinking problem. Both generally fall into The Madman sort in the classification system to be found here. But Jayatissa takes the unreliable narrator a step further, so that there are times when you are not even certain who the narrator is, let alone the veracity of her reporting.
Unrelated Random thoughts
There is an Agatha Christie, Poirot-ish feel to the story when the facts are laid out near the end.
The preparation the school does with the orphans for the visit by the Evanses reminded me of young women in Austen novels gussying up for the arrival of potential suitors, or going to a meat-market ball.
In addition to the rage at the clerk scene that opens the book, there are other elements taken from the author's life, some noted above. She named a character for her younger brother, Gavin.
GRIPES
We never get enough of a feel for Paloma's actual life with the Evanses. She seems not particularly fond of them at age 30. How did that come to be? This could have used more. I had issues with how the POV was handled. It was a bit like one of those time travel stories in which it becomes impossible to keep track of who is where and when. The guilt Paloma experiences is way out of line with what she had actually done. That was a stretch for me.
SUMMARY
Nevertheless, My Sweet Girl is a fun, fast-paced thriller that will encourage you not to drink to excess and be more discriminating in selecting possible roommates. It may offer ideas for how to monetize some used clothing, and offer a perspective on how people perceive people who do not look like they do. It will maybe give you a few chills, and make your head spin like Reagan MacNeil (without the pea soup), with the twistiness of the finale. And you might be forgiven, if, when you get to the end, you feel an urge to hold up your bowl and say, "Please, sir, I want some more."
…things that don't feel real during the day have a way of sliding into bed with you at night.
Review posted – September 10, 2021
Publication date – September 14, 2021
This review has been cross-posted on Goodreads
I received an e-ARC of this book from Elisha Katz of Berkley Books in return for an honest review. But then, I may have that wrong. I had imbibed a bit more than usual the day the offer came in, and I was quite distracted by finding that unexpected body in the basement, so…maybe it was her. I am beginning to wonder. And thanks to NetGalley for facilitating.
=======================================EXTRA STUFF
Links to the author's personal, FB, Instagram, and Twitter pages
Jayatissa was brought up in Sri Lanka, graduated from Mills College in California, moved to the UK, and now lives in Sri Lanka. She is a corporate trainer and an entrepreneur, with a chain of cookie stores. My Sweet Girl is her second novel. Her first was The Other One, released under the name Amanda Jay.
Interviews
—–Books & Boba – on Player FM – audio – #150 – Author Chat with Amanda Jayatissa by Reera Yoo and Marvin Yueh – audio – 51 minutes
The interviewers claim to have read the book but misidentify where half the book takes place. They also keep saying that it is a debut novel. It is not. Nevertheless, there is a lot of good information in here. Roll your eyes and give a listen.
—–The Big Thrill – When Nightmares Follow You Halfway Around the World by Neil Nyren
—–News line – Award winning author Amanda Jayatissa speaks of her experiences – video – 28:50 – this is from 2018 re her first novel, The Other One, with too much focus on her experience winning an award, but there is other intel in here that makes it worthwhile
Items of Interest from the author
—–Excerpt – From Penguin Random House
—–The Nerd Daily – another excerpt
Items of Interest
—–Amaya resorts and spas – Sri Lankan Folklore:Mohini
—–Gutenberg – Wuthering Heights full text
—–Gutenberg – Anne of Green Gables full text
—–Gutenberg – Oliver Twist full text