Dark Mill South's Reunion Tour began on December 12th, 2019, a Thursday. Thirty-six hours and twenty bodies later, on Friday the 13th, it would be over.
…souls are like livers: they regenerate and regenerate, until you've finally poisoned them enough that the only thing they can do is kill you…
First, while I suppose it is possible to read Don't Fear the Reaper as a stand-alone, I would not advise it. It is the second entry in The Lake Witch Trilogy. I mean, would you read The Two Towers without having first read The Fellowship of the Ring? Sure, Jones fills in enough details here that you could get by, maybe. But why would you want to? There is too much from the first book that you should know before heading into this one. So, if you have not yet read book #1, My Heart is a Chainsaw, settle back in your favorite reading spot, have a go at that one first, then head back here.

Stephen Graham Jones – image from The Big Thrill
Well, it had been a quiet week in Proofrock, Idaho, "the little town that time forgot and the decades cannot improve." But it somehow makes itself the Cabot Cove of slasherdom. A chapter walks us through the place's dodgy past, which culminated in the Independence Day Massacre of Book #1, four years before Book #2 picks up.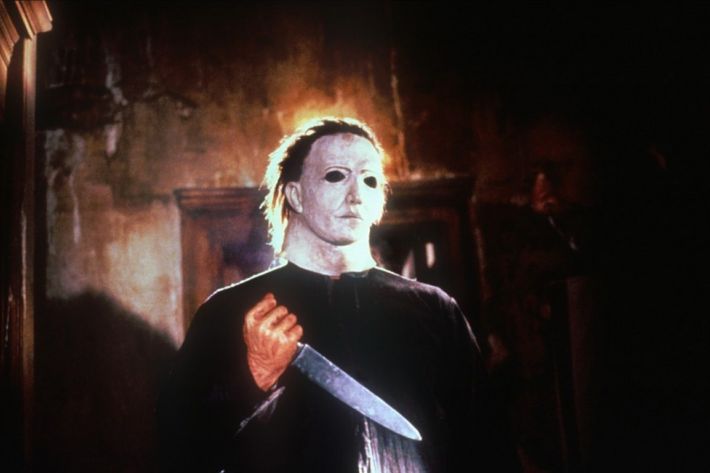 Michael Myers of Halloween – image from Vulture
Jennifer Daniels, Jennifer, not Jade, Jennifer, the kick-ass final girl last time, is out of jail, but only if she can keep from destroying any more government property (as if). It just so happens that there is an epically murderous killer also just out of jail, but not from having been released. Dark Mill South is not a typical name for a killer, for anyone really. But then his killings are not usual either, offering, in addition to severe personal carnage, the placing of bodies facing north. He is supposedly seeking revenge for the hanging of thirty-eight Dakota men in 1862. And, in a nod no doubt, to urban legends, DMS is short one hand, while being plus one hook. A very large, burly person as well, up past 6'5" Jason Voorhees, giving him the BMOC title for slashers. Whoo-hoo! And unlike the main killer of book #1, DMS is an actual flesh-and-blood (lots of blood) monstrosity, not an ageless spook. He can be killed.
He wasn't meant to make it as far as he does in the book. The way I initially conceived him, he was gonna be this big bad killer who comes to town, and then within a matter of minutes, he gets put down. But then I built him too bad. He couldn't be put down easily. – from The Big Thrill interview
Even wildlife gets involved in this one. Not the first time of course. Jones did present a vengeful ungulate in The Only Good Indians, and unhappy ursines were a presence in My Heart is a Chainsaw.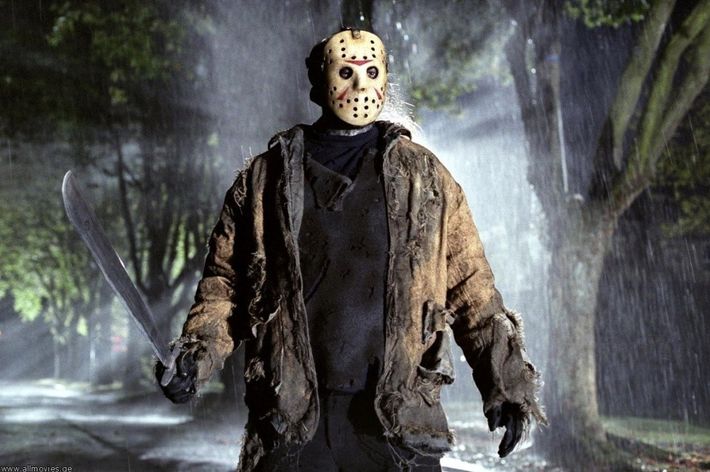 Jason Voorhees of Friday the 13th – image from Vulture
It will give Jade, no, Jennifer, Jennifer, sheesh, the opportunity to go all Final Girl again, but she would rather not, thanks. Who will she identify as the FG this time?
Her fingernails aren't painted black, and her boots are the dress-ones her lawyer bought for her. The heels are conservative, there are no aggressive lugs on the soles, and the threads are the same dark brown color as the fake, purply-brown leather.
She has gone mainstream, even has long, healthy (Indian) hair now, and a passel of credits from community college correspondence courses. She is back in town after five years of dealing with the justice system from the wrong side of the bars. It is ten degrees, and there is a nasty winter storm making it tough to get around, effectively isolating Proofrock, and it's unwelcome visitor. The local population will be compressed into a smaller piece of town, as survivors congregate where they might gain some security.
The bodies start piling up in short order, a range of unpleasantries foisted upon them, the local constabulary, per usual in slasher tales, offering a somewhat less than totally effective level of protection to the community.

Jigsaw – of Saw – Image from IGN
At age 17, Jade (yes, she was Jade then) offered us a tutorial on slasher norms. And saw how what was happening in her town fit the slasher-film norms (maybe should be ab-norms?) Her encyclopedic knowledge of the genre gave her an edge, allowed her to predict the future by looking at what had been produced in the cinematic past. This was done in chapters titled Slasher 101. That has been much reduced here. Although there are a few essay chapters in which a student writes to her teacher about similar subject matter, replicating the Jade-Holmes connection. Additional intel is presented through several characters who share Jennifer's encyclopedic knowledge of the genre.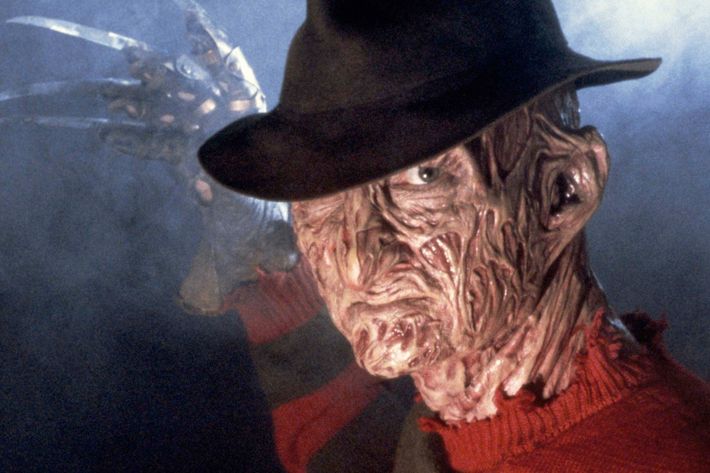 Freddie Krueger of Nightmare on Elm Street – image from Vulture
As with its predecessor, DFtR is an homage to the slasher film genre, particularly the product of the late 20th century golden age. I thought about keeping track of the films named, but it was soon clear that this was a fool's errand. Like Lieutenant Dunbar says in Dances with Wolves, when Kicking Bird asks how many white men will be coming, they are like the stars. I enjoy slasher films as much as most of you, but am not a maven, by any stretch. One can enjoy this book without being familiar with ALLLLL of the gazillion films that are mentioned, but it did detract from the fun of reading this to feel as if the slasher film experts were passing notes behind my back, and that I was missing the significance of this or that flick nod. Sure, some explanations are offered, but the book would have to be twice as long to explain all of the references, in addition to the dead weight it would have added to the forward progress of the story.
There was almost no weight to be added for this novel.
Never planned on My Heart is a Chainsaw being the first installment of a trilogy, nope. But then in revisions, Joe Monti, my editor at Saga, said… what if everybody wasn't dead at the end?
I hemmed and hawed, didn't want to leave anyone standing, but gave it a shot anyway. And it worked, was amazing. And it meant Chainsaw felt like it wanted to now open up to a trilogy, which I think is the most natural form for a slasher to take. – from The Lineup interview
But Jones did not roll out bed knowing how to structure, to write a trilogy, so he studied some of his favorite film series, Star Wars and The Lord of the Rings, to see how it is done. He also corralled a novel into his self-study class and learned a lot, particularly on handling multiple character POVs.
I wrote Don't Fear The Reaper right at the end of rereading Larry McMurtry's Lonesome Dove. And that's in parts, and each part introduces a new character and then it goes into everything else. And it cycles through all their heads. So that's what I tried to do in Don't Fear the Reaper—-and following that model was really productive. I don't think I could have written Don't Fear the Reaper if I hadn't just come out of Lonesome Dove. – from the Paste Magazine interview
Part of that cycling includes a peek inside the squirrelly brain of DMS, who, at one point, is in pursuit of two females and relishing the thought of skinning them both alive in a creative way.

Leather Face – of Texas Chainsaw Massacre – image from Texas Monthly
There is some other pretty weird material in this one that might take up residence in your nightmares, substances that may or may not be real, that may be or may become human, or humanoid, or some sort of living creature. Thankfully, we do not see things through their eyes. (do they even have eyes?)
Many horror products, films, movies, TV shows, et al, get by with a simple surfacy fright-fest, counting bodies and maybe indulging in creative ways of killing, but the better ones add a layer. Jones looks at things from a Native American perspective, as well as that of a serious slasher-movie fan. Not only is Jennifer a Native American final girl (well, she was in the prior book anyway. We do not know straight away if she will be forced to reprise the role this time.) The Jason-esque killer is a Native American as well. Inclusion all around. As noted above, the literary references SGJ favors are to slasher films, but he is not above tossing in more classical literary references. I particularly enjoyed:
In the summer of 2015 a rough beast slouched out of the shadows and into the waking nightmares of an unsuspecting world. His name was Dark Mill South, but that wasn't the only name he went by.
Jones is offering here a reference to a world famous poem by William Butler Yeats, The Second Coming, which ends with an end-times image (what rough beast, its hour come round at last, Slouches towards Bethlehem to be born?) of a nightmare realized. (You can read the poem in EXTRA STUFF) It will certainly be end-times for many residents of Proofrock.

Ghostface – of Scream – image from Variety
One of the underlying elements of the slasher story is that it is a bubble inside which some form of justice will be meted out.
Now in 2023, I think the reason we've been into slashers the last few years….I think the 24-hour news cycle has greatly contributed to that, and also the election in 2016 that resulted in the news feeding us daily images, hourly images of people doing terrible things at podiums, at rallies, and then walking away unscathed. And what the slasher gives us is the ability to engage for two hours, for six hours, whatever, a world that is brutally fair. A world where if you do something wrong, you're getting your head chopped off. That sense of fairness is so alluring to us – from the Paste interview
Maybe not so alluring for the collateral victims who clog up the streets, buildings, and waterways, but there is usually some justifiable revenge taking place. Bullies get comeuppance, which is always satisfying.

Pinhead – of Hellraiser – image from Wired
While Jade/Jennifer does not get our total attention this time 'round, she remains our primary POV in a town where, really, not all the women are strong, only some of the men are good-looking, and a fair number of the children are, well, different. She is a great lead, having proven her mettle in Book #1, an outsider, that weird kid, charged with challenging a mortal assault on the residents of her town, her superpower her scary knowledge of slasher canon, and a hefty reservoir of guts. Rooting for Jade/Jennifer is as easy as falling off a log, but hopefully without the dire consequences such an event might have in Indian Lake. You will love her to pieces. There are plenty of twists and surprises to keep you in the story. There is creepiness to make you look around your home just to make sure everything is ok. There is a semi's worth of blood and gore, a bit more tutorial on the genre, and the action is relentless. Once you begin this series one thing is certain. You are sure to get hooked.
slashers never really die. They just go to sleep for a few years. But they're always counting the days until round two.
Review posted – 3/3/23
Publication date – 2/7/23
I received an ARE of Don't Fear the Reaper from Gallery / Saga Press in return for a fair review. Thanks, folks, and thanks to NetGalley for facilitating.
This review has been cross-posted on GoodReads
=======================================EXTRA STUFF
Links to the author's personal, Twitter and FB pages
Interviews
—–The Big Thrill – Between the Lines: Stephen Graham Jones by April Snellings
—–Esquire – How Stephen Graham Jones Is Reinventing the Slasher By Neil Mcrobert
—–Gizmodo – Horror Author Stephen Graham Jones on His Latest Chiller, Don't Fear the Reaper by Cheryl Eddy
—–The Lineup – Cut to the Heart: An Interview with Stephen Graham Jones/a> by Mackenzie Kiera
—–Litreactor – Stephen Graham Jones on Trilogies, Deaths, Slashers, and Dog Nipples by Gabino Iglesias
—-* Paste Magazine – Stephen Graham Jones Talks Final Girls, Middle Books, and Don't Fear the Reaper by Lacy Baugher Milas – This is primo material
Paste Magazine: So, the title Don't Fear The Reaper —which is one of my favorite songs, by the way—I'm assuming that must come from Blue Oyster Cult.
Stephen Graham Jones: Well, it does come from Blue Oyster Cult, but really it's that—in Halloween, Jamie Lee Curtis and her friend are riding in her friend's Monte Carlo, and they're listening to (Don't Fear) The Reaper, and then in 1996 with Scream, a cover of Don't Fear) The Reaper is playing over Billy and Sid, and so it seemed like that was a kind of momentum. I had no choice but to call it Don't Fear The Reaper, I was going to honor my heroes. Stephen Graham Jones on Writing, the Pantheon of Horror, and Clowns by Leah Schnelbach – nada on Reaper
If you want even more interviews with SGJ, I posted a bunch in my review of My Heart is a Chainsaw. There are plenty more contemporary (2023) interviews to be had if you feel the urge.
Songs/Music
—–Blue Oyster Cult – Don't Fear the Reaper
—–Largehearted boy – Stephen Graham Jones's Playlist for His Novel "Don't Fear the Reaper"
My reviews of (sadly, only three) previous books by Jones
—–2021 – My Heart is a Chainsaw – on Coot's Reviews
—–2020 – The Only Good Indians
—–2016 – Mongrels
Items of Interest
—–Pop Culture – Horror Movie Characters – includes stats on them
—–William Butler Yeats – The Second Coming