Historian Doris Kearns Goodwin, who worked in Lyndon Johnson's White House and closely studied many presidents, including Abraham Lincoln, said, "I have spent my entire career with presidents and there is nothing like this other than the 1850s, when events led inevitably to the Civil War.
Here's the deal, guys: These guys are Nazis, they're boogaloo boys, they're Proud Boys. These are the same people we fought in World War II," Milley told them. "Everyone in this room, whether you're a cop, whether you're a soldier, we're going to stop these guys to make sure we have a peaceful transfer of power. We're going to put a ring of steel around this city and the Nazis aren't getting in."
I did not intend to write a full review for this one. It came out in July. I did not start reading it until August, and did not finish reading it until late September. That is what happens when I read a book on my phone, in addition to the two I am usually reading, one at my desk and the other at bedtime. But I was going to offer a few thoughts. Typed a line or two and then my fingers started pounding away at the keyboard pretty much all on their own. I astral projected myself to the kitchen to whip up a sandwich, make some tea and when I returned they were still banging away. I am sure there is a lesson in there about compulsion.

Phil Rucker and Carole Leonnig – image from Porter Square Books
There have been, currently are, and no doubt will continue to be many books written about the Trump years. I Alone Can Fix It tracks the final year of Trump's presidency, notes that he had faced no major problems until 2020, and then proved incapable of managing the ones that presented, seeking only his own aggrandizement, while clinging to power at all costs.
If you read books of this sort all the time, if you read The Washington Post, The New York Times, or other world newspapers, watch CNN, BBC, MSNBC, and other at-least-somewhat-responsible news sources, much of what is in this book will not be all that surprising. In tracking Trump's 2020+, I Alone Can Fix It offers inside looks at the actions and discussions, the conflicts and challenges inside the White House, almost day-by-day. Much that is detailed here has been reported before. And a lot of the new material has been outed in leaks to newspapers and TV political shows. Interviews with the authors chip away even more at the new-ness of the material, if you are coming to it any time after its initial week or two of release.
Trump's rash and retaliatory dismissal of [Acting DNI Joseph] Maguire would compel retired Admiral William McRaven, who oversaw the Navy SEALs raid that killed Osama bin Laden, to write: "As Americans, we should be frightened—deeply afraid for the future of the nation. When good men and women can't speak the truth, when facts are inconvenient, when integrity and character no longer matter, when presidential ego and self-preservation are more important than national security—then there is nothing left to stop the triumph of evil."
I am betting it is not news to you, for example, that when 1/6 was happening, Liz Cheney screamed at Trump toady Jim Jordan (who, as a wrestling coach at Ohio State University, had participated in a coverup of sexual abuse of wrestlers within the program) "Get away from me. You fucking did this.'" Or that Trump wanted to use the army to put down demonstrations in American cities. Or that Chairman of the Joint Chiefs of Staff Milley was concerned that Trump wanted to use the American military to keep himself in office.
Carol Leonnig (National investigative reporter focused on the White House and government accountability) at the Washington Post and Phil Rucker (Washington Post White House Bureau Chief) are top tier political reporters. They sat with many of the principals in the administration, including Trump, and amassed a vast store of materials in pulling this tale together. It is a horror story. In doing so they have unearthed considerable detail that did not make it to the pages of daily reporting. It is a portrayal of Donald Trump as someone who is generally disinterested in the well-being of the nation, concerned only for himself, which comes as a surprise to exactly no one with eyes to see and an ability to reason.
I take issue with the clearly self-serving nature of some of the interviews. Spinners are gonna spin and twirling is the name of the game in Washington politics. Bill Barr, for example, attests to his devotion to the law. How Leonnig and Rucker allowed such tripe into the book is beyond me. This from a guy who routinely politicized the Department of Justice to subvert justice, seek punishment of Trump enemies (otherwise known as truth-tellers) and neglect to trouble those accused and even convicted of crimes. Puh-leez. He also pretends that he was practically dragged from retirement to serve as AG when, in fact he had actively campaigned for the job. Sure wish they would have called him out on that steaming pile of poo.
Esper, Milley, and Barr—were tracking intelligence and social media chatter for any signs of unrest on Election Day. They and their deputies at the Pentagon, Justice Department, and FBI were monitoring the possibility of protests breaking out among supporters on both sides. The trio also were on guard for the possibility that Trump would invoke the Insurrection Act in some way to quell protests or to perpetuate his power by somehow intervening in the election. This scenario weighed heavily on Esper and Milley because they controlled the military and had sworn an oath to the Constitution. Their duty was to protect a free and fair election and to prevent the military from being used for political purposes of any kind.
Plenty more seek to burnish their records (the phrase polishing turds pops readily to mind) for history, eager to remove the fecal stench of attachment to the most corrupt administration in American history. I could have done with a bit more of Leonnig and Rucker pointing out for readers where the spinning ends and the truth begins.
One of the heroes of this story is General Milley. Were his actions not confirmed by multiple other sources, one could be forgiven for suspecting that he was polishing his own…um…medals in reporting to Leonnig and Rucker his role in staving off Trump's desire to use the military to suppress domestic dissent, and in working with other defense leaders, legislative leaders, and foreign military brass to help prevent what could easily have become a shooting war with China. But what he told them checks out. The man deserves even more medals, pre-shined.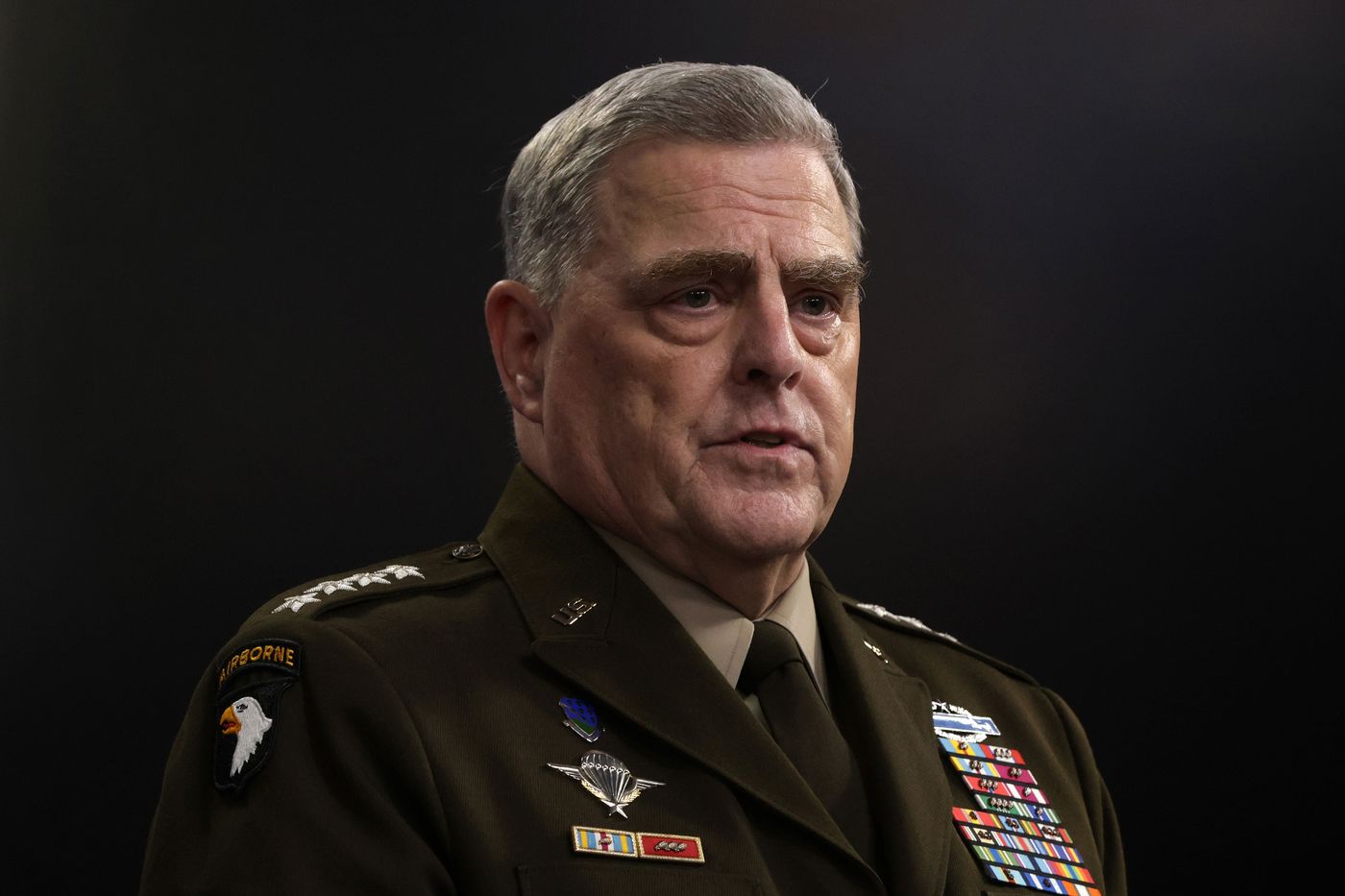 General Mark Milley – image from New York Magazine
One of the things that is most remarkable for its absence in this book is mention of Afghanistan. Really? That deal with the Taliban was not worth including? It makes sense, though. The MSM paid little attention to it when the deal was made, and largely ignored the fact that the actual Afghani government was not a party to the talks. They were more than happy, though, to jump on Biden's back for implementing the shitty treaty by actually getting our troops out of an endless no-win war. Trump was rarely mentioned, and the awfulness of the deal, THAT TRUMP HAD NEGOTIATED, rarely merited serious coverage. Disappointing that Leonnig and Rucker seem to have skipped over this in their book. It was significant.
It is an avocational hazard for those who consume political news in mass quantities that when there are so many books out about aspects of the same thing, namely the Trump disaster, it can be difficult to impossible to keep track of where particular stories originated. Also, each of the Trump era books is heralded in the press in the weeks leading up to publication with the juiciest bits from the opus du jour. The cacophony of revelations can make it impossible to discern the altos from the tenors from the sopranos from the basses. It all becomes one large chorus. Did I read about that in this book or that one, or that other one? Maybe I heard a piece about it on CNN, or BBC, or MSNBC, or one of the traditional network news shows.
And no sooner does one finish one of these books that there are ten more peeping for attention like baby birds in a nest far outnumbering the worms their poor parents are able to scrounge. Thus, we get by with the news and political talk show interviews and daily early peeks at the books, hoping to be able to read at least enough of these things to get a clear picture.
Like AI learning systems, there is a constant feed of information. At some point (although hopefully one has already achieved such a state) one internalizes the incoming stream, somehow manages to sort and categorize it, finds some sort of understanding and can use the collective intelligence to face new questions, problems, and situations with an informed base of knowledge, and generate a wise, informed decision, or opinion. At the very least we should have a sense of where to look to check out the latest claims and revelations.
"A student of history, Milley saw Trump as the classic authoritarian leader with nothing to lose. He described to aides that he kept having this stomach-churning feeling that some of the worrisome early stages of twentieth-century fascism in Germany were replaying in twenty-first-century America. He saw parallels between Trump's rhetoric of election fraud and Adolf Hitler's insistence to his followers at the Nuremberg rallies that he was both a victim and their savior.
"This is a Reichstag moment," Milley told aides. "The gospel of the Führer."
To that end, the Leonnig and Rucker book is a welcome addition to the ongoing info-flow. We live in dangerous times, and they offer some of the nitty gritty of how the sausage is made, how the perils are generated, and sometimes averted, who the players are and how they acted in moments of crisis.
In the long run it probably does not matter if you heard the relevant information in this book, in a Woodward book (I am currently reading Peril) or in one or more of the gazillion others that have emerged in the last few years. What matters is that we get the information, that it is brought to us by honest, intelligent, expert reporters and/or participants, and that it is presented in a readable, digestible form. Leonnig and Rucker are both Pulitzer winners. Keep your eyes out for any irregularities, of course, but these two are reliable, trustworthy sources. Add their work to your data feed and keep the info flowing. We need all the good intel we can get to counteract the 24/7/365 Republican lie machine and to face down the next coup attempt. Knowledge is power. Acquire it. Learn from it. Remember it. Use it.
Review posted – 12/3/2021
Publication date – 7/20/21
This review has been cross-posted on Goodreads.
=============================EXTRA STUFF
Links to the Carol Leonnig's WaPo profile and Twitter pages
Links to Phil Rucker's Instagram, WaPo profile, and Twitter pages
Interviews
—–Face the Nation – "I Alone Can Fix It" authors say former president learned he was "untouchable" from first impeachment – video – 07:46
—–The Guardian – Inside Donald J. Trump's Catastrophic Final Year by David Smith
—–Commonwealth Club – Carol Leonnig and Philip Rucker: Inside Donald J. Trump's Catastrophic Final Year by Yamiche Alcindor – video – 57:01
—–NPR – Fresh Air – Investigation finds federal agencies dismissed threats ahead of the Jan. 6 attack – audio – 42:00 – by Terry Gross – more about Leonnig's book Zero Fail but worth a listen
Items of Interest
—–NY Times – Day of Rage: How Trump Supporters Took the U.S. Capitol– By Dmitriy Khavin, Haley Willis, Evan Hill, Natalie Reneau, Drew Jordan, Cora Engelbrecht, Christiaan Triebert, Stella Cooper, Malachy Browne and David Botti
—–Washington Post – The Attack: Before, During and After – Reported by Devlin Barrett, Aaron C. Davis, Josh Dawsey, Amy Gardner, Tom Hamburger, Rosalind S. Helderman, Peter Hermann, Spencer S. Hsu, Paul Kane, Ashley Parker, Beth Reinhard, Philip Rucker and Cleve R. Wootson Jr. — Written by Amy Gardner and Rosalind S. Helderman — Visuals and design by Phoebe Connelly, Natalia Jiménez-Stuard, Tyler Remmel and Madison Walls
Items of Interest from the authors
—–Washington Post – list of recent articles
—–Washington Post – list of recent articles