What could be worse than a dog eat dog world? Oh.
I was of two very different minds about this book.
Australian Paul Raffaele is a feature writer for Smithsonian. He has covered many parts of the globe in his work for that venerable institution. And he travels far for this work, looking into that darkest of human activities. He investigates special meat-eaters in New Guinea, India, Tonga, ancient Mexico, and Africa. We have a certain image in mind of what cannibals might look like. I mean in the real world, not the dark imagination of Thomas Harris or the psychosis of some of our more aberrant criminals. They would probably live on Pacific Islands, or remotest Africa or South America, use primitive technology and have acquired a taste for missionary over easy. Mostly, but not entirely the case.
Cannibalism of one kind or another had been common around our globe through the millennia, and yet the classic Western image of cannibals is a terrified white Christian missionary in pith helmet crouching in a large outdoor cooking pot, the logs burning fiercely as wild-eyed African warriors in grass skirts dance about him shaking their spears. Their glinting eyes show their eagerness to tuck into their human meal. In truth there is not one record of a missionary ending up in an African cook pot. The cannibals invariably ate one another.
The book offers interesting, surprising, and very disturbing information about a practice most of us (certainly me) thought had vanished from human behavior. The reasons for chowing down on such forbidden fruit vary. High on the list is to degrade and strike fear into one's enemies. Another is to honor close relations. Some even consider eating human flesh a form of religiousity. The Korowai people of New Guinea justify their practices by maintaining that victims had already been killed by evil spirits and it was only the evil spirits that had taken over the body that was being devoured.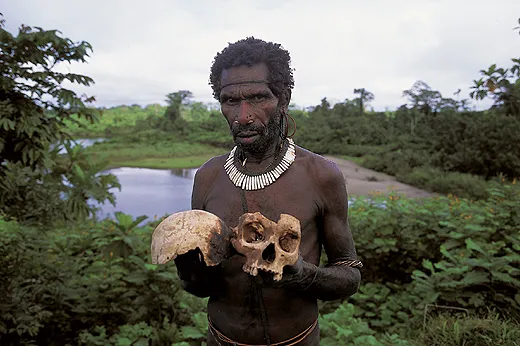 Kilikili says he has killed no fewer than 30 khakhua (male witches) – from Smithsonian.com
The practice is supposedly a thing of the past in New Guinea, but I would not like to place too high a wager on that. Raffaele's looks at the practice in Tonga and Aztec Mexico are more firmly planted in the past. Unfortunately, there are still people-eaters today. There is a Hindu sect in India, the Aghoris, whose holy men chow down on you-know-what "as the supreme demonstration of their sanctity." They even sit atop rotting corpses as a show of devotion and Raffaele reports some particularly unspeakable acts in which they engage, that I will not report on here.

An image of this cheerful Aghori is sure to help you sleep at night – image from Dharma Keng
And no, wiseass, it is not a self-portrait. I cannot really fold my legs like that for any length of time, and I keep my hair and beard much shorter these days. But there is worse to come. His report on the activities of the Lord's Resistance Army of northern Uganda takes the eating of human flesh to whole new level of depravity, a true heart of darkness. This information is the stuff of nightmares. Very disturbing.
I have a major gripe with the book. The cover is sprightly. It shows a hand reaching up out of a large cooking pot writing the book title. Lower down on the page is an icon that repeats inside as a section divider, a skull and crossbones in which the crossbones have been replaced with a knife and fork. One might get the impression that the information contained within would fulfill the silly graphics. We know that even such darkness can produce smiles. Sondheim's Sweeney Todd (the stage version, not the very disappointing film), for example, is probably the only Broadway musical to have cannibalism as a central focus. Devouring scenery does not count. And while my personal favorite all-time Broadway show was rather dark, it still maintained a significant level of humor.
Todd: What is that?
Lovett: It's Priest. Have a little priest.
Todd: Is it really good?
Lovett: Sir, It's too good, at least.
And of course it don't commit sins of the flesh
So it's pretty fresh
Todd: Awful lot of fat
Lovett: Only where it sat
Todd: Haven't you got poet or something like that?
Lovett: No, you see the trouble with poet is how do you know it's deceased? Stick to priest.
And so on…
The light touch promised by the cover art for this book does not deliver as promised. There is nothing at all amusing about children living today who are forced to eat human flesh under pain of death. In that way the book offers a bait and switch, promising a light touch, but delivering a deep gouge.
I also found the author at times personally off-putting. While in Tonga, he felt it necessary to comment on his translator's physical attributes in a way that came across as salacious.
Waiting outside and holding aloft my name printed in marker pen on a pad is a round-faced, bright-eyed girl who looks to be in her early twenties. She is clad in a Congo-style ankle-nudging cotton dress that fits tightly about her neatly rounded thighs, and a short-sleeved top printed with a spray of red orchids that clings to her firm high breasts. She has woven her hair in to strands festooned with colored beads. Unlike most of the women at the airport who are laden with fat and boasting the enormous bottoms that most African men are said to lust for, she is sleek and silky.
Either his editor was not doing a good job, or the author exercised an ill-advised veto.
Raffaele does not come across as a particularly deep thinker and this is not a scholarly investigation of a very dark side of humanity. There is only passing mention of the Catholic sacrament of Communion, in which practicing Catholics consume the body and blood of Christ. There is even less on the sundry cannibalistic psychopaths who have come to public notice. Are there any studies indicating when and where it might have begun? Raffaele does note that it existed in prehistory. Records go back at least as far as Herodotus (well before Soylent Green) of such culinary preferences, and it lasted into the 19th century, at least. How about a comparison with other species? How widespread is the practice in the animal kingdom. Are we really different from what we consider lower orders? For a more analytical look at the subject you might consider Carole Travis-Henikoff's book, Dinner With a Cannibal: The Complete History of Mankind's Oldest Tabboo. An NPR interview offers a taste of what she has to offer.
Among the Cannibals definitely offers new and intriguing information. Be forewarned that you will need a strong stomach to get through it all. But, because it was so much not what was expected, it left me with a bad taste in my mouth.
=======================================EXTRA STUFF
To remove the taste, you might consider taking in a bit more of Sweeney. Another gem from the vaults is a song by Sheb Wooley that was actually a #1 hit when I was a tyke.
If you get an invitation to the Donner Party, I would pass.
And of course, every abomination must have an advocate, so you might want to see the modest proposal the folks at Zebra Punch offer, while humming their particular version of Barbara Streisand's classic tune, about why we should
eat people.
There is an interesting item on cannibalism in Wikipedia
Raffaele's article for Smithsonian Magazine, Sleeping with Cannibals, was the basis for the book