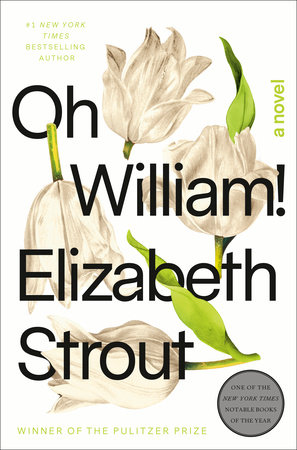 Throughout my marriage to William, I had had the image—and this was true even when Catherine was alive, and more so after she died—so often I had the private image of William and me as Hansel and Gretel, two small kids lost in the woods looking for the breadcrumbs that could lead us home.
This may sound like it contradicts my saying that the only home I ever had was with William, but in my mind they are both true and oddly do not go against each other. I am not sure why this is true, but it is. I suppose because being with Hansel—even if we were lost in the woods—made me feel safe.
People are lonely, is my point here. Many people can't say to those they know well what it is they feel they might want to say.
My Name is Lucy Barton (2016) had been a very successful novel for Elizabeth Strout. She had even written a followup, Anything is Possible, (2017) a collection of stories, in which Lucy visits her Mid-West relations after a prolonged absence. Laura Linney was starring in a one-woman show of the former. Strout was there for a rehearsal when Laura opined that maybe William, Lucy's ex, had had an affair. A lightbulb went off for Strout and she realized that William had a story of his own. Thus was born Oh, William!

Elizabeth Strout – image from Time magazine
She carried forward details about William from the prior books and built outward, or dug deeper, from there. There were some real-world elements of William's tale. William's father was a German POW, held in Maine, and his mother, the wife of a farmer who was using POW labor, fell in love with him and left her husband. The POW camp is a real place.
So my husband and I took a field trip. We went up there, we went to all the places that Lucy and William go on their own trip, and I took furious notes on everything I saw. And when we came back I settled down and wrote their story. – RandomHouse Book Club kit
Caveat Lector
You should know before diving in too far that, while I have read Strout's Olive books, I have not read her prior Lucy Barton books. As Oh, William! is a third in that stack, this is not a trivial shortcoming. There are likely to be connections between this book and the prior two that I missed. But I have read up on those a bit, and acquired some gist. That said, I believe Oh, William! can be read, enjoyed and, hopefully, reviewed as a stand-alone. Just sayin', cards on the table.
On the other hand, I felt very personally touched and engaged by the novel. I am of a common demographic with William, (we even share TWO names) and re-viewing the events of a lifetime is a natural hazard of this place in our existence. One thinks about the ages, the events, the people, the possibilities, the chances missed, and caught, the attempts that failed or succeeded, the misreads and the insights, the absence of understanding and the wise perceptions, maybe the bullets dodged, the awful relationships that never happened, the good ones that did, maybe the actual bullets that impacted elsewhere. In a way one might see this novel as a look back over William's life from the point of his final days. A life examined. It could also be seen as the life of a relationship examined, the intersection of two trunks, Lucy and William, meeting, intertwining, then branching out in separate but linked directions.
In any such examination, whether of a life or relationship, it is natural, I believe, to wonder what might have been. Could we have performed better in the roles in which we were cast, or in which we had cast ourselves. To wonder why the director led us to this spot, to stage right instead of left, and always wondering at the playwright, and whether there was ever a script at all. This question of choices is one Strout takes on here. How much freedom of choice is there, actually, how much decision-making? William and Lucy talk about her decision to leave him.
I would like to know—I really would like to—when does a person actually choose anything? You tell me."
I thought about this.
He continued, "Once every so often—at the very most—I think someone actually chooses something. Otherwise we're following something—we don't even know what it is but we follow it, Lucy. So, no. I don't think you chose to leave."
After a moment I asked, "Are you saying you don't believe in free will?"
William put both hands to his head for a moment. "Oh stop with the free will crap," he said. He kept walking back and forth as he spoke, and he pushed his hand through his white hair. "…I'm talking about choosing things. You know, I knew a guy who worked in the Obama administration, and he was there to help make choices. And he told me that very very few times did they actually have to make a choice. [This was taken from a conversation Strout actually had with an Obama official, about how the decisions to be made were so obvious that there was little choosing required] And I always found that so interesting. Because it's true. We just do—we just do, Lucy."
And how might it be that so much of our lives is so constrained? A lot of that is based on where we began. Marx would call it class, and that is a very powerful force indeed. Strout digs into the specific roots of this for her characters. Lucy had grown up poor and miserable, (I have no memory of my mother ever touching any of her children except in violence.) and never felt entirely comfortable, persistently invisible even, (I have always thought that if there was a big corkboard and on that board was a pin for every person who ever lived, there would be no pin for me.) in the more middle-class world in which she lived with William, a parasitologist researcher (a nod to her father of the same profession) and teacher, despite her successful authorial career, despite living in a nice neighborhood in Manhattan, despite raising successful children. She is not the only major character haunted by an impoverished childhood. It is made quite clear that this other character had been severely damaged by that experience and that it had driven many life decisions.
The external of the story is William's discovery at age seventy-one that he has a half-sister he had never known about. William and Lucy had remained on friendly terms, despite their divorce and subsequent remarryings. William's third wife has left him. Lucy is widowed. He asks her go to Maine with him to look into this never-suspected sibling. Although it seems a bit odd, Lucy agrees to go along. It gives them both opportunities to look back, not just on their own lives, but on the lives of William's parents. Coming to this revelation so late in life raises an issue. Is it ever really possible to truly know anyone? Lucy had kept much of her early life hidden away. William's mother, Catherine, a very large presence in their marriage, had done the same. William had kept plenty of secrets during their marriage, including multiple affairs. He covered his true feelings with a friendly façade, and Lucy loathed him for that. But Lucy had kept a part of herself turned away from him as well. Her family's rejection of her marriage to William left a lasting scar. The externals of their trip reveal some buried truths, but this is a novel about internals, not physical action.
How does one cope with the challenges of dealing with other people, with those to whom we are closest? There is the challenge of knowing who they truly are in the first place. And then there is the challenge of letting our true selves be seen, to allow ourselves to be vulnerable, to trust others with our most delicate emotional parts. This is almost certainly universal. Who among us does not have at least one secret (and I would bet that most have more) that we keep hidden even from our closest friends, our lovers, our mates, parents, children, priests, shrinks, not to mention the police?
There was an amazing film released in 1973, Ingmar Bergman's Scenes From a Marriage. (Recently remade for HBO) It examines ten years of a union doomed to failure. The original was a revelation for me. My gf at the time urged me not to see it, concerned about the impact on my view of whatever-it-was we had. Oh, William! reminded me of that, less as a forensic analysis of a marital corpse, but as a broader view of a lifelong connection, in their marriage, and beyond it, a friendship. It looks at what went into building their marriage, at what kept it from being more than it was, and at the impact of William's mother on their lives. Even after they split up, Lucy often says He is the only home I ever had.
One of the many triumphs of Oh, William! is how Strout offers up many small bits, pointing out the things about their interactions with each other that drove them crazy, that show without telling.
He stared at me, and then I realized he wasn't really seeing me.
"Did you sleep?" I asked him, and he broke into a smile then, his mustache moving, and he said, "I did. How crazy is that? I slept like a baby."
He did not ask about my sleep and I did not tell him.
The past is our inevitable root. We are not ents, that can simply follow our needs and drag ourselves away from where we sprouted. That past is inescapable, even if we can change our external circumstances, move up in the world, move away from the painful parts that formed us. But we live in the present, and the past often appears to the here-and-now in the form of ghosts, of one sort or another. When William and Lucy visit Fort Fairfield in Maine, it is truly a ghost town, barely even a town any more. Images they see in the local library conjure a long dead era. In a way their marriage, if not their friendship, is a spectral presence, long dead, although still hovering in the room.
I usually try to come up with something that did not sit well in a book, gripes of one sort or another, elements that might have been better. This time, really, I got nuthin'.
There is so much in this novel that is beautifully portrayed, insightful, wise, and moving. A penetrating portrait of two people and their half-century of connection, warts and all. Oh, William! is a masterwork by one of our greatest fiction writers, at the peak of her creative power. Oh, Elizabeth. You've done it again.
There have been a few times—and I mean recently—when I feel the curtain of my childhood descend around me once again. A terrible enclosure, a quiet horror: This is the feeling and it was my entire childhood, and it came back to me with a whoosh the other day. To remember so quietly, yet vividly, to have it re-presented to me in this way, the sense of doom I grew up with, knowing I could never leave that house (except to go to school, which meant the world to me, even though I had no friends there, but I was out of the house)—to have this come back to me presented a domain of dull and terrifying dreariness to me: There was no escape.
When I was young there was no escape, is what I am saying.
Review posted – November 5, 2021
Publication date – October 19, 2021
I received an ARE of Oh, William! from Random House in return for a fair review. Thanks, folks, and thanks to NetGalley for facilitating.
=======================================EXTRA STUFF
Links to the author's personal, Twitter and FB pages
Interviews
—–The Guardian – Elizabeth Strout: 'I've thought about death every day since I was 10' by Kate Kellaway
—–Time – Elizabeth Strout Knows We Can't Escape the Past by Annabel Gutterman
—–Entertainment Weekly – Howe a literary conscious uncoupling and Laura Linney helped Elizabeth Strout write Oh, William! – by Seija Rankin
—–Bookpage – Elizabeth Strout: The heart and soul of an emotional spy by Alice Cary – for Anything is Possible
—–WBUR – Author Elizabeth Strout explores marriage, memory and class in 'Oh William!' – audio – 9:26
My reviews of other books by the author
—–2019 – Olive, Again
—–2008 – Olive Kitteridge
Items of Interest from the author
—–WBUR – excerpt
—–Random House – Book Club Kit
—–Literary Hub – excerpt