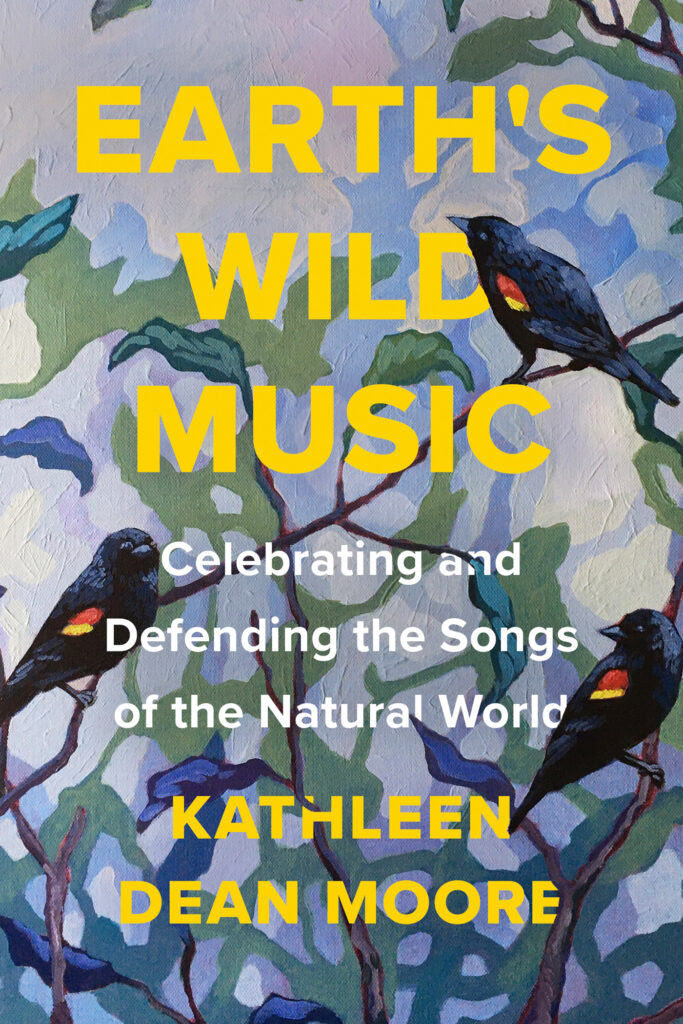 Except during the lockdown to slow the COVID-19 virus, cities drown us in sound. Buses grind gears, trucks beep, and street-corner preachers call down damnation on it all—what does this do to the human being, whose ears evolved as a warning system? In daylight, our eyes can warn us of danger in front of us. But our ears alert us to opportunity and danger twenty-four hours a day, from every direction, even through dense vegetation and total darkness.


When predators are on the prowl, birds and frogs, even insects, fall silent. No wonder humans are drawn to places where the birds feel safe enough to sing.
It's quiet, too quiet. And it's getting quieter.
There is a soundscape, a world of vibrations, wherever we are. I started reading this collection in a laundromat, pen and notebook at the ready. The wall-mounted TV blares The Goldbergs, an upgrade from the unspeakable Judge Judy, but still, noise that attempts to pierce my concentration, vying for attention. I sit on a bench at a table just inside a set of long, tall windows. A soft drink vending machine hums a steady note. Washing machines and dryers rumble. The irregular shmoosh-shmoosh of traffic passing on a wet street is muted by the window, higher tones intercepted by the glass. The only natural sound is a man with an operatic voice eager to engage on the subject of marriage as he folds newly-dry clothing on a table. While the urban orchestra may be largely comprised of mechanical instruments, it is not entirely so. The occasional dramatic crack and bang of nearby lightning are giant cymbals and following kettle drum, fading to a flutter-tongue trombone.

Kathleen Dean Moore – image from her site
The sounds of nature we experience most are weather-related. The howl of a gale, the whistle of a sustained wind as it slips past constructed edges, the susurrus of wind-shuddered trees, the plik-plik-plik of hail, the long shushing notes of rain. The screech and hiss of cats fighting offers the sudden blare of a coronet and soft mallets on a high-hat. Aside from that, we do not hear mammals beyond, for the most part, neighborhood canines who make their presence felt when mail or packages are delivered or when someone approaches too close to their no-walk zone. I seriously doubt you have heard much from our fellow urbanites of the rodent family. Ground hogs save their conversation for underground, raccoons chitter on occasion when deciding among themselves which garbage can is most accessible. Roaches, ants, bedbugs and termites being notoriously quiet, the buzz of crickets and cicadas is the likeliest insectile sound we will experience, depending on whether you live in close proximity to a hive of bees, yellow-jackets, or hornets. And, of course, the occasional pestiferousness of a horsefly, or mosquitoes. Depends what part of the world you inhabit, of course.
Avian life probably offers the most sound from creatures in our natural aural canvas, the pik-o-wee of a red-winged blackbird, towee-oh-towee-ooh-towee-oh of a robin the hee-ah, hee-ah of the blue jay, the caws of covids, and gurgle of pigeons as they strut on an adjacent rooftop out of reach but within lunging distance of murderous pet felines safely contained behind windows, the rustle of feathers as a startled mourning dove launches. It is the sounds of avian life that receives the most coverage here.
All this competes with the incessant onslaught of the television, 24/7, or so it seems, spewing news and noise into the world. City traffic also offers ongoing background noise. In my neighborhood there is the added joy of numberless hordes eager to blast car stereos at teeth-shattering volumes, as they pick up pizza next door. And there's the hair place across the street that has proven resistant to civil pleas to lower the volume on the music they blast onto the sidewalk in hopes of attracting, I am guessing, the hearing-impaired. Silence is a rare event, and is unnerving because of that infrequency.

Frigate Bird in the Dry Tortugas
I was living in Brooklyn when 911 happened. The sirens were ever-present, well, more ever-present than usual, masking the sudden absence of all air and most street traffic. Any city resident could tell from auditory clues alone that something very bad had happened. The soundscape changed, more than the hush created by a large snow. There was a different quality to it all, and it was unnerving, as if the quiet was in anticipation of another disaster. That was a sudden shift, and thus noticeable. The shift Kathleen Dean Moore writes of is a very different sort, more like the apocryphal frog in a pot of boiling water, which does not notice the gradual increase in heat until it is too late.
It is necessary to leave the larger cities (unless, of course, yours features sufficient acreage to allow one true aural relief from the urban) to have a chance at a more natural chamber orchestra. The sound of waves at oceanside, of burbling streams in the woods, or rushing rivers before they become major thoroughfares. In the absence of prowling predators, there is usually no such thing as woodland silence. Particularly at night the airwaves are alive with diverse calls and responses, come-ons and threats, warnings and conversations. But the rich chorus of the unpeopled world is being silenced, as member after member of that grand orchestra has been removed from their seat. Vivaldi incorporated the sounds of wildlife into his masterpiece, The Four Seasons. Let's hope that critter-mimicking played-instruments or recordings are not all we have left of the sonic scape of the world of wildlife.
Green Heron in the Everglades
It is, of course, not just creatures that Moore writes of. There are plenty of other sounds she celebrates, the song of dripping water in a luminous cave, the calming sounds of a singing mother soothing a squalling infant, the roar of the surf, the music of wind playing over cacti spines like a bow over strings, and plenty more. While a wide range of auditory experience is noted in this book, the largest representative of sounds that may be lost is the songs of birds.

Anhinga in a tree – Everglades
I am no one's idea of an outdoorsman, thus my very urban point-of-reference noted above. But neither have I been locked in a box. National Parks hold a magnetic attraction and I have been fortunate enough to have visited a bunch. Moore's effervescent tale of a pika sitting on her son's shoe while somewhere above the treeline, and squeaking out a warning when Moore happened to move about in the family camp downhill from her progeny reminded me of having seen a pika sitting atop a rock in Glacier National Park, and issuing the same squeak. There is an excellent chance that a few of the critters she mentions here might be found in whatever part of the states you live in, or similar creatures in places outside the states. That occasional direct connection adds to the enjoyment of reading about experiences she has shared with us.

Tri-colored Heron – Everglades
In Earth's Wild Music, Kathleen Dean Moore, has produced a cri du couer about the anthropo-screwing of our planet. She notes, in particular, the auditory element of our world, our experience of it, and the diminution of the actual evironment of sound on our planet as species go extinct.

Juvenile White Ibis – Everglades
It is a book rich not only with a blaring call for recognition of what is taking place, for concern and action, but with notes of information, many of which will make you say to yourself, "Huh, I never knew that," whether silently or aloud.
The calls of shorebirds, which evolved at the edge of the sea, have high frequencies, audible over the low rumble of surf. In the forest, birds have low-frequency voices because the long wavelength of the low tones are not as quickly scattered or absorbed by the tangle of leaves and moss.
or
The true gifts of the saguaro are the stiff spines set in clusters on the pleats of their trunks. When the wind blows across the spines, they sing like violin strings. Better yet, when you pluck a spine, it will sing its particular tone. If a person is patient in her plucking she can play music on a saguaro cactus.
It was a jaw-dropping read for me, not just for the content, but for the gift of poetic description that Moore brings to her mission. I experienced the same piercing joy in reading this book that is usually reserved for books by Ron Rash or Louise Erdrich.
The gifts of nature tell us there is a persistence to life that no measure of insolence or greed can destroy…the natural world holds us tight in its arms—calm as we tremble, patient as we mark the days "until this is over," strong as we weaken. When the time comes, the natural world will embrace us as we die. It will never leave us. If we are lonely, Nature strokes our hair with light winds. If, frightened in the night, we wander outside to sit on a bench in the moonlight, it will come and sit beside us. If we are immobilized, having lost faith in the reliability of everything, still the Earth will carry us around the sun. If we feel abandoned, the Earth sings without ceasing—beautiful love songs in the voices of swallows and storms. This sheltering love calms me and makes me glad.
Moore has been at this for some time. This is her eleventh book, continuing her lifelong dedication to writing about the moral imperative for protecting the only planet we have.
I am two things, a philosophy professor and a natural history writer. They speak to the same thing, I think, which is developing a responsible relationship with a place, so that you can openly learn about it and it can openly inform you and you feel this moral urgency in protecting it. – from the NHI interview
It is not so much that this book should be read slowly, it MUST be read slowly, sips, not gulps, savoring the stunning beauty of her words, the appreciation of, the wonder at our world, the sorrow at what has already faded. It reads like a novel that does not link scenes through action, but through theme. Yet those scenes can be compelling. There are 32 essays. In a chapter set in Washington state, flooding had loosened the grip on the earth of a stand of huge cedars, sufficient so that biblical winds could push them over, into each other, causing a cascade of tree onto trailers, stoving them to ruin, across roads, requiring the liberal use of chainsaws to clear passage, with the residents holed up in a local tavern hoping for surcease like a science fiction town hoping for the best against an invading zombie army. In another, she comes face to face with a cougar in a cow field. There is the song of water dripping in a luminous, unsuspected cavern, more like glass than stone.
There are occasional moments of LOL humor, one telling of a pot luck gathering. The children line up beside the planks, studying the food as if they expect it to hatch. I am not saying that there is a lot of that in here, or that her humor will appeal to you as much as it does to me, but it does appear from time to time, and is most welcome.
Moore pleads with us not only to save what can still be salvaged, but to broaden our appreciation for what is all around us, to learn to listen, and to hear all the instruments of nature, the auditory environment of the world, particularly the natural world. If you just stop, and attend, you can pick out a wide range of sounds wherever you are, whether the sounds are urban or bucolic, indoor or outdoor, from people or with no people at all nearby.
Insets at the end of each chapter highlight news, usually dire, from the real world, relating to the chapter just ended. These bolster her argument that mass political action is needed in order to have any chance at stopping corporate looting of our common heritage. Individual actions are fine, but if one focuses only on that, the battle is already lost.

Raccoon descending a tree – Florida
I started making a list of the many sounds, almost all human, that make it to my less-than-sensitive ears. Maybe a 24-hour slice might make someone more aware. Getting out to a more natural setting to listen there will have to wait a while, and will not likely include a full 24-hour sample, but it would be nice to be able to listen for a piece of day and a piece of night. Of course, it would certainly be a challenge to identify the noises heard in a sylvan setting, given my, and probably your, unfamiliarity with the songs of individual bird species. But listening is at least a beginning. Maybe you can settle in for what happens by in a back yard or visits a bird feeder, maybe spot and listen to visitors stopping off for a brief how'ya'doin' on a window ledge or stoop. When I was still in Brooklyn, there was a fair range of avian traffic in Prospect Park, not too far from where we lived, and in Greenwood Cemetery, which was across the street. I did listen, a bit, but I wish now that I had paid closer attention. I did, however, get a pretty full dose of the cooing of the many pigeons that bred quite happily on our sixth-floor terrace. I doubt that particular sound is at much risk.

Canada Geese in Brooklyn/Queens
Earth's Wild Music is a contemplative read. Maybe the best way to take this one in is to keep it by your bedside and read a few pages, a notion, an observation or two, every night before going to sleep. It will both soothe you with the beauty of its writing and alarm you with the deep terror of its message.
The warning signs are all there, blaring like a chorus of trombones, like a host of angry drivers stuck behind an accident, leaning on their horns, like a pack of fenced dogs trying to scare away a passerby, if only you will listen.
Hope is not all we need. What we need. What we need is strength—strength in numbers and strength in moral conviction. What we need is shrieking, roaring courage.
Review posted – March 12, 2021
Publication dates
———-February 16, 2021 – hardcover
———-February 22, 2022 – trade paperback
I received a copy of this book from Counterpoint in return for a noisy review
=======================================EXTRA STUFF
The critter shots in the review are all mine, and are clickable
The author's personal site
Interviews
—–Catapult – A Conversation with Kathleen Dean Moore, Author of 'Earth's Wild Music' by Lenora Todaro
—–PostCarbonInstitute – Kathleen Dean Moore | What Could Possibly Go Right? by Vicki Robin – video – 25:25 –
—–Natural History Institute – Reciprocal Healing: Interview with Kathleen Dean Moore, Ph.D. by Alan Wartes – video – 36:11
Songs/Music
—–WETA – Classical Breakdown – 3. The Four Seasons, how Vivaldi depicts the world in sound – Spring
—–West Side Story – Maria referenced in Chapter 3 – The Sound of Human Longing
—–Sound Design – 7/17/18 – Supernatural Cactus Creatures – the alien-sounding sounds of applying a bow to a saguaro
—–Oregon State University – Music to Save Earth's Songs
Items of Interest
—–It's quiet, too quiet – compilation
—–Cornell Lab of Ornithology – Home page – a huge source for bird images and sounds
—–Cornell Lab of Ornithology – Common Loon – noted in chapter 3
—–Nature – Why dissonant music strikes the wrong chord in the brain by Philip Ball
—— The One Square Inch Project – referenced in Chapter 22, Silence Like Scouring Sand
—–New York Times – How Does That Song Go? This Bird Couldn't Say by Mike Ives – on how endangered birds are failing to learn the songs they need for courtship, which could lead to their extinction
——Poets.Org – Vanishing by Brittney Corrigan
—–New York Times – This 'Shazam' for Birds Could Help Save Them by Margaret Renkl — On the Merlin app that helps identify birds by their songs