"You sure you should be working around kids?" Jade asks. "Or even around, you know, living people?"
"Tried the morgue in Boise," he says. "There was . . . an incident. Ask your dad about it sometime, he was there."
Jade waits for him to guffaw or chuckle, because this has to be a joke, doesn't it?
"Can't I just like horror because it's great? Does there have to be some big explanation?"
Before you sit down to read Stephen Graham Jones's most recent novel (well, this week, anyway. The man produces King-ian, Asimov-ian volumes of work), My Heart is a Chainsaw, you might want to prepare a large bowl of popcorn, not that microwave crap, actual popcorn, kernels from a jar or bag into a pot with pre-heated oil, and a lid ready to pop over the top, to keep your kitchen floor from getting covered with flying bits. If you're like me, there will be a second burner dedicated to melting a slab of butter. Once the popping stops, pour some or all of this heavenly treat into a large bowl. (Well it does not have to be too large as you are probably reading alone.) then drip the melted butter across the top, mix it up a bit. Open up a shaker of popcorn salt and apply. This calls for an oversize cold-drink for help in washing it down. It really should be a Friday or Saturday night. And why go to all this trouble for a book? Because Stephen Graham Jones is taking you to the movies.

Cutting edge author, Stephen Graham Jones, on his way to work – image from 5280 Magazine – Photo by Aaron Colussi
You may or may not have been around in the 1970s, 80s, 90s, or some of the other decades noted here, but videos of the films made back then have been available for a long time and formed a major part of Jones's cinematic education as a young person. His life was considerably enriched from seeing a lot of horror movies, slasher films in particular. He loves them.

Adrienne King as Alice Hardy in Friday the 13th – image from movieactors.com
In this book, SGJ offers up an introductory class on the genre, or sub-genre. (Can't say how closely it might mimic the course he taught on the subject in his day gig as a college professor. But I would love to see the syllabus for that.) in the form of chapters titled Slasher 101. These remind us, for example, that the slasher is always driven by revenge. His rage is not mindless. That there is usually a significant gap between the commission of the crime that is being avenged and the execution of that mission. That there is always a "final girl," the purest of heart, who ultimately (usually) either escapes or bests the baddie, for the moment, anyway. In his 2015 novel, Aquarium, David Vann does something similar, calling attention to the structural girders being put in place as he places them, in his case for the literary novel form. Reads like these are always extra fun.

Courtney Cox as Gale Weathers – in Scream – image from Den of Geek
As Jones walks us through the stages in a slasher film, he echoes the tropes in the novel through his lead, Jade Daniels, a damaged seventeen-year-old Native girl who has seen and caused a huge amount of trouble. She seems to be in conflict with the world more or less constantly, but she is not a bad kid. She does janitorial work for the county. She is smart, resourceful, and a huge fan of horror, particularly slasher films, toting with her Jones's encyclopedic knowledge of the genre. She is maybe a bit too obsessed with this stuff. I mean, if your only tool is a hammer, every challenge begins to look like a nail. But what if you have, by pure chance, made yourself the perfect tool for this very prominent, thin piece of metal sticking straight up out of your town. A bloated tourist body floats to the top of the lake and blood starts flowing like the elevator at the Overlook. Jade knows, or at least thinks she knows, what's coming.

JLC at Laurie Strode in Halloween – you don't get to choose your family – image from Den of Geek
She writes reports (the twelve Slasher 101 chapters) for a favorite teacher, one Mister Holmes (Grady, (which reminded me of Delbert Grady of The Shining fame) not Sherlock), each one explaining one or more of the tropes of horror films. Each trope is summoned into being in the real world, of course, making this very meta.
Metafiction is a form of fiction which emphasises its own constructedness in a way that continually reminds the audience to be aware they are reading or viewing a fictional work. – definition from Wiki
Jade lives in Proofrock, Idaho, proud possessor of several of the elements native to slasher flicks. Teenagers, of course. A lake (Indian Lake) with its own historical spook, Stacey Graves, bent on avenging wrongs done to her family,
Stacey Stacey Stacey Graves
Born to put you in your grave
You see her in the dark of night
And once you do you're lost from sight
Look for water, look for blood
Look for footprints in the mud
You never see her walk on grass
Don't slow down, she'll get your–
a camp on the lake with its own sanguinary history, and LOL name, Camp Blood, as least that's what everyone in town calls it. Fifty years ago it earned that designation with extreme prejudice.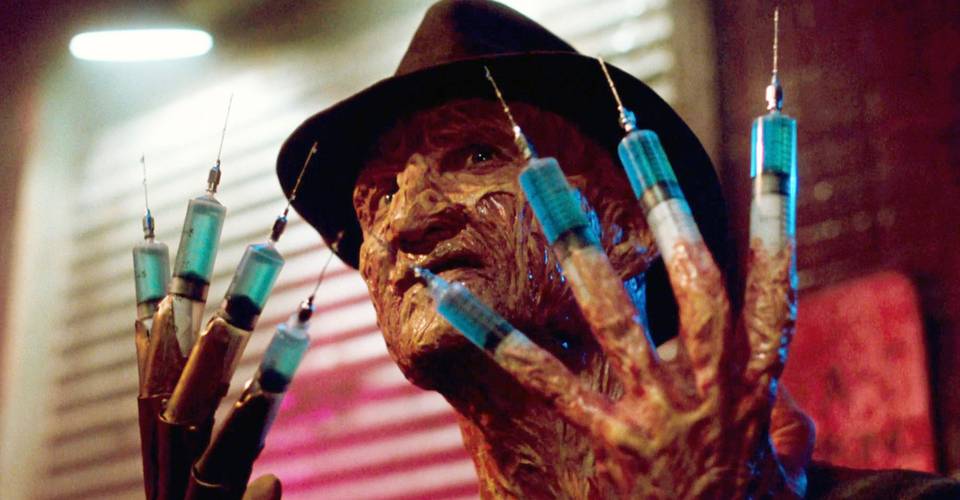 Robert Englund as Freddie Krueger – from Nightmare 3 – What a Rush! – image from Screen Rant
There is not a lot going on in Proofrock, (which MUST BE a reference to T.S. Eliot's first published poem, The Love Song of J. Alfred Prufrock, which, according to Wiki, is a dramatic interior monologue of an urban man, stricken with feelings of isolation and an incapability for decisive action that is said "to epitomize frustration and impotence of the modern individual" and "represent thwarted desires and modern disillusionment.") Jade provides that inner take here. She certainly experiences isolation, and endures frustration and impotence, not to mention personal abuse. Jade is both wishing for the slasher to be real and for him not to be real. Great, if it is. You were right all along. Take a bow. On the other hand, you are likely to be killed. Hmmm, decisions, decisions. She is actually eager for the inevitable bloodbath to begin, finding this strangely exciting. Well, maybe not so strange for a kid with suicidal impulses. She's got her reasons.

Jane Levy (yes, that Zoe) as Mia Allen in Evil Dead 2013 – Image from Screenrant
Jade is a Cassandra (another slasher film trope) trying to tell everyone that dire days lie ahead, but no one believes her. The new wrinkle in Proofrock, Idaho is the arrival of The Founders, a group of billionaire families who managed to have some of the national forest on the other side of the lake made un-national, and have begun building an enclave, Terra Nova. Yachts and smuggler boats have begun to appear on the lake, homes are being erected. And the daughter of the alpha male of that crowd befriends Jade. Letha Mondragon (are we meant to think or Arthur Pendragon here?) fits right in with Jade's narrative. She is the supreme final girl. In case you are unfamiliar with the term, it was coined by Carol J. Clover in 1992.
The original meaning of "final girl", as described by Clover in 1992, is quite narrow. Clover studied slasher films from the 1970s and 1980s (which is considered the golden age of the genre) and defined the final girl as a female who is the sole survivor of the group of people (usually youths) who are chased by a villain, and who gets a final confrontation with the villain (whether she kills him herself or she is saved at the last minute by someone else, such as a police officer), and who has such a "privilege" because of her implied moral superiority (for example, she is the only one who refuses sex, drugs, or other such behaviors, unlike her friends). – from Wiki
Think Alice Hardy in Friday the 13th, Laurie Strode in Halloween, Nancy Thompson in A Nightmare on Elm Street and on and on and on.

Sigourney as Ripley in Alien – Get away from her, you bitch! – image from Yahoo! Entertainment
The good-girl element of the final girl trope eased over time, offering more kick-ass than kiss-ass, with final girls like Ripley in the Alien series, or Jamie Lee Curtis sticking it to Jason in Halloween. Jade spots Letha as the final girl of the upcoming carnival of blood. She is a really good person, and an actual model, with unbelievable skin. She is athletic, morally strong, and seems to have been sent over from central casting. She is also unbelievably hot, and Jade has a bit of a crush on her. Nevertheless, Jade determines to do everything in her power to see to it that Letha has the weapons and knowledge she needs to go to battle in the inevitable final bloodbath, aka The Body Dump.

Marilyn Burns as Sally Hardesty in The Texas Chainsaw Massacre – image from BitchMedia
But we know, or at least suspect, since the slasher film story is usually told from the perspective of the final girl, that maybe Letha is not the one.
I wanted to push back against the notion of the final girl being a supermodel, valedictorian, or babysitter. Since the 1970s, they've all been Jennifer Love Hewitt types. For many girls and women, that's an impossible ideal. The book's main character, Jade, has dealt with feelings of inadequacy her whole life. Also, most of the victims are rich and entitled white guys, not 17-year-old cheerleaders. – from the 5280 interview
The mystery is who (or what) is perpetrating mayhem, and why. That satisfies the need, or, certainly, a desire, for a mystery. Slasher movie bloodlettings are acts of revenge. Ok. So, what is it that is being revenged, why, and by whom? The how is where movie directors and novelists get to come up with creative ways to pare back, sometimes waaaaay back, the character list.

Heather Langengkamp as Nancy Thompson in Friday the 13th – image from StopButton
Jones always keeps an eye on social content, payload that arrives with the story. It, or at least some of it, usually has to do with Native people and their relationship with the white world in which they are embedded. Very real-world stuff. No Magic Indians need apply. The presenting issue here is gentrification, an invasion by the Uber-rich into a very working class area, upsetting everything, taking public land for private use, trying to buy their way into acceptance, while toting along a significant shortage of moral concern. There is also the existence of racist elements in the town and the Native people getting the lesser end of things economically.
When people in Proofrock can direct their binoculars across the water to see how the rich and famous live, that's only going to make them suddenly aware of how they're not living, with their swayed-in fences, their roofs that should have been re-shingled two winters ago, their packed-dirt driveways, their last decade's hemlines and shoulder pads, because fashion takes a while to make the climb to eight thousand feet.
Secondary characters run a gamut. Some are cannon fodder, of course, but there is a nice collection of understandable town characters. Jade's teacher, Holmes, is wonderfully understanding, and has plenty of quirk (and anger) to support it. The town sheriff is a remarkably understanding sort, with a soft spot for Jade. He may not understand, or accept what she tells him (she is a Cassandra, after all, and there is the very real possibility that he might be hiding something) but he seems to be quite well-intentioned. Her father is a horror, and his bff may be even worse. There is sympathy for Jade in surprising places. They know something we do not. The Founders are mostly cardboard cutouts, which is fine. And then there is Letha (last name not Weapon). While presented as impossibly perfect, she is the one member of that clan given a closer look. Is she or isn't she what Jade sees her to be, a paragon of final girlhood?

Jennifer Love Hewitt as Julie James in I Know What You Did Last Summer – image from ScreenRant
Throughout the novel, there is a pervasive sense of humor. The quote at the top of the review is a prime example of that. There is more. Not sayin' you're gonna shoot your beverage of choice out your nose, but there is plenty here that will make you smile.
…if you don't have those staged resets, those laughs, then horror just becomes the flat screech, and that's no fun. – from the GQ interview
GRIPES
Not much. The deus was messing with his ex, machina, a bit too much for my taste. I could not fathom why Jade was not more curious when a stranger's cell phone falls into her hands. And I was not entirely thrilled with the last bit of the ending. (But then, SGJ has written a sequel, so, maybe put a hold on that.) But these are minor concerns. My Heart is a Chainsaw is both a jaw-dropping, brilliant homage to the slasher genre, and a bonafide member of the club.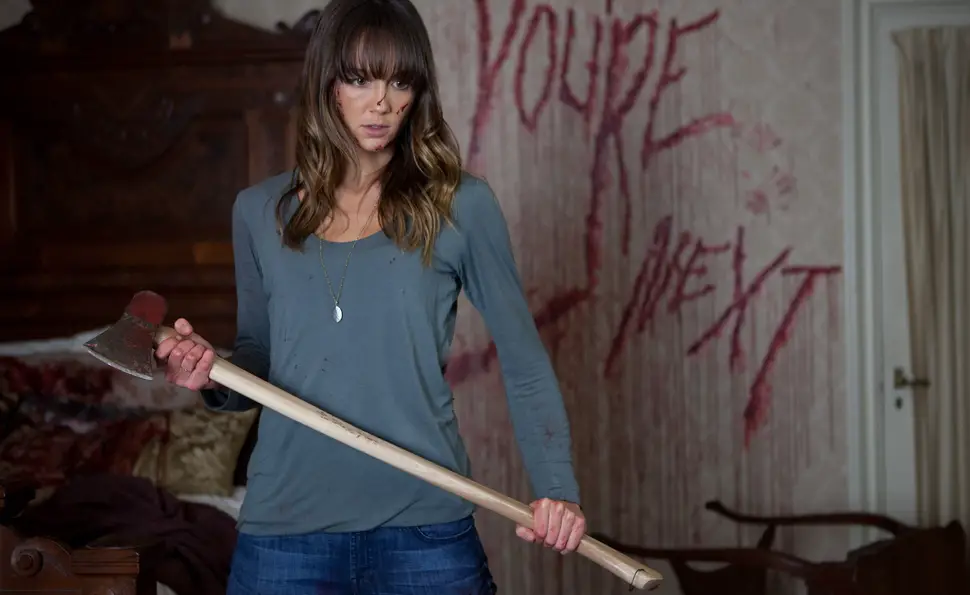 Sharni Vinson as Erin Harson in You're Next – image from Wicked Horror
So, when you read this, takes notes, consider all that is going on. There will be a test. Pass/Fail. Pass, and you gain three college credits toward your degree. Fail? Well, trust me, you really, really do not want to fail.
She's everything Jade always wished she could have been, had she not grown up where she did, how she did, with who she did.
It's going to be epic, the final battle, the final girl against slasher high noon.
Unless Jade's just making it all up, she reminds herself.
Review first posted – August 27, 2021
Publication dates
———-Hardcover – August 31, 2021
———-Trade paperback – March 29, 2022
I received an eARE of My Heart is a Chainsaw from Saga Press of Simon & Schuster in return for a fair review and some extra-strength fishing-hooks. Thanks to S&S, and NetGalley for facilitating.
======================================EXTRA STUFF
Links to the author's personal, Twitter and FB pages
Interviews
—–GQ – 8/26/21 – Horror Writer Stephen Graham Jones's New Nightmare by Colin Groundwater
—–Locus Magazine – 9/9/21 – Stephen Graham Jones: Slasher Cycle
—–Nightmare Magazine – April 2017 (Issue 55) Interview: Stephen Graham Jones by Lisa Morton
—–Nuovo Magazine – Stephen Graham Jones Battles Stereotypes and Serial Killers in His Breakout Novel by James Grainger – about The Only good Indians but still interesting for Jones's take on the world
—–Vol, 1 Brooklyn – MORNING BITES: STEPHEN GRAHAM JONES INTERVIEWED, VIC GODARD, FRED THOMAS'S MUSIC, BILL GUNN, AND MORE – August 11, 2021
—–5280 Magazine – August 2021 – Colorado Horror Writer Stephen Graham Jones Is Back With a Killer Follow-Up by Philip Clapham
The horror genre is full of books and movies that make a political statement, like the films Dawn of the Dead and The Purge. Which is scarier: real-life terrors or fictional ones?
I think for the last four or five years, we've seen people doing reprehensible things and then not being punished for them. The slasher genre is basically a justice fantasy. But the bad thing about living in a slasher world where wrongs are punished is that they're punished brutally. You might catch a machete to the head.
—–Bull – Stephen Graham Jones by David Tromblay
Before The Only Good Indians, I'd done two slasher novels, I guess—Demon Theory, The Last Final Girl—but I hadn't said even close to all I wanted to say in and with and around the slasher. So, I committed to the slasher. I wrote this one, then another, and another. But I also wrote a haunted house novel. Oh, and a slasher novella, I guess. And I guess a ghost novella. I just love all the parts of horror, but the slasher, the slasher's really special for me. I like the sense of justice in it. I like how bad deeds are punished. That's not the world we live in, but, while reading a slasher, we can pretend for a little bit…
—–Montana Press Monthly – April 2020 Rez Gothic: Stephen Graham Jones by Jay MacDonald – not specific to this book, but good on SGJ
—–Goodreads newsletter – Meet the Writers Behind Those Truly Terrifying Books
—–Colorado Public Radio – Ten Stories Novelist Stephen Graham Jones Says Will Make You Afraid Of The Dark by Stephanie Wolf –
10 stories Jones says are great gateway reads into the horror fiction genre:
• "The Black Cat" by Edgar Alan Poe
• "The Monkey's Paw" by W. W. Jacobs
• "The Dunwich Horror" by H. P. Lovecraft
• "The Veldt" by Ray Bradbury
• "The Lottery" by Shirley Jackson
• "It's a Good Life" by Jerome Bixby
• "Where Are You Going, Where Have You Been?" by Joyce Carol Oates
• "Bloodchild" by Octavia Butler
• "The Jaunt" by Stephen King
• "The Night They Missed the Horror Show" by Joe R. Lansdale
My reviews of (sadly, only two) previous books by Jones
—–Mongrels
—–The Only Good Indians
Item of Interest
—–Smithsonian – The 1980 Slasher Movie 'Friday the 13th' Was Filmed at This Boy Scout Camp in New Jersey by Kellie B. Gormly – October 26, 2021 – A fun piece for fans of the original
The List
I started keeping track of the names of the mentioned flicks once I had read a bit, so my number is probably not close to the actual total, but even with not beginning from the beginning I came up with 93, the list that follows. I have seen, maybe, 23, enough to be able to follow along without feeling that I was missing out on too much. Not all are slasher films, but all 93 are horror of one sort or another. If I made any mistakes in entering the titles please let me know and I will make the needed repairs.
Alien
Alien 3
All the Boys Love Mandy Lane
Alone in the Dark
April Fools Day
Bay of Blood – from 1971 – a possible grandfather of the slasher genre
Black Christmas
Blue Steel
Burial Ground
The Burning
The Cabin in the Woods
Camp Blood
Candy Man
Child's Play
Children Shouldn't Play with Dead Things
Cold Prey
Cold Prey 2
Cold Prey 3
The Craft
Cropsy
Cry Wolf
Curtains
Cutting Class
Dead & Buried
Dead Calm
Deep Star Six, Leviathan
Demons
Donkey Punch
The Dorm that Dripped Blood
Evil Dead
The Exorcist
Exorcist III
Fatal Attraction
Final Destination
Final Destinations
Fire in the Sky
Friday the Thirteenth
Friday the Thirteenth Part II
Friday the 13th Part III
Friday the Thirteenth – The final chapter
Ghost Ship
Girls Nite Out
Grizzly, 1976
Halloween
Halloween III
Hannibal Lecter
Happy Birthday to Me
Hell Raiser
High Tension
The Hitcher
Home Sweet Home
I Know What You Did Last Summer
I Still Know What You Did Last Summer
Jason Takes Manhattan
Jaws
Just Before Dawn
Kristy
The Land that Time Forgot
Last House on the left
Lord of Illusions
Mausoleum
Mortuary
Mother's Day
My Bloody Valentine
New Nightmare
The Night of the Hunter
A Nightmare on Elm Street
Poltergeist 2
Popcorn
The Prey
Prom night II
Prophecy
Prowler
Reeker
Ringu
Road House – 1988
Rosemary's Baby
Scream
Scream 2
Slaughter High
The Shining
The Silence of the Lambs
Sleepaway Camp II
SS Lazarus
Stage Fright
Terminator
The Texas Chain Saw Massacre
Triangle
Trick or Treat 1986
Twisted Nightmare
Virus
Wishmaster
In my post-posting travels I came across a site that provides a much more inclusive, and visually appealing, list. Letterboxd shows a total of 154 film mentions (not all of which are horror films, per se) I saw 37 of those.
Articles on Final Girls
The Final Girl is a trope that has come in for some criticism over the years. Below are several articles that address this, and the changes that have taken place in how Final Girls are portrayed from the 1970s to the present. If you know some good pieces on this subject, I would be happy to add them to this list.
—–NY Times – October 22, 2015 – In Horror Films, the 'Final Girl' Is a Survivor to the Core by Erik Piepenburg
—–Wiki – Final Girl
—–Cinema de Merde – Is the Final Girl an Excuse?
—–Pretty Scary – Gender Roles within Scary Movies by Alex Boles
—–Ax Wound – Teenie Kill & The Final Girl by Hannah D. Forman
Clover argues we shouldn't just ask ourselves: "Does this film depict violence against women?" but rather, "Why does it do so? From whose point of view? Creating sympathy with whom? And what final message?" The answers to these questions no doubt are complex and reveal much about how we view the sexes, the double standards that underlie our behaviors and social mores we are brought up to follow.