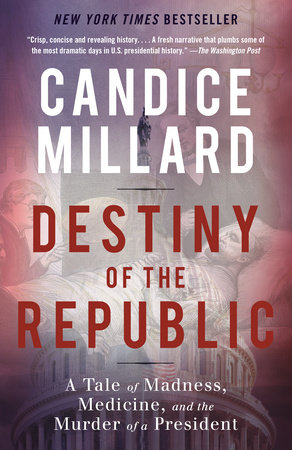 If most people were to be asked today what they thought of Garfield, they would most likely offer an answer about a cartoon cat, and not the 20th president of the United States, the president who served only 200 days in office, the second president to be assassinated, and one of our great losses as a nation.
Candice Millard, the dishy author of The River of Doubt: Theodore Roosevelt's Darkest Journey, here follows the paths of two men, the ill-fated president, James A Garfield, and the man who would see to his end, Charles Guiteau.
No political conspiracies were involved, at least not outside the delusions of an addled mind. While the assassin did have political views they were likelier to be the same as those of his target than anywhere in opposition. No, he was your basic nutter, who convinced himself that God wanted him to take out the president. While clearly disturbed, Guiteau had an interesting past. His mother died when he was 7 and he was raised by his father, a religious fanatic, and follower of John Humphrey Noyes, the founder of the utopian Oneida commune in upstate New York. This cultish group favored free love, which they called "complex marriage," among other things. Charles did not have a lot of success with the ladies, even at Oneida, which must have really stung. They practiced a form of self (really group) criticism that would gain favor with a later communal program, Mao Te Tung's. <blockquote>Although the commune promised the pleasures of complex marriage, to Guiteau's frustration, "The Community women," one of Oneida's members would later admit, "did not extend love and confidence toward him." In fact, so thorough was his rejection among women that they nicknamed him "Charles Gitout." He bitterly complained that, while at the commune, he was "practically a Shaker."</blockquote> He worked as a lawyer (which at the time did not require a law degree) and a preacher and had a rather permanent and cavalier attitude toward paying his bills. I guess in that way he was a harbinger of Republicans of a later era. Guiteau was in DC seeking a political appointment from the president, just compensation, in his mind, for the assistance he had given to the campaign. He had suffered delusions of grandeur for a long time. His own family had sought to have him put away. But the slippery bastard fled before they could complete his committal.
Garfield's was a classic American success story. His parents were farmers, working land-grant turf. But dad passed away when James was still a boy. Through hard work and recognition of his native brilliance by enough people who had the means to help, Garfield managed to get an excellent education. His oratorical skills were state of the art for his time. He was elected to the state legislature and soon thereafter put into the national Congress, with hardly any effort at all on his part. This accidental president never sought that office either. In fact, he attended the 1880 Republican convention to give the nominating speech for his fellow Ohioan, John Sherman. But after dozens of ballots, with no hope of any of the major candidates winning enough votes to get the nomination, delegates began looking for an alternative. And thus was James A Garfield nominated for president by his party.
Speaking of which, the Republican Party of 1880 was rather different from the GOP of today. Garfield had been anti-slavery, as had his party. <blockquote>For freed slaves, an impoverished and, until recently, almost entirely powerless segment of the population, Garfield represented freedom and progress, but also, and perhaps more importantly, dignity. As president, he demanded for black men nothing less than what they wanted desperately for themselves—complete and unconditional equality, born not of regret but respect.</blockquote>Today's party could probably be counted on to insist that property rights trump all and turn away any attempt to get rid of such a peculiar institution. So Garfield was a pretty good guy, remarkably, considering that the Civil War had ended less than 16 years prior, acceptable to both the South and the North, a brilliant, Renaissance man.
Millard offers not only a window into the personal and political history of Garfield, a literal log-cabin Republican, we also get a look at the time. One element is further confirmation re what a fetid swamp DC was (well, it remains a fetid swamp these days, but for other reasons), a place where rats roamed at will <spoiler>but if I step out of the way, they seem happy to dash past. </spoiler> in the White House, (yes, yes, I know, sometimes they are just so easy that even I, who know no shame, have to pass, but you are free to select the party you dislike and fill in the blanks) and clouds of mosquitoes blotted out the sun. Ok, that last may be a slight exaggeration, but the gist remains. It was a biologically unhealthy place. The toxicity of DC and the White House in particular figures rather largely into the story of how James A Garfield met his end.
In addition to the intersecting lines of Garfield and Guiteau, a little extra attention is directed toward a young Scottish inventor, a fellow whose chief concern was helping the hearing impaired. He had, not long before, brought to market a remarkable new device. This made for an interesting time for him. Once the world realized just what he had created, thieves, swindlers and worst of all, lawyers, came after him like a wolf pack on the trail of an injured deer. How much time must one dedicate to defending oneself in court in order to retain control of that which you, yourself created? Lots, and it was making him miserable. Still, he had a thing for inventing. When he heard of the attack on Garfield he hastened to his lab to work on a device that would, hopefully, locate the bullet inside the president's body, without having to open him up first, a sort of early metal detector. We speak, of course, of Alexander Graham Bell, a young man still. His efforts merit considerable attention and entail a lot of drama. Actually, considering that we are all well aware of the outcome, it is rather remarkable how much dramatic tension there is in this non-fiction account.
We get a look at the medical sorts who dove in when the president was shot, some reasonable, and some determined to place their own interests above the health of Garfield. We get to see yet another example of the arrogance of power leading to a dark end when it chooses to ignore scientific advances in the fact-based world. And we get to see some of the places where the leading edge of medical thought and technology were struggling for recognition. Joseph Lister had revolutionized European medical practices with his insistence on antiseptic environments for medical care. But those who insisted on local exceptionalism preferred to leave their patient in environments we would probably describe today as filthy, and saw nothing wrong with poking their fingers into open wounds. Garfield, ultimately, suffered an iatrogenic death. The bullets did not kill him. His doctors did. Sadly medical care is the third leading cause of death in the USA today, so some things have not changed all that much.
Re government, Millard fills us in on some of the political game-playing of the time, and how it was used to generate governmental stasis. There is much here that resonates, and that reminds us how far we have come in some ways, and how little we have grown in others. I contemplated making a table showing 1880 vs 2013, and doing the comparison (and contrast) more graphically, but I will leave that for other reviewers. I merely note that such a list could indeed be constructed.
One interesting point made here is that both Guiteau and Garfield felt themselves to have been touched by God. Both had faced death while aboard ships and both felt that they had been spared by the Almighty for some greater purpose. It seems unlikely that they were both right.
History books need not be dull. The best give us a sense of a time and a place, let us see some of the personalities afoot in that world, look into how things came to be the way they were and how events of that time have echoed down to us today. A good popular history book makes us stop, rub our chins and mutter to no one in particular, "I did not know that." On all counts, Candice Millard has succeeded. While the subject is not exactly laugh-riot material, if you love to learn, it will make you smile. It has made others smile as well. <i>Destiny</i> was awarded a PEN award for research nonfiction, and an Edgar Award for best Fact Crime book of 2011.
And it is quite filling. If you are of a cartoonish persuasion, you might even think of it as lasagna for the brain.
For another consideration of this book, you could do worse than to check out Jeffrey Keeten's excellent review.