The fate of peoples is made like this, two men in small rooms. Forget the coronations, the conclaves of cardinals, the pomp and processions. This is how the world changes: a counter pushed across a table, a pen stroke that alters the force of a phrase, a woman's sigh as she passes and leaves on the air a trail of orange flower or rose water; her hand pulling close the bed curtain, the discrete sigh of flesh against flesh.
Uneasy lies the head that wears the crown…but really, crown-wearers seem to have little difficulty with fabrication. Do they mean lie, as in lying down? I mean I would take it off before going to bed. It might get pretty uncomfortable trying to sleep with that thing still on. Wouldn't it be more accurate to say uneasy "sits the head that wears the crown," although that creates in my tiny mind an image of Mister Potato head, with legs and feet.
Well, I could not find one with legs but you get the picture.

His and Hers
How about uneasy stands the head… , but, oh, see Mr Potato head referred above. So I guess we will leave that one alone, as, clearly, it could be worse. In any case, as uneasy as that head might be, it is clearly more dangerous to anyone who has anything at all to do with the head that has the crown on it. Chopped tops are practically bounding down the streets like bulls in Pamplona. Of course there is the attraction of the power that emanates from the golden circlet. It seems to radiate a glow and a hum that attract the dishonest, the rapacious, seducers, flatterers, scoundrels and hypocrites in far greater numbers than the sort of person Diogenes was looking for, and many of them make moth-like crackling noises as they drift in a bit too close.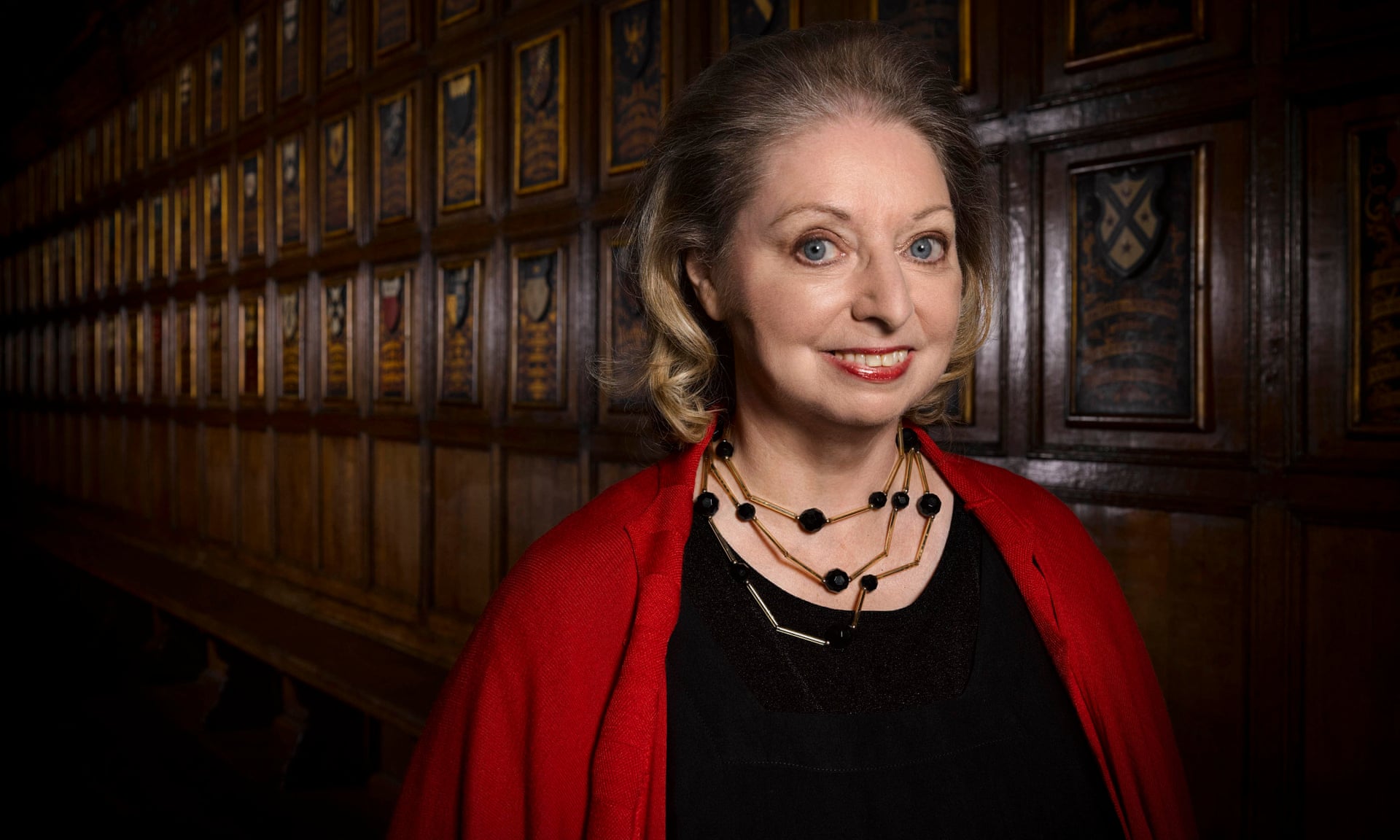 Hilary Mantel – image from The Guardian
One struggles to come up with a contemporary point of reference to help us grasp who Cromwell was. I suppose one might consider Thomas Cromwell to be a royal bug-zapper. There are other ways to see him of course. He was one of the greatest political fixers of all time. Think Olivia Pope as, say, Chief of Staff to the President. But whereas the fictional Olivia occasionally manifests the odd scruple, the real-world Thomas appears to have manifested fewer. In a similar vein, I suppose we might see him a consigliere to H8's Don Corleone, or maybe Tony Soprano. Maybe Kissinger to Nixon?

Cromwell by Holbein and Mark Rylance as TC – from the Guardian
We meet Thomas as a lad, suffering abuse at the hands and boots, of his drunken father. Thomas is clearly a young man with an elevated spirit and he leaves his bloody home in Putney for a world of adventure and diverse experience. He reappears decades later, the person he had become. I could not help but be reminded of another famous personage who vanished from sight for a couple of decades, only to return from his journeys, possibly abroad, to flash across the pages of history, leaving a very large result. Cromwell was involved in a revolution of a religious sort as well, throwing out the money-changers, but with, perhaps not quite the personal up-side of his predecessor.
He is considered to be one of the most ruthless human beings of his time, in seeing that the king's word was made flesh. Already married, but wifey does not pop out a male heir? What's a king to do? Why, twist, turn, beg, borrow, steal, threaten, intimidate, and murder until you get your way. Spoiled children with their own states are fond of such behavior. Of course, to a large extent, one must engage in these forms of feces flinging and head-lopping at one remove, as kings are too proud to be seen with their hands so filled, whether with their own droppings or axe handles. Thus the presence of people like Thomas Cromwell. Thank you, your majesty, I'll take that now.
Since the Catholic Church was all that stood in the way of Henry VIII getting what he wanted, H8 sought to remove it. Seizing the church's real estate and other holdings would be a nice bonus. And setting up his non-ecclesiastical self as the head of his own sort-of Catholic Church, the Anglican Church, meant that, in addition to visiting horrors on the RC he would be claiming even more divine rights. Sheesh!

H8 by Holbein – from Wikimedia — and Damian Lewis – BBC
So, you would expect that in Hilary Mantel's rollicking tale of Tudor England, Cromwell would be painted in rather dark shades. The author offers something other. Hogwarts DA Masters notwithstanding, the darkest of the dark arts is the power of manipulation. The proper words tossed near the proper ear can wreak devastation no less awful than an armored division. Cromwell is portrayed as a practitioner of 16th century RealPolitik, someone who uses his rapier wit, his power, his capacity for manipulation, his wide knowledge of the world, and his deep intelligence to serve his king. Is he in it mostly for himself? Maybe. Probably, but he is shown in small bites, talking to this one, planting spies, chatting with that one, nuancing everyone within reach to see things his way, the king's way, and he sees that more direct action is taken when words alone will not do.
Cromwell, both the real one and his fictitious doppelganger, is a pretty interesting guy, rising from modest (and, if Mantel does not mislead, abusive) origins, dashing off to soldier for hire, becoming expert in international trade of various sorts, making very useful friends and connections along the way, becoming a lawyer, and with his contact list and rep for discretion, rising as far as a low-born can rise in Tudor England. I am sure that, had he shown an inclination towards the culinary arts, he might have been considered a Man for All Seasonings. (sorry)
He is our window on the Tudor era. Regardless of the accuracy of the portrayal, as a literary device, Cromwell is ideally placed to allow us a look into many of the machinations of the era. Questionable prophetess, the Holy Maid of London, making life uncomfortable for a wandering king? Cromwell is there. Both to hear her speak and see her burned. Anne Boleyn plotting to get around the Church's refusal to annul H8's marriage? Yep, TC is right in the middle. The population being laid waste by a plague sweating disease? He loses family. Cromwell was a real-life Zelig of the era, with a hand in every historical pie.
What motivates Thomas Cromwell? He moves through the novel like an avatar of the author, a witness to the things the author wants us so know, but lacking much of a personality himself. The delightfully acerbic wit he manifests is hardly unique to him in this telling. One might point to his ambition, and there are certain decisions he makes or directions he takes that offer some guidance, but I never really got much of a feel for what really makes Thomas tick. Is Thomas Cromwell Horatio Alger, an exemplar of hard work, smarts and ambition paying off in the end? Is he a model for the notion that power corrupts? Does he really have morals, or merely goals? Is he a religious extremist or a technocrat? In the second volume of her series Mantel points us to Cromwell's quest for vengeance on all those who had seen to the toppling of his mentor and father figure, the larger-than-life Wolsey. But that is only hinted at in Wolf Hall (I absolutely see Sidney Greenstreet in my tiny mind as Wolsey) That makes a lot of sense, lending a core of cohesion to a sequence of loose scenes, a lot of this-happens-and-then-that.

Anne Boleyn by unknown and Claire Foy in the role
Well, Thomas is only one element here, albeit the largest. It is the era that Mantel brings to life. It was a time of big change. H8 may be established in our 21st century minds as a solidly placed monarch, but the security of his line was very much in question, thus the freaking out about producing a male heir. The Protestant Reformation was underway and the world was in flux. Plagues…um…plagued Europe and the enlightenment was far in the future.
While this look at the Tudor era is gruesome, enlightening and fun, it also shines a light, as good historical fiction does, on contemporary concerns. Torture? Check. Religious extremism? Check. TC is seen by at least one writer as a Tudor version of ISIS. Privacy concerns? Check. Government abuse of authority? Check. The one percent riding roughshod over the rest of us? Check. National wars for private purposes? Check. Issues of separation of church and state? Check. So, for those of you who have not yet taken on this large novel, and it's younger siblings, one born, the other gestating, keep an eye out for how the Tudor era contains many of the same conflicts we endure today. Of course one might despair by doing this. Really? We have learned nothing in five hundred years? But one might also see some universality in the human condition, across time and space.
There are many, many characters in Wolf Hall. Mantel has included a nice list of them at the front of the book. I found I needed to refer to it frequently. It can be a bit daunting to keep track of what is going on, or to discern who is talking to whom, particularly when so many of the names are used by multiple characters. Most particularly, there are more Toms here than at a convention of male cats held in a turkey farm, enough Johns to construct a considerable public lavatory, as well as herds of Harries and Henries, Annes, Katherines and Marys, and probably a few more household names that repeat uncomfortably often. You will be needing that chart. That said, realizing that TC is the author's and thus the readers' eyes on pretty much everything helps.
There is a very different take here on Thomas More than the one we are accustomed to. A Man For All Seasons presented More as a moralist, one who stuck by his principles in opposing H8's desire to be rid of wife #1 in favor of wife #2. In this version we are shown a Thomas More who is much more an Ayatollah than a serene wise man, as much a political player as a man of the cloth. He happily sends to the torturer and the executioner those who oppose his views. Mantel shows a bit of sympathy for H8 trying to dismantle an organization that includes such dark prigs.

Thomas More by Holbein and Anton Lesser in the role
The novel does not tie up neatly. There are two more volumes after all, and those who remember their history, or who, like me, are memory-challenged and need to look such things up, know how it ends, anyway. It is the journey through this often dark age that is the treat. The wit alone would have been enough for me. The feel for the time adds depth.
The novel and it's younger sib have become the source material for both a BBC miniseries and stage productions in Britain and the USA, and seems to be gathering cultural strength and presence as more branches extend from the Wolf Hall tree. Can the graphic novel and the Barbie Anne Boleyn be far behind? The series from the Beeb has already aired on the east side of the pond, and is scheduled to begin on Easter, April 5, here in the states.
In short, for book with a considerable page count, and covering thirty five years of English and European history, the results of most of which we already know, Wolf Hall is an engrossing read, rich with all-world-large personalities, bristling with sharply barbed wit and intelligence, richly appointed with intrigue and betrayal, red with blood, and great fun to read. There are sections that sag a bit, but keep on, there will be another scene just around the bend that will make you smile and sometimes even laugh out loud. And there are passages that will transport you with their beauty and insight.
BTW, the title, Wolf Hall refers to the residence of the Seymours (the family serving up one of theirs to be counted among the many wives) and is a takeoff on a Latin saying, homo homini lupus est, or 'man is a wolf to man.' He is indeed, and what big teeth he has.
Review posted – 4/3/15
Publication date – 4/30/2009
=============================EXTRA STUFF
Links to the author's personal, Twitter, Google + and FB pages
A nice article from the Telegraph about the historical TC
Fab item by Mantel in the NY Review of Books on how her characters should be played
Interview with Mark Rylance , who plays TC in the BBC production.
He has no doubt there are parallels between Cromwell's time and our own. "Although we're not ruled by a sociopathic 14-year-old king, we seem to be ruled by a group of people who are completely in the service of corporations as much as the kings were in the service of the pope before Cromwell and Henry VIII changed the times."
I included a link in the body of the review, but in case you missed it Dominic Selwood of the Telegraph has a dark view of TC – Thomas Cromwell was the Islamic State of his day
Martin Kettle of the Guardian has a more positive take – Cromwell, the fixers' fixer: a role model for our times
An article from the NY Times about the upcoming mini-series