It was like the beginning of every show where the streets empty and something terrifying emerges from mist or fire.
I passed streams of people with signs, packs, water bottles. I passed squad cars and squadrons. I passed burnt-out stores with walls like broken teeth. I passed a woman with a shopping cart full of children. Down another street, a giant tank was rumbling forward. I turned to get out of the way. Pockets of peace then smoking ruins, then tanks and full-out soldiers in battle gear. I got a cold, sick feeling, and I knew there would be deaths down the road.
Bless me, Father, for I have read. It has been three weeks since I began reading. I am only sorry that I came to the end and could read no more. But I promise to avoid the occasion of reading… this book again, well for a while, anyway.

Louise Erdrich – Image from MPR news – by Dawn Villella | AP Photo file
There is magic to be had in the Catholic sacrament of confession. Confess your sins to an invisible presence across a visually impenetrable screen, let the priest know you are truly sorry, promise to do the penance you are assigned (and actually do it. Depending on the severity of one's sins, this sentence is usually of the parking-ticket-fine level, typically saying a number of Hail Marys and Our Fathers.) and, after a few traditional, if not necessarily magical words, your sins are erased, at least in the eyes of an even more invisible, all-powerful deity. Sins, forgiveness (or not) and redemption all figure large in Louise Erdrich's seventeenth, and latest novel, The Sentence. The sentences are a bit more significant than the penances doled out in confession.
We meet Tookie, an immature thirty-something, early on. A friend manipulates her into stealing her dead-boyfriend's body, and bringing it back to her. This bit of Keystone Kops body-snatching has the ill-fortune of involving the crossing of state lines…and the corpus delecti had some extra baggage. Her so-called friend throws her under the bus and Tookie is sentenced to 60 years, by a judge who would be right at home in the Kyle Rittenhouse case. A teacher of hers sends her a dictionary when she is in prison, and Tookie spends her time in lockup reading as much as she can. When she gets out, well short of the max sentence, she goes to every bookstore in Minneapolis with her resume and, finding the one where the dictionary-teacher is working, is taken on. This is not just any old bookstore, but a barely-bothered-to-try-disguising-it simulacrum of Louie Erdrich's Minneapolis shop, Birchbark Books. With her love of reading, Tookie fits right in, becoming a professional bookseller, and thrives.

Birchbark books storefront – image from the BB site
Louise Erdrich has made a career writing about the contemporary world in light of the history of indigenous people, how the past continues to impact the present. One might even say to haunt it. The hauntings in The Sentence continue that focus, but add a more immediate presence.
There is just one problem at Tookie's job. In 2019, four years after she starts, a frequent-flyer of a customer, both engaging (Tookie's favorite, even) and very annoying, Flora, has passed on, but does not seem to accept this. She sustains enough mobile ectoplasm to make her presence known as she haunts the bookshop. The central mystery of the story is why. Like many who shop at this Indigenous-oriented emporium, Flora seemed a wannabe Indian. Claims some native blood, and did a fair bit to walk the walk. But she never seemed quite the genuine article to folks at the store. For reasons unknown, Flora's ghost seems to have fixated on Tookie, bugging her more than other store employees, making noises, knocking books off shelves, and worse.
I had always wanted to write a ghost story. There's this anomaly, "I don't really believe in ghosts," but I knew people who had inexplicable experiences and would not admit—as I would not—to believing in ghosts. I sometimes would take a poll when I was doing a reading and I would ask everyone in the audience if they believed in ghosts. Very few hands would come up. And then I would ask, "Have you had an experience or know someone who has had an experience with a ghost?" and almost every hand would go up. We do have some residual sense of the energy of people who are no longer living. They are living in some way. – from the PW interview

A handcrafted canoe hangs from Birchbark's ceiling – Credit…Jenn Ackerman for The New York Times
It becomes a challenge, figuring out how to cope with this unwanted visitor. Why was she there, in the bookstore in particular, and what would it take to get her to leave? Flora had been found with an open book, a very old journal, The Sentence: An Indian Captivity 1862-1883. The book seems to be implicated in Flora's passing. Tookie tries to figure out if the book had a role to play in Flora's death. There might be a perilous sentence in the book.
But Flora is not the only unwelcome intruder. Erdrich gives us a look at what life in Minneapolis, and her bookstore, was like (and may be again) paralleling Flora's growing intrusiveness with the COVID rampup in 2019 and lockdown of 2020. Figuring out how to cope with COVID, both personally and professionally, adds a major layer of challenge. A very present, you-are-there, account of empty streets, closed shops and short supplies, adds to the haunted feel of the entire city during the lockdown. ("This is the first book I have ever written in real time.")
Sometimes late at night the hospital emitted thin streams of mist from the cracks along its windows and between the bricks. They took the shapes of spirits freed from bodies. The hospital emitted ghosts. The world was filling with ghosts. We were a haunted country in a haunted world.
And then there was George Floyd. Floyd was hardly the first (even in recent history), minority person murdered by police, but what set his example above so many others was the precise documentation of his killing. Also, not alone in current near-history, but the straw that broke the camel's back, in a way. The outrage that has followed has been driven not just by the phone-videos that now have become commonplace, but by the long history of the same events that lacked such undeniable evidence. The annihilation of native people by Westerners is of a cloth, if at a much greater and intentionally genocidal level. It is amazing there is room enough left for living people with all the ghosts that must be wandering about.

The confessional – image from MapQuest – This part of the store figures in the tale
Tookie is our focus throughout, with occasional side-trips to other POVs. Her journey from convict to bookseller, from criminally-minded to good egg, from single to paired up. Hers is a later-in-life-than-usual coming of age. You will like her. She starts out with edge, though, which you may or may not care for.
I am an ugly woman. Not the kind of ugly that guys write or make movies about, where suddenly I have a blast of instructional beauty. I am not about teachable moments. Nor am I beautiful on the inside. I enjoy lying, for instance, and am good at selling people useless things for prices they cannot afford. Of course, now that I am rehabilitated, I only sell words. Collections of words between cardboard covers. Books contain everything worth knowing except what ultimately matters.
In case you are wondering what that final line means, even Erdich is not sure. Tookie may not have been the most glorious flower in the bouquet, but she still has considerable appeal. In addition to being smart and creative, being willing to learn, to grow and to repent her sins are among her finer qualities.
The cast of supporting characters is wonderful, per usual. Pollux is Tookie's other half, well, maybe more than a half, as he totes along with him an adolescent niece in need of parents. He is a bona fide good man, although he has a bit of a blind spot when it comes to believing in ghosts. One of the truly lovely elements of the book is how Tookie and Pollux express their love for each other through food. His niece, Hetta, is, well, an adolescent, so the emotional interactions can be…um…lively. The shop crew are a fun lot, ranging in age and interests, and we get a look at some of the sorts of customers who patronize a shop that specializes in indigenous-related material. One other supporting cast member is the bookstore's owner, a famous writer, referred to only as "Louise." Erdrich has a bit of fun with this, giving herself some wonderful, LOL lines, and letting us in on some of her life under a bookshop-owner's hat.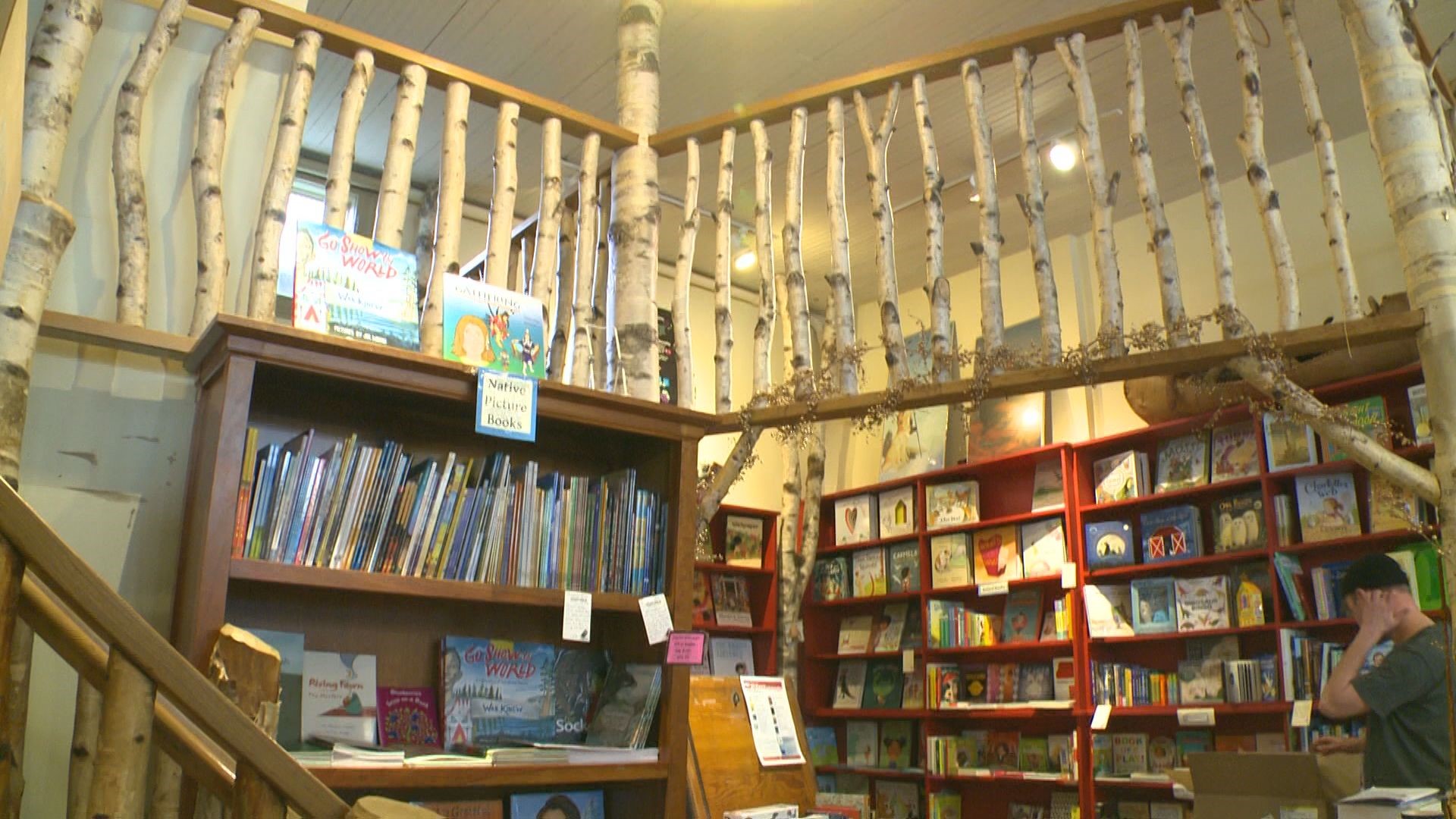 image from KARE 11 – Credit: Heidi Wigdahl
One tidbit I found interesting from my wanderings through things Erdrich is that she writes to a title, that is, the title is the first element of her books, and the rest is built around that. She first came up with the title for this one in 2014.
I gathered extraordinary sentences. healing sentences, sentences that were so beautiful that they brought people solace and comfort, also sentences for incarcerated people. – from the Book Launch
At some point the weight of her accumulated material justified beginning to flesh it out. This happened in 2019. I did not find any intel on just how many titles she carries about with her at a given moment, or what was the longest gap between title idea and deciding to write the book.
Bottom line is that when you see the name Louise Erdrich on a book, you can count on it being an excellent read. You can count on there being compelling contemporary stories, engaging characters, and a connection with the history of indigenous people. You can count on there being some magical realism. In this one, there is a powerful motif of sins in need of forgiveness. Mistakes need correcting, penance needs to be done, and redemption is a worthy, if not always an attainable goal. The Sentence asks how we can come to grips with the ghosts of the past, and cope with the sins of the present while mass-producing the specters of the future.

Protesters gathered at Chicago Ave. and East 38 th Street in South Minneapolis after the death of George Floyd – image and text from Minneapolis Star Tribune
At the end of the sacrament of Confession, the priest says, "I absolve thee from thy sins in the name of the Father, and of the Son, and of the Holy Ghost." If only forgiveness were all that was needed. Read two literary novels, one thriller, a memoir and a non-fiction, and sin no more.
Many books and movies had in their plots some echoes of my secret experiences with Flora. Places haunted by unquiet Indians were standard. Hotels were disturbed by Indians whose bones lay underneath the basements and floors—a neat psychic excavation of American unease with its brutal history. Plenty of what was happening to me happened in fiction. Unquiet Indians. What about unquiet settlers? Unquiet wannabes?…Maybe the bookstore was located on some piece of earth crossed by mystical lines.
Review posted – November 19, 2021
Publication date – November 9, 2021
This review has been cross-posted on GoodReads
=======================================EXTRA STUFF
Links to the author's personal and FB pages. Erdrich's personal site redirects to the site Birchbark Books. She owns the store. There really is a confessional there. According to the store's FAQ page, it was renamed a "forgiveness booth" after it was rescued from becoming a bar fixture.
A GHOST LIVES IN HER CREAKY OLD HOUSE
This is Erdrich's seventeenth novel, among many other works. She won the National Book Award for The Round House, the National Book Critics Circle Award for LaRose and Love Medicine, and the Pulitzer Prize for The Night Watchman, among many other recognitions. Her familiarity with cultural mixing is personal, her mother being an Ojibwe tribal leader and her father being a German-American. Familiarity with both native spirituality and western religion also stems from her upbringing. She was raised Catholic.
Interviews
—– Louise Erdrich: The Sentence Book Launch Conversation by Anthony Ceballos
—–PBS – Louise Erdrich's 'The Sentence' explores racial tensions in a divided Minneapolis
—–Publisher's Weekly – A Ghost Persists: PW Talks with Louise Erdrich by Marian Perales
Other Louise Erdrich novels I have reviewed
—–2020 – The Night Watchman
—–2017 – Future Home of the Living God
—–2016 – LaRose
—–2010 – Shadow Tag
—–2012 – The Round House
—–2008 – The Plague of Doves
—–2005 – The Painted Drum
Songs/Music
—–Johnny Cash – Ain't No Grave – Flora plays this while haunting Tookie
Items of Interest
—–NY Times – Where to Find Native American Culture and a Good Read By J. D. Biersdorfer
—–Twin Cities Daily Planet – After 17 years Birchbark Books continues to center Native stories, space amid society of erasure By Camille Erickson | April 27, 2017
—–The Catholic Crusade – the traditional Act of Contrition