"Close your eyes and count to ten," he whispered. I felt his breath on my cheek. The barrel of the gun was hard and cold against my forehead.
I counted, and when I opened my eyes, he was gone.

I sat up quickly in bed, gasping, my body soaked with sweat. What the hell was that?
Thus begins The Babysitter, a telling of growing up unaware that one of the author's favorite adults was not who she'd thought.

Liza Rodman – image from Simon & Schuster – Photo by Joel Benjamin
In 2005, Liza Rodman, then in her forties, was working on the thesis for her undergraduate degree when she began having frequent nightmares. It was not her first such experience. She had had these for a long time, but all of a sudden they were happening every night. In one, her husband was trying to kill her with a fireplace poker. Another featured a man killing nurses and eating their hearts. The dreams kept coming, with a faceless man chasing her, always with a weapon. She would wake up as her dream self was about to crash through a window, fleeing for her life.

Jennifer Jordan – image from her site – photo by Jeff Rhoads
Clearly there was motivation to figure out this puzzle, so she started writing about them, incorporating them into her thesis, over a two year period, drawing out more and more details. One dream-site was The Royal Coachman motel where she, her mother, and sister had lived for a time in Provincetown. Another was Bayberry Bend, a P-town motel her mother had owned.
Slowly the process moved along, six months of regular dreams, more images, months more of nightmares, until she saw the face, a familiar one, someone she hadn't seen since she was a kid, a handyman hired to work at the motel where her mother was employed. His mother worked at the motel too. He was one of a series of people who took care of her and her sister, a really nice guy, one of the few adults who were kind to them, who never yelled at or hit them, who took them around with him in the motel's utility truck, on chores, to the dump, to his garden in the woods, but who had disappeared when she was ten. This was not all that unusual for the adult males who scooted through her childhood. Why would she be having dark dreams about that guy? So she decides to ask her mother, then in her 70s, what this might all mean.
"Did something happen to me back then that you're not telling me?" I said, suddenly wondering if it did.
"What do you mean, happen to you?"
"With Tony Costa."
"Tony Costa? Why are you still thinking about him?"
"I wasn't until I had a nightmare about him."
She was quiet for a moment too long, and I stopped stirring and waited. Mom rarely paused to contemplate her words, so I watched, curious as to what was going to come out of her mouth.
"Well," she said, watching the gin swirl around the glass. "I remember he turned out to be a serial killer." She said it calmly, as if she were reading the weather report.
Oh, is that all? Not all that surprising from Betty. Liza's divorced mom was not exactly the best. While she did manage to keep body and soul together for herself and her two girls, she was frequently cruel to Liza, for no reason that the child could fathom. Mom, in fact is a major focus of the book, as chapters flip back and forth, more or less, between a focus on Tony and a focus on Liza and her relationship with her mother.

Antone Charles "Tony" Costa, Provincetown handyman and murderer of four young women. (Photo courtesy Barnstable County Identity Bureau) – image from the author's site
Who was this guy? Tony Costa never got to know his father, who had drowned trying to save a fellow seaman in New Guinea near the end of World War II, when Tony was only eight months old. He would be obsessed with his war hero dad for the rest of his life. There were early signs of trouble with Tony. At age seven he claimed to have been visited regularly by a man in his bedroom at night, an actual intruder? a fantasy? an obsession? He said the man looked like his father. He stood out among his peers during summers in Provincetown, his mother's birthplace, cooler, smarter, and more "inside himself" than anyone else, according to a kid he hung out with there. Then there was the taxidermy kit. Lots of killing of small animals, neighborhood pets going missing, yet never a successful display of a stuffed animal. There is no mention of bed-wetting in his psychopath Bingo card, but who knows? We know he was raped as a pre-teen, and was probably one of several victims of sexual abuse by a Catholic priest in Provincetown. So his potential for madness certainly had some outside assistance. He was accused of attempting to rape a young girl as a teen.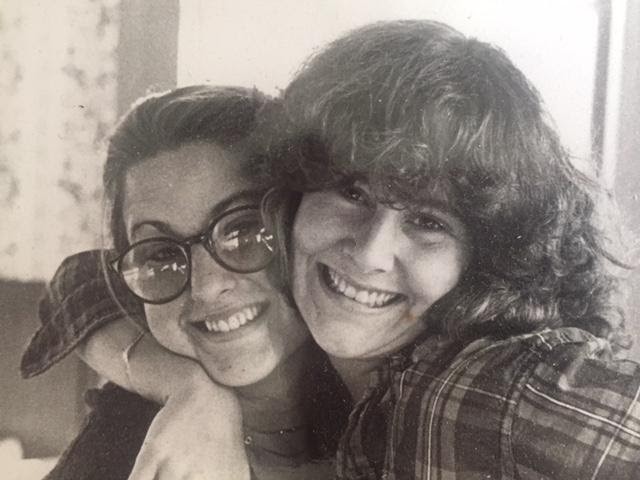 Jen and Liza, Northampton, 1979 – image from Rodman's site
Tony was smart and handsome, but had terrible judgment, a ne'er do well, capable at work but unable to hold onto a job. He became a heavy drug user and local dealer. Clearly this guy had some charisma (as well as a considerable supply of illegal substances) and a way with young teens. A pedophile who married his pregnant fourteen-year-old girlfriend, he kept a crowd of young acolytes around him unable or unwilling to see through his line of distilled, grandiose, narcissistic bullshit. Cult-leader stuff. There is a Manson-like quality to him. And, like most narcissists, he was never willing to accept any responsibility for his own actions, always insisting that people were out to get him, blaming others for things he had done.

The VW Tony stole after murdering its owner. A local spotted it in the woods and notified the local police, which spelled doom for Tony Costa – image from the author's FB pages
There is more going on here than personal profiles of the major actors. A lot is made of how different from the mainstream Provincetown was, particularly during the tourist season. The ethos was much more accepting of whatever than most places. With people coming and going so much, it was custom-made for a predator. It was the 60s, man, drugs, sex, and rock 'n roll, and kids taking off for adventures, whether drug-related or not, and thus not necessarily raising instant alarms when they went missing. In 1971, for example, I bought an old Post Office truck at auction for three hundred bucks, and drove across country with three friends. (well, tried, we never actually made it across the continent) No cellphone, no regular check-ins. We didn't exactly file a flight plan. If we had come to a bad end, no one would have known, or been alarmed back home for weeks. This is something a lot of people did. Of course, we were not runaways, and we were not female. That would have been a whole other order of business. The cops in Provincetown took a lackadaisical attitude toward worried parents looking for missing progeny. "Don't worry. I'm sure they will turn up in due time." And they were probably right, mostly. Except, sometimes they weren't. It took a lot of pushing from those concerned about the missing young women to get the police to pay much attention. Rodman and Jordan provide a very detailed look at the various police departments that became involved in Tony's case, both the occasional good police work and the ineptitude of inter-departmental communications. Sound familiar?
The locals were slow to allow for the possibility that there was a killer in their midst. Even today, there is an urge to protect one of their own, despite it being fifty years since the events of the book.
"I got threats when I wrote this book," Liza says. It's a loving portrait of the town, but not especially flattering. "I have a comfort level there that I don't have anywhere else. Even in the face of this book." – from The Provincetown Independent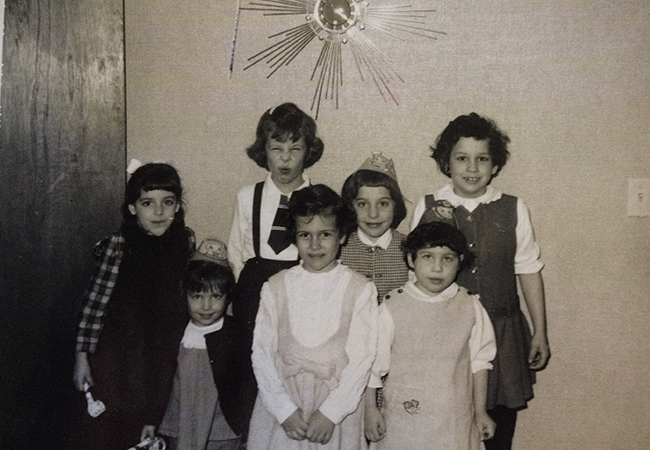 It was her sister's 8th birthday. At the moment Liza was making a face at the camera, Tony was leading two young women into the Truro woods, where he would murder and bury them. – image from the author's FB pages
One of the things about true crime books is that there is an element of suspense that is lacking. We know that little Liza will grow up to write this book, so we know that Tony did not kill her. This makes it more like a Columbo episode, knowing that the bad guy will get got, but enjoying seeing how that ultimately happens. That said, this is not a straight-up true crime effort. It is a fusion of true crime with memoir. Half of the book is about Liza's childhood, her relationship with her mother in particular. It is an interesting look at how someone can survive a bad parent-child relationship. Showing how things were for Liza at home makes her a more sympathetic narrator for the other story. Geez, ya poor kid. I sure hope nothing else bad happens t'ya. And it makes it much more understandable how a kid who was starved for adult affection and attention would be drawn to an adult who was offering kindness and interest.
I did not get the frisson of fear reading this that pervaded in another true crime book, I'll Be Gone in the Dark. Maybe because the killer in this one was long ago jailed, whereas the California killer had not yet been arrested when that book came out. But there is a certain vertigo, like walking near a cliff edge, blindfolded, only to realize the danger you were in when you take it off. It is distinctly possible that Liza might have found her way into Tony's special garden if he had managed to stay out of jail for a few more years. Liza was like the little girl playing with Frankenstein's monster in the movie, not realizing that he was more than just a large playmate, and seemingly friendly soul. Whew!
Rodman had been working on this project for about thirteen years. It happened that, in 2018, Jordan, a professional writer, was casting about for her next book project (She had previously published four books.) when she thought of her dear friend, Liza, (they had met in college) who was thrilled at the suggestion that they collaborate. So, sixteen years of research in all and here it is. An in depth look at a monstrous series of events, a sick individual, an interesting place in a time of upheaval, a difficult childhood, an odd friendship, and a very close call. The Babysitter is an engaging, informative read that will make you appreciate your sane parents, most likely, and appreciate your luck even more in never having had such a person as Tony in your life. (You haven't, right?)
His coterie of teenagers, his stash of pills, and his marijuana helped mask his ever-increasing feelings of inferiority; by surrounding himself with idolizing acolytes who needed a hero, he could feel more in control, sophisticated, confident, and, of course, more intelligent.
Review posted – March 5, 2021
Publication date – March 2, 2021
I received an ARE of The Babysitter from Atria in return for an honest review. I did not charge them my usual rate of ten bucks an hour and whatever I want to eat from their fridge.
=====================================EXTRA STUFF
Links to Liza Rodman's 's personal, FB, Instagram, LinkedIn, and Twitter pages
Links to Jennifer Jordan's personal and FB pages
Interviews
—–Red Carpet Crash – February 24, 2021 – Interview: Authors 'Liza Rodman And Jennifer Jordan' Talk Their Book The Babysitter: My Summers With A Serial Killer – audio – 17:02 – definitely check this one out
—–New York Post – February 27, 2021 – How I discovered my babysitter Tony Costa was a serial killer by Raquel Laneri
—–The Provincetown Independent – February 24, 2021 – Remembrance of Serial Murders Past by Howard Karren
—–WickedLocal.com – February 23, 2021 – In new memoir, local serial killer Tony Costa babysat two youngsters by Susan Blood
Items of Interest
—–Frankenstein playing with sweet young Maria
—–Columbo – or substituting for whodunit the howchatchem
—–My review of I'll Be Gone in the Dark
Songs/Music
The author's site provides a link to a considerable list of 39 songs mentioned in the book. But you have to have a membership to hear the full songs on Spotify instead of just the clips that are available on Rodman's site.