I'm here because, for the past ten years. I have been haunted by a murder that took place a few steps away. It was told to me my junior year of college like a ghost story: a young woman, a Harvard graduate student of archaeology, was bludgeoned to death in her off-campus apartment in January 1969. Her body was covered with fur blankets and the killer threw red ochre on her body, a perfect recreation of a burial ritual. No one heard any screams; nothing was stolen. Decades passed, and her case remained unsolved. Unsolved, that is, until yesterday.
"Every nation-state wants an important past," Karl said. So, often the ruling parties will commission archaeologists. But sometimes the past the archaeologists find is not what the powers want them to find.
In Becky Cooper's gripping true-crime tale, We Keep the Dead Close, there are two mysteries at work. Who brutally murdered Jane Britton and why, and was Harvard University involved in covering up the murder? If so, did they know who the guilty party was?

Becky Cooper – from the Boston Globe – photo by Becky Cooper
Ok, so here is how I went about reading the book. In addition to entering into my review file the names of the suspects people connected to the crime, I also kept a running list of the questions I thought needed answering as the book moved along. Here is a sample from reading through page 32:
Questions so far
—–Was Jim H (Jane's sort-of bf) at her door at 9a as reported by her friends and neighbors, the Mitchells?
—–Where is Jim H now?
—–Who were the two men dashing to a car at 12:30a as reported by neighbor Ravi?
—–Why was Jane's cat screaming at 8p, and if the place was effectively soundproof how did neighbor Carol Presser hear it?
—–Sounds like the killer was left-handed, given the location of the fatal blow.
—–What's the deal with the red ochre sprinkled over Jane's body?

Jane Britton – image from Wikimedia
I kept a separate list for the question of whether Harvard engaged in a coverup. In a book of over 400 pages you can see how this list might grow. And grow it did, even as I checked off many of the questions when they were answered. But that was one of the major joys of reading this, or, I guess, any true crime book, or fictional crime book for that matter. Seeing if what strikes the author, or the investigators, is also what strikes you, the reader, the rousing of our inner Sherlock. Aside from the mystery, the whodunit of the story, there is content in abundance. For example, how can an institution like Harvard at the very least appear to be involved in covering up a crime, and yet remain unaccountable. Maybe that is not so surprising given that, after lives of diverse forms of crime, the Trump family remains on the spacious side of prison bars. But still, there is, or at least should be, some shock value to this. Did Harvard leadership hide a capital crime, did Harvard obstruct justice for fifty years? Cooper looks at evidence suggesting that it did.

Professor Karl Lamberg-Karlovsky was a prime suspect in Britton's murder – image from the NY Post – grad students had accumulated a file on him. One of them died under questionable circumstances.
As noted in the opening quote at top, Cooper had come across this story while an undergraduate at Radcliffe. The professor presumed most likely to have done the deed was still teaching at Harvard. Cooper graduated, moved on, was having a life, but the story stuck with her. Ten years after her undergrad days, she returned to the scene of the crime, as a graduate student, determined to find out the truth of Jane Britton's death.

The Dig team in Iran in 1968 – from West Hunter
This is a journey very reminiscent of Michelle McNamara's amazing I'll Be Gone in the Dark, in which she helped track down the Golden State Killer. Could Cooper do the same? We follow her through the labyrinth of her investigation, talking with everyone who knew Jane at the time of her death, and then branching out to the people who knew the people who knew her. She keeps trying to get access to official police records, a remarkably difficult undertaking for such a cold case, even moreso as Massachusetts is one of the worst states in the nation on Freedom of Information access, and gets in touch with local and state investigators who were involved back then. Suspects get their time in the spotlight, then are replaced with others. Was it one of these, or maybe someone in Jane's circle who was never thought of as a suspect, or maybe someone else entirely?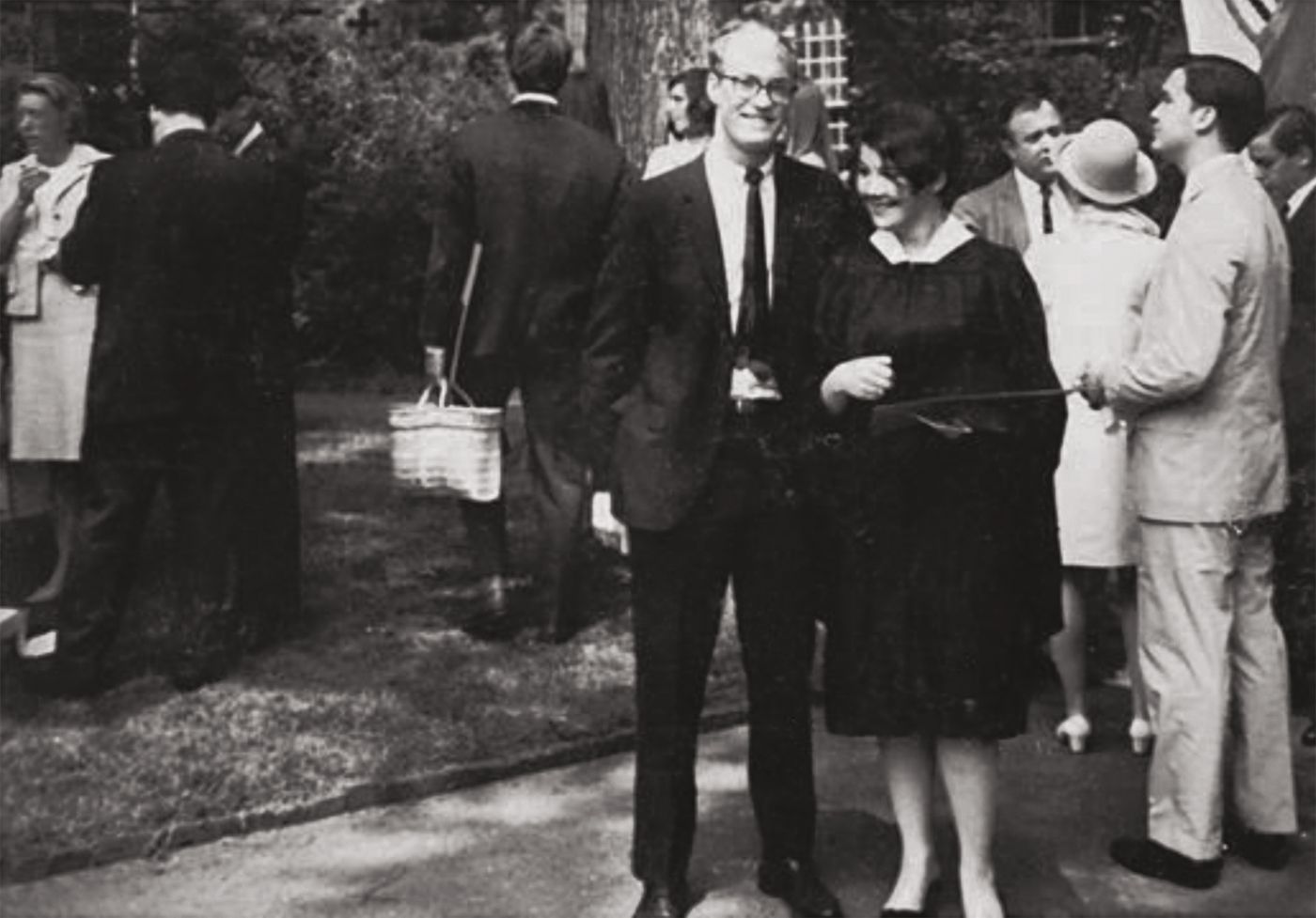 Jane Britton and Ed Franquemont at their college graduation in 1967 – image from Town & Country – source: the Jane Britton Police File – Franquemont, an ex, was universally disliked by Jane's friends. He may have been physically abusive to her
But there is a whole lot more going on here than a procedural effort to unearth the truth in a nearly fifty-year-old cold case. There is a consideration of historical and all-too-contemporary gender discrimination issues at Harvard, a strong thread about story that permeates, and a subset of that, on rumor as a means of social control.
Cooper documents decades of dismissive treatment of women, not just at Harvard, but in academia well beyond those ivied walls. This manifests in many ways. Women at Harvard in the 1970s learned to dress as sexlessly as possible in order to de-emphasize their gender, lest they be seen as less academically capable than their male clasamates. In the 1980s, women were ushered to positions in the university that were high on administrative duties and low in departmental influence. In 1994 Nancy Hopkins documented the bias against women, showing that only 8 percent of the science faculty at MIT were women, and even lower, 5 percent, at Harvard. In 2005 Hopkins confronted then Harvard president Larry Summers at a conference when he claimed that female under-representation in science faculties was the result of innate biological differences. In the twenty-teens, Associate Professor Kimberly Theidon, was active at Harvard speaking out about sex discrimination and sexual assault, faulting Harvard for its lagging sexual assault policy. When her concerns made it into The Crimson, Harvard's newspaper, her tenure application, which had already been approved by the authorizing committee, was withdrawn. Behind-closed-door deliberations on tenure decisions shields Harvard from much-needed transparency.
The tenure decision-making process "is an invitation to abuse," Howard Georgi, a Harvard physicist who has served on tenure committees told Science magazine in 1999. "There's no question this has affected women."
The whole notion for the book began, of course, with the story BC heard when she was a Radcliffe undergrad. The police withholding their information made the story of Jane's death largely oral, and certainly unofficial. And we know from the game Telephone, how stories can change when passed along that way. The file kept by graduate students at Harvard about Karl, with so many elements poorly examined, if researched at all, made that a kind of urban legend. Everybody back at the time of her death had their own experience of Jane and BC tries to make sense of them, learn from their Rashomon-like views the truth of who Jane was. She presents to us a Jane Britton who is not just a body deprived of life, but a three-dimensional person, with a personality, a history, hopes, talents, complications, and ambitions.

Jane Britton's boyfriend, Jim Humphries, was also a possible suspect. – image from the NY Post – source: Jane Britton police file
We construct history from the pieces that are available to us. Artifacts, physical objects, letters, photographs, newspaper reports, police reports, spaces that existed then that are still around today. Cooper pursues all she can find, but some will never be unearthed. Sometimes those pieces might lead in opposing directions. Sometimes the pieces might lead nowhere. Sometimes small pieces might hold large truths. Sometimes what seem large pieces hold little explanatory value. Which are the important shards? And which are just detritus? It takes persistence, sensitivity, intelligence, and creativity to make the story we construct of these pieces reflect the truth of the person, the event, or the time we are attempting to describe. Karl Lamberg-Karlovsky's claim to fame, for example, was not the high academic achievement of his field research. It was his ability to transform the bits he found into a compelling tale. And what about the missing puzzle pieces, the police reports that were kept hidden, the people there in 1968 and 1969 who had died? We can never really know all there is to know. But hopefully we can, with the evidence we are able to gather, get close enough.

Richard Michael (Mike) Gramly (many years later, obviously) not only knew Jane at the time of her death, but was also on an expedition when another young woman vanished mysteriously – he was known to have serious anger issues
There were rumors bouncing around Jane and her death like neutrons in a nuclear reactor. Many of the people with whom Cooper spoke had a favorite suspect they believed guilty of the crime, offering what they knew or, maybe, had heard or suspected as supporting evidence. Did Ed Franquemont beat her? Was Mike Gramly guilty of maybe two killings? Did Jane have an affair with Karl in Iran? Did Jane threaten to expose a professional lie Karl had told? Did she blackmail him to gain an advantage in her exams, and a place on the next dig? Was Karl a plagiarist? Was Karl a murderer? Did rumors surround him because of his arrogance or because he might be guilty? How about Lee Parsons [sorry, I was unable to find a photo, but Lee is a prime suspect]? Something happened between Lee and Jane at a notorious "Incense Party" at his place. But what? Did Lee confess to killing Jane many years later? In Cooper's investigative travels she crosses paths with an expert in such things.
As I thought more about [medical anthropologist] Mel [Konner]'s assertion that the rumors were a form of punishment, I found myself reading scholarly work on the social functions of gossip. I eventually worked my way to Chris Boehm, a former classmate of Jane's who's studied how gossip works in small-scale societies. He had, in fact, used Jane's murder as an example in his paper about gossip as a form of social control.


According to Boehm, social groups necessarily have a certain amount of "leakiness" built in. These are the whisper networks; these are the stories that get swapped in the field and passed quietly between graduate students. Their job is to limit outlier behavior and to keep members of the community safe when what can be said out loud is constrained. Gossip, in other words, is punishment for people who move outside the norms.
There is so much going on here, and it is so accessibly presented that you will be rewarded with much more than the knowledge of who killed Jane Britton. You will learn a lot about Harvard, how academia treats women, how gossip works in the world, and how one might go about solving a very cold case. You may or may not want to read this book in the somewhat OCD manner I pursued, focusing on solving the mystery. That way does add considerably to the reading time, as well as the filling feeling one gets from such activities. But whether you dust off each piece of information as it emerges, or speed through Cooper's excavation on a mud-spattered Jeep, you will be well rewarded. Once you dig out We Keep the Dead Close from your bookseller's shelves, you will definitely want to keep it close until you finish reading, exploring, and learning. This is an expedition well worth signing up for.
…the act of interpretation molds the facts in service of the storyteller. I have been burned enough times to know. There are no true stories; there are only facts, and the stories we tell ourselves about those facts.
Review first posted – January 8, 2021
Publication dates
———-November 10, 2020 – hardcover
———-September 14, 2021 – trade paperback
I received a copy of the book from Grand Central in return for an honest review, or at least, as honest a review as might be possible given the materials I was able to excavate. Thanks, folks.
And thanks to MC. You know who you are.
=======================================EXTRA STUFF
Links to the author's personal, FB, Instagram, Tumblr, and Twitter pages
Interviews
—–This is an EXCELLENT interview – Wellington Square Bookshop – We Keep The Dead Close by Becky Cooper | Author Interview with Sam Hankin – video – 41:15
—–Grand Central Publishing – Becky Cooper & editor Maddie Caldwell in conversation – video – 56:16 – safe to skip the 2:13 intro
Items of Interest
—–Wiki – Murder of Jane Britton
—–WebSleuths.com