I had a hand in breaking all of this. I had to have a hand in fixing it.
When does helping become controlling? When does loving become smothering? When does zeal become interference? How does one do what one knows is best without crossing the line? Civil Townsend, a 23-year-old nurse in the Montgomery Alabama of 1973 has to figure all that out. Working for a federally funded family planning clinic, Civil is one of several nurses responsible for administering Depo-Provera shots to young women patients. The Williams family is her first case. They live in a cabin that is little more than a shack on a farmer's property, Mace, the father, Mrs Williams, his mother, and two girls, Erica and India. Civil does her job, but after having administered the shots learns that neither eleven-year-old India nor thirteen-year-old Erika has had her first period. In fact, neither of the girls has even kissed a boy yet. So why are they receiving birth-control shots? She learns as well that there are questions about the safety of the shots, which had been found to cause cancer in test animals. She starts looking into what might be done about this.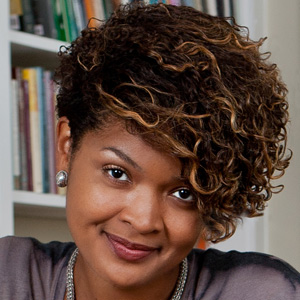 Dolen Perkins-Valdez – image from American University
Civil has the hard-charging enthusiasm of a rookie, eager to do all in her power to help those in need. Her background is nothing like that of her patients. Her father is a doctor, and her mother an artist. They raised her to do good, even named her for their aspirations of achieving civil rights for black people.
Civil learns how hard it is to go up against authority
She is complicated. She does not always do the right thing. She stumbles in her zeal. – from the Politics and Prose interview
Civil does everything she can to help the family, gets them some public services, a decent place to live, schooling. And she has an impact, but, on a day when Civil is not working, the head nurse at the clinic tricks the family into signing papers agreeing to the girls' sterilization. Civil's alarm turns to rage, and then to fighting for change, so this outrage can never happen again to other unsuspecting girls and young women.
It is 1973, only a year since the infamous, forty-years-long Tuskegee Syphilis Experiment was finally shut down. In that one, hundreds of black men were supposedly being treated for syphilis, but in fact no one was being treated. Of the four hundred who were diagnosed with the disease, one hundred died of syphilis directly or complications from the disease. Dozens of wives were infected, and children were born already afflicted. All this, to see how syphilis ran its course in the untreated.
Civil's activity gets a lawsuit started locally. But soon a young civil rights lawyer, Lou Feldman, is brought in. He transforms it into a national cause célèbre, as the case shifts from looking at the individual harm done to the Williams family to the national disgrace of the forced sterilization of tens thousands.
Our research reveals that over the past few years, nearly one hundred fifty thousand low-income women from all over the nation have been sterilized under federally funded programs.
He wants the laws changed, to end this practice. It is a huge concern for the Black community, but the novel makes clear that there were other groups who were victimized by this heinous practice.
The story take place in two, very unequal timelines. The frame is Civil at sixty-seven, a doctor in 2016, returning to Montgomery after a long absence to see the Williams girls. India is dying. This offers us an ongoing where-are-they-now report. The bulk of the novel takes place in 1973 and immediately after.
Civil struggles with her guilt over having played a part in this horror. It is clear that the notions that had supported legislators allowing such things were not entirely unfamiliar. Civil talks with Lou about the history of eugenics.
"So the idea was what . . . to stop us from having children because we were inferior?" I whispered.
"Well, the ideas were often aimed at specific populations that included Black people, yes. But also the poor, the mentally retarded, the disabled, the insane…" Mrs. Seager probably put the girls in three of these misguided categories: poor, Black, and mentally unfit. Had I done the same? I had initially deemed the girls unfit to be mothers, too. Because they were poor and Black. Because they were young. Because they were illiterate. My head spun with shame.
"Did they target poor white folks, too?" Ty asked.
Lou nodded. "Back in 1927, the US Supreme Court ruled that compulsory sterilization of people deemed unfit was constitutional. People in asylums all over this country were sterilized."
Perkins-Valdez offers a most welcome maturity of perspective. Lou, a young, white lawyer, is viewed with suspicion to begin, but earns the community's trust with his dedication, brilliance, grueling work habits, and effectiveness. He is lauded as a hero, while Mrs Seager, the head nurse, is shown as a flawed person who, though she was doing something terrible, thought she was doing the right thing. Characters take or avoid difficult decisions for understandable reasons. Even a black Tuskegee librarian whom Civil admires has a hard time understanding how she did not see what was going on right under her nose. There is very little good vs evil going on here in the character portrayals, only in the broader horror of a dark-hearted, racist and classist policy.
One of the many joys of the book is the portrayal of a time and place. There are details that add to the touch and feel.
The first thing that hit me was the odor. Urine. Body funk. Dog. All mixed with the stench of something salty stewing in a pot. A one-room house encased in rotted boards. A single window with a piece of sheet hanging over it. It was dark except for the sun streaming through the screen door and peeking through the holes in the walls. As my eyes adjusted, I saw that there were clothes piled on the bed, as if somebody had stopped by and dumped them. Pots, pans, and shoes lay strewn about on the dirt floor. Flies buzzed and circled the air. Four people lived in one room, and there wasn't enough space. A lot of people in Montgomery didn't have running water, but this went beyond that. I had to fight back vomit.
Some are more cultural, like the perceptions middle class black people in Montgomery had of poor black people, and the less fraught parallel football culture in which Alabama vs Auburn, followed by white people, is replaced for the black population with Alabama A&M vs Alabama State. News to me. We also get a taste of the segregation of the time, how bathroom accessibility while on the road could be problematic for those of the wrong skin color, how a beach that used to be open to all, and featured black-owned businesses, now required one to pay a park ranger and display a piece of paper on your car, the businesses now long gone.
The case on which Perkins-Valdez based her novel was a real one, Relf vs Weinberger, filed in July, 1973 in Washington D.C. by the Southern Poverty Law Center. Joseph Levin, one of the Center's founders, was the young lawyer who prosecuted the case.
Mary Alice was 14 and Minnie was 12 when they became victims of the abusive practice of sterilizing poor, black women in the South. Their mother, who had very little education and was illiterate, signed an "X" on a piece of paper, expecting her daughters, who were both mentally disabled, would be given birth control shots. Instead, the young women were surgically sterilized and robbed of their right to ever bear children of their own. – from the SPLC
The story ultimately is about the horror of forced sterilization on poor black people and other classes deemed unfit to breed. You will learn a lot about a crime against humanity that was perpetrated by our own government, and the story of how this injustice was fought. But if the story does not engage, you may not get the benefit of the new knowledge it delivers. Thankfully, there need be no concern on that score. While we may echo the commentary of others to Civil that she did not bear any responsibility for what was done, that her guilt was helping no one, here is a very full-bodied portrait, of a flawed character. One who makes mistakes. A young person who has not yet learned when to push forward, when to take a step back. We see her learning this and can applaud when she takes steps in the proper direction. We also get to see the difficult family dynamic she must negotiate with her own parents, the burden of expectation that has been fitted to her broad shoulders, and the challenge of loving the Williams family, but not too much. And we have a front row seat to her relationships, her struggles, with friends and colleagues.
Take My Hand is a wonderful addition to the Perkins-Valdez oeuvre, begun with her outstanding 2009 novel, Wench, and followed by Balm in 2015. She has a fourth in the works, due to her publisher in October 2022, set in early 1900s North Carolina. So maybe a 2023 release?
A helping hand is often that, kindly meant, but maybe, sometimes, before you put your hand in another's, you might want to know where it has been, and where it might be taking you. If the hand is attached to Dolen Perklins-Valdez, grasp it and hold on. It will take you somewhere wonderful.
I had never known that good intentions could be just as destructive as bad ones.
Review posted – April 22, 2022
Publication date – April 12, 2022
I received an ARE of Take my Hand from Berkley in return for a fair review. Thanks to Elisha K., and thanks to NetGalley for facilitating.
This review has been cross-posted on GoodReads
===================================EXTRA STUFF
Links to the author's personal, FB, Instagram, and Twitter pages
Profile – from Simon & Schuster (mostly) and her site
Dolen Perkins-Valdez, PhD, is the author of the New York Times bestselling novel Wench. In 2011, she was a finalist for two NAACP Image Awards and the Hurston-Wright Legacy Award for fiction. She was also awarded the First Novelist Award by the Black Caucus of the American Library Association. Dr. Perkins-Valdez taught in the Stonecoast (Maine) MFA program and lives in Washington, DC, with her family. She is currently Chair of the Board of the PEN/Faulkner Foundation, and is Associate Professor in the Literature Department at American University.
Interviews
—–Publishers Weekly – Dolen Perkins-Valdez's 'Take My Hand' Reaches for Hard Truths by Jen Doll
there was something about the Relf sisters she kept coming back to. "The thing that struck me about it was that, even though they're only really mentioned in passing whenever we talk about this, it was a big deal at the time," she says. The sisters' ordeal was heavily covered in the press, and they appeared before a Senate subcommittee led by Sen. Ted Kennedy. "There were so many parts of it, to me, that felt absolutely remarkable. I think some people had heard a little bit about it, but they didn't know enough. I wanted people to know enough."
—–Politics and Prose bookstore – Dolen Perkins-Valdez — Take My Hand – in conversation with Victoria Christopher Murray
The sound level is uneven, which often makes it difficult to hear. But if you have a sound system the Q/A kicks in
My review of earlier work by the author
—–2010 – Wench
Songs/Music
—– Booker T. and the M.G.s – Behave Yourself – chapter 14
—–Mahalia Jackson – Precious Lord Take My Hand – the epigraph notes MLK requesting this be played on his final day
—–Stevie Wonder – You Are the Sunshine of My Life – chapter 20
Items of Interest
—–Eunice Rivers – re the Tuskegee syphilis experiment
—–Mayo Clinic – Depo-Provera
Depo-Provera is a well-known brand name for medroxyprogesterone acetate, a contraceptive injection that contains the hormone progestin. Depo-Provera is given as an injection every three months. Depo-Provera typically suppresses ovulation, keeping your ovaries from releasing an egg. It also thickens cervical mucus to keep sperm from reaching the egg.
—– Mississippi Appendectomy
—–Southern Poverty Law Center – RELF V. WEINBERGER – the real-world case on which the novel is based
—–Wiki on the Tuskegee Syphilis Study