Milley believed January 6 was a planned, coordinated, synchronized attack on the very heart of American democracy, designed to overthrow the government to prevent the constitutional certification of a legitimate election won by Joe Biden.
Milley summarized and scribbled. "Big Threat: domestic terrorism."
Some were the new Brown Shirts, a U.S. version, Milley concluded, of the paramilitary wing of the Nazi Party that supported Hitler. It was a planned revolution. Steve Bannon's vision coming to life. Bring it all down, blow it up, burn it, and emerge with power.
The title, Peril, is drawn from President Joe Biden's inaugural address, in which he says "We have much to do in this winter of peril…" It is the epigraph for the book. Winter is not coming. It is bloody well here, and has been here a lot longer than most folks realize. Woodward and his much younger partner, Bob Costa, national political reporter for the Washington Post, look over some of what we have endured, consider the peril we face today, and give us plenty to think about concerning what lies ahead. Biden's speech addresses not only the threat to our democracy, but the threat to our safety from COVID variants, the cry for racial justice, and the threat to our planet from global warming. This book focuses on the threat to American democracy.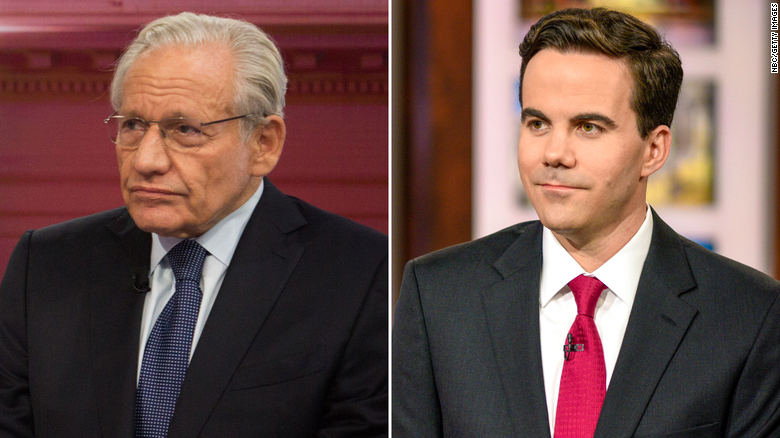 Bob Woodward and Robert Costa – image from CNN
It rolls along on two parallel tracks. One is Trump's attempt to illegally overturn the 2020 presidential election. The other is Joe Biden's determination to preserve the soul of our nation, focusing on his campaign, and the first few months of his administration. The chapters alternate, more or less between Trump and Biden.
"Was that from this book?" One peril to be faced in reading this book is that of fixing what one read, when, where, and by whom, given the firehose flood of books on the Trump era. I addressed that in my review of I Alone Can Fix It. If this is of interest you can click here for a look.

Trump's mob assaults the Capitol on January 6, 2021 – image from Business Insider
January 6, 2021 is a date which will live in infamy. That was the day on which American democracy was nearly bombed into surrender by a sneak attack on the citadel of our national values. That was the day on which a failed Trump-led coup could easily have made moot the election he had just lost, and rendered American elections, certainly presidential elections, meaningless. It was the coming out party for an American brand of fascism that has long been an undercurrent, and sometimes much more, in our political life as a nation, a dark but always-present element in our population that Trump had recruited and encouraged for years, even before he ran for office.
It is clear that, to the extent that we will ever know all the details of the coup plot, it is likely to come from the Congressional January 6 Committee's final report, in combination with unredacted testimony given to that committee, testimony given at what we hope will be very public trials of those in charge of the effort, and intrepid reporters. The authors count among that final group. While offering far from a complete portrait of the plot, they have given us an insider's look at what people in the administration and the government beyond that faced on 1/6 (which I personally think should be called Desecration Day.) And what they had to deal with in the months leading up to it.

Milley speaking with Trump – image from DNYUZ
It was Chairman of the Joint Chiefs of Staff Mark Milley whose intercession with his Chinese counterpart talked the Chinese military down from a concern that Trump might launch an attack on China in order to remain in office, not once but twice. As the Chinese were again concerned what our imbalanced president might do after his coup attempt failed. There was also concern that Trump would attack Iran in an attempt to secure his own position. I doubt Israel would have appreciated the incomings such an action would have surely generated. He also floated the idea of evacuating troops from Afghanistan in January, 2021, with minimal planning. Thankfully he was dissuaded from that impulse as well.
Milley is the official most in the limelight here. He was appointed to that post by Donald Trump. In Phil Rucker and Carol Leonnig's book I Alone Can Fix It, Milley told them of his concerns about the dangers of a right-wing coup. There is plenty more of that in this book as well. We hear a lot from Trump-whisperer Lindsey Graham about his conversations with Trump, who appears to have actually convinced himself of the truth of his own lies. He is a fine representative of those who, while remaining loyal to Trump, try to counsel him to sane courses of action.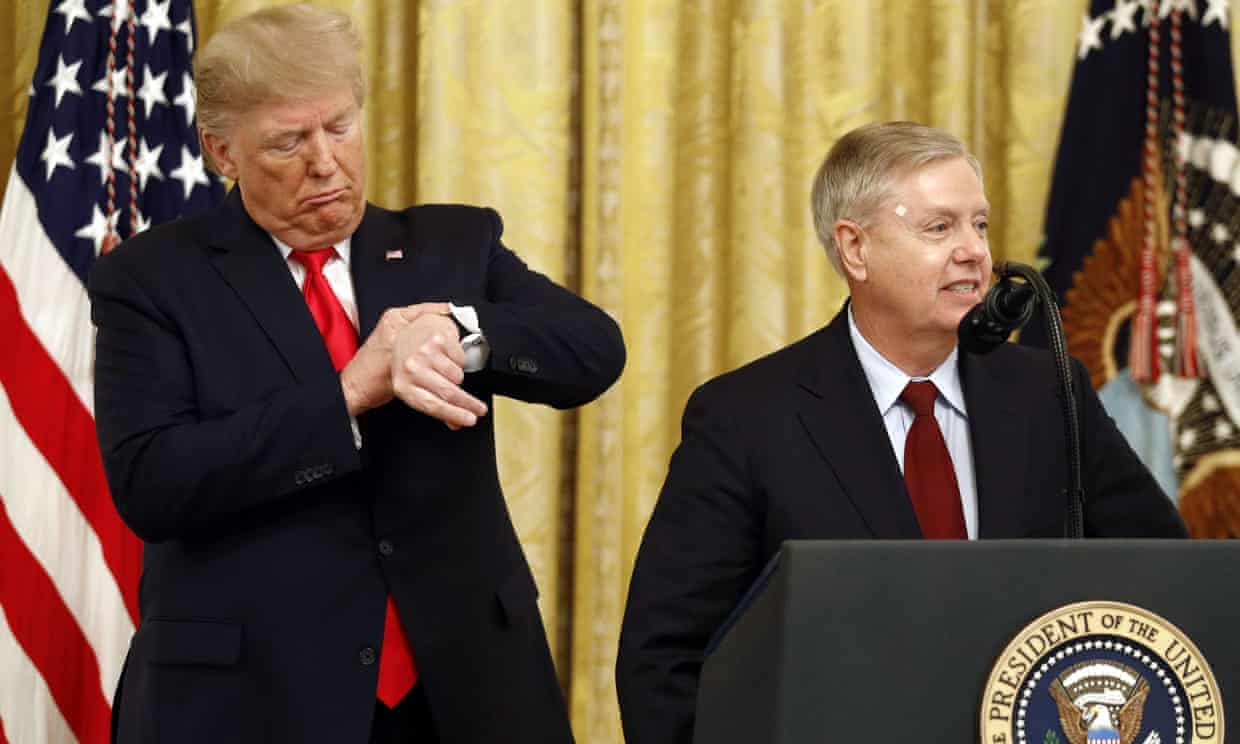 Donald Trump pretends to check his watch as Senator Lindsey Graham speaks at the White – image and text from The Guardian
We get a look at the conversations among the cabinet level officials, unwilling to allow him to use the US military as his private army. We learn what analyses they shared about the dangers facing the nation, what agreements they came to among themselves, what steps they took, and what mistakes they made. We get a look at how these and other level-headed adults in the administration did whatever they could to keep Trump from causing irreparable harm to the nation with his impulsive-driven, self-serving, poorly-informed decision-making. Part of all this included making certain that proper chains of command would be followed should Trump decide to start a war as a Wag the Dog self-preservation move, or command the military to take actions that were illegal.
Days after the election, Trump fired Secretary of Defense, Mark Esper, in large part for his public opposition to the use of the military to suppress BLM protests. It was certainly clear to those tracking Trump's actions that Trump wanted the US military to be his personal security force, and Esper was an impediment. In fact, it was appropriate for the military to be brought to bear to battle an insurrection, and the delays in the military's response can be traced to the Department of Defense, by then Esper-free, sitting on its hands for far too long.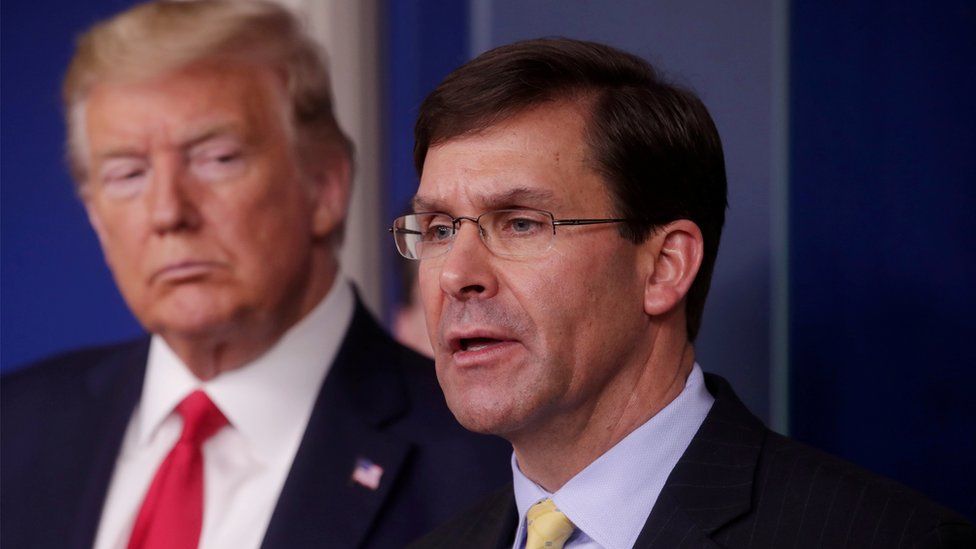 Defense Secretary Mark Esper – fired after the election – image from Reuters via BBC
One item that becomes clear from the telling here is that Mike Pence did his best to find a way to Yes for Trump, but was unable. It is also clear that Trump pushed Pence a step too far when he issued a press release claiming that the Vice President agreed with Trump's lie that the VP had the legal right to refuse to accept the electoral votes of any state. It was the only thing, apparently, in four years in office, that generated a spine in the relentlessly invertebrate Pence, driving him into bunker mode. It is unfortunate that Pence will likely be remembered more for this single act than for his years of pathetic subservience to and enabling of an American Mussolini. It is chilling to consider that had there been alternate slates of electors ready to bring to bear, Pence might have actually done the deed. Chuck Schumer and Nancy Pelosi called him repeatedly after the insurrection, wanting him to invoke the 25th amendment. He refused to take their calls, calling a quick halt to his vertebrate moment.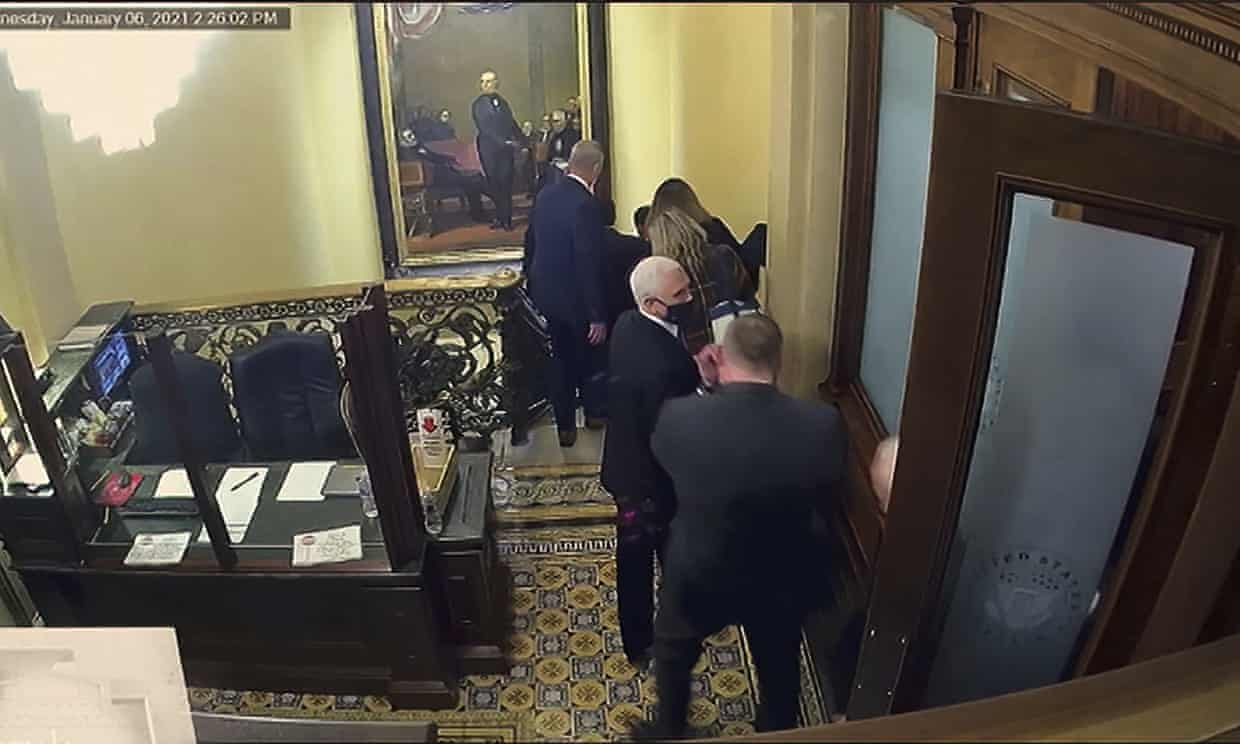 Mike Pence flees the mob on 1/6 – image from The Guardian
The book will (it certainly should) make your blood boil. The Founders put together a guiding document and a set of rules that presumed they would be carried out by honorable officials. They did not count on the possibility of a sociopath being elected president. Someone with not only no respect, but outright contempt, for the rule of law. He really claimed, and maybe even believed in his diseased mind, like Louis XIV, who famously said "L'etat est moi," that he, personally, was the state.
Bottom line is that when you see Woodward and Costa being interviewed about this book, or talking about the events they covered, their hair is on fire. They understand what it was that happened, namely that not only did the nation narrowly avoid a fascist coup that would have made the USA a dictatorship, but that the party of the guy who ordered it is all lined up and ready to goose-step their way to another try. We may have survived Trump's 2021 coup attempt, but it is clear that he will try again, and there are far too many who are more than willing to go along, whether actively or passively.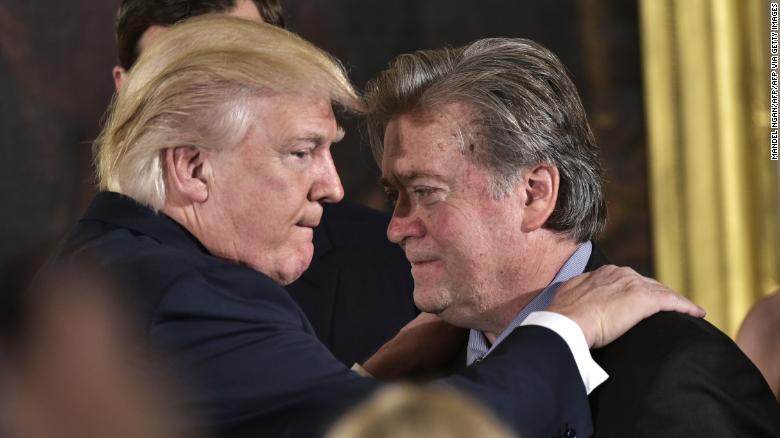 Trump with Steve Bannon – image from CNN
Now, as for the other part of this book. It should come as a salve for the angst generated by the reporting on Trump. They follow Biden's decision to run, following the Charlottesville "good people on both sides" outrage, convinced that the very soul of the nation was imperiled, and that he could offer a way out of this very dark cloud, more so than other extant or potential candidates. We get to see a very human Biden, sincere, knowledgeable, willing to listen to well-informed and well-meant advice, willing to make needed adjustments, willing to talk to anyone, anywhere, and unwilling to be baited by Trumpian taunts and lies. We are let in to some of the family troubles the Bidens have endured, that they continue to endure. Biden is shown as the anti-Trump, an incredibly decent person, gifted at making personal contact with people, caring about people, remembering them, willing to spend unheard of amounts of time with people who could offer him nothing but their shared pain. It shows candidate Biden behaving in a presidential manner when the actual president would not. It is a warm portrait of a man the authors have certainly seen enough of to know. They also show him getting tough in legislative negotiations, and showing his exasperation when sanity, and decency, seem insufficient to accomplish a goal. The book continues into March 2021, so shows Biden as president as well as merely a candidate.
But, of course, being Washington reporters, they feel it necessary to take a swing or two. In one instance they report on Biden snapping at a reporter who was being particularly dickish as if there was something wrong with that. That Biden later apologized was the real fault here. The reporter merited being smacked down. Their portrayal was that this was a kind of gaffe. Take a moment to roll your eyes here. The Beltway media have particular story lines that they adhere to, regardless of the facts. Reporting Biden as particularly gaffe-ridden is among them. He is no more so than most other people. We all misstate things at times. But they seem eager, drooling even for a chance to catch another one and reinforce the image. Their treatment of Biden's entirely appropriate reaction to a hostile reporter is of a cloth with that mindlessness.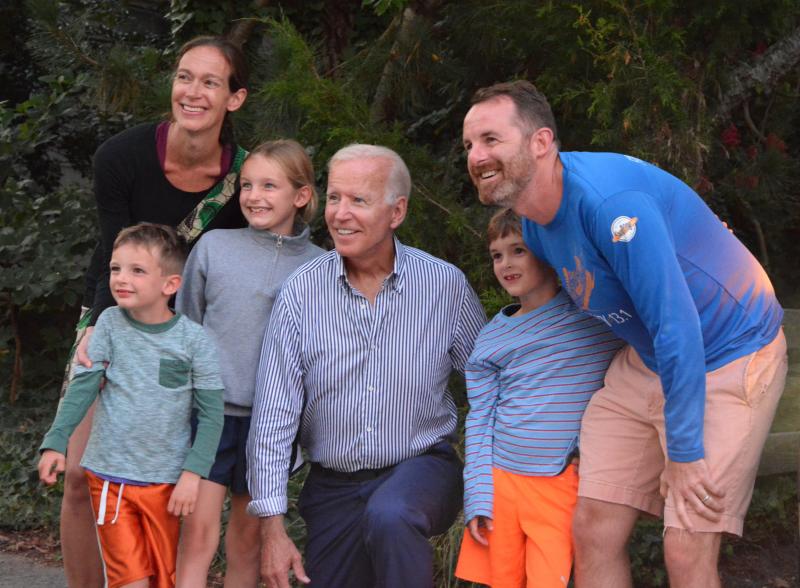 Presidential candidate and former Vice President Joe Biden takes a picture with the Downs family after campaigning in Rehoboth Beach. – image and text from the Cape Gazette
Gripes (in addition to the one above)
As happens far too often in books of this sort, namely political history books put together largely through personal interviews, the authors sometimes slip into stenography mode. They report, presumably straight-faced, about Senate Majority, now Minority Leader Mitch McConnell trotting out his spin about tax cuts for the rich being "tax reform" and crediting Trump for an economy that had been humming along quite nicely when he took office. I call BS. They continue in this mode about McConnell working with cabinet members trying to push Trump to some semblance of normal. Take nothing McConnell reports himself saying at face value. Second-party confirmation is always needed there. Ditto for Lindsey Graham.
Former Republican and Lincoln Project co-founder Steve Schmidt issued a statement about Graham…saying that many people have tried to understand Graham over the years. He encouraged people not to look at it "through the prism of the manifest inconsistencies that exist between things he used to believe and what he's doing now."
Instead, Schmidt said, "The way to understand him is to look at what's consistent. And essentially what he is in American politics is what, in the aquatic world, would be a pilot fish: a smaller fish that hovers around a larger predator, like a shark, living off of its detritus. That's Lindsey. And when he swam around the McCain shark, broadly viewed as a virtuous and good shark, Lindsey took on the patina of virtue. But wherever the apex shark is, you find the Lindsey fish hovering about, and Trump is the newest shark in the sea. Lindsey has a real draw to power — but he's found it unattainable on his own merits." – from Salon article
Graham is quoted at length here, and it is all self-serving. Douse that with salt before consuming.
Gripes, notwithstanding, Peril is an important book, another in a large library of reporting on the workings of the Trump administration, and particularly at how close Trump's attempted coup came to succeeding.
There are many lessons to be learned here. One is that the January 6th Committee should interview, whether via subpoena or not, all the players involved in orchestrating the insurrection, including Trump, and that they need to complete their report and make all necessary criminal referrals to the Department of Justice before Republicans have a chance to regain control of the House and shut them down. We learn that the norms and rules of American government are fatally flawed, allowing the dark-hearted to game the system for their political and personal advantage. We learn that even in dark times there are officials willing to put their careers, and even their lives on the line to stand up for the ideals and institutions, that Americans claim to admire and respect. We learn that there need to be fixes made to the Electoral Count Act of 1887 to make sure that each state's electors truthfully represent the decision of the voters.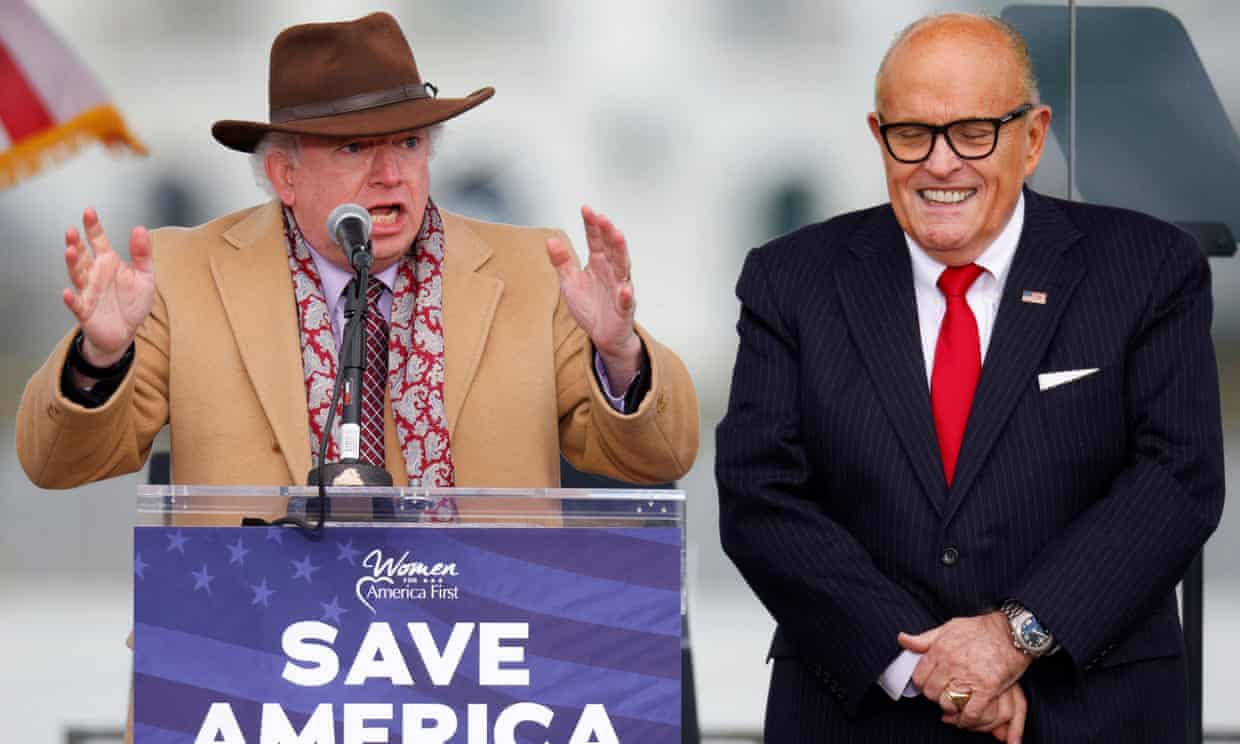 Attorney John Eastman, left, speaks next to Rudy Giuliani at Donald Trump's rally on 6 January – Image and text from Reuters, by way of The Guardian – photo by Jim, Bourg
The book's epigraph cut short Biden's inaugural statement. The full sentence reads We will press forward with speed and urgency, for we have much to do in this winter of peril and possibility. Despite the subsequent COVID variants that have killed or damaged so many in our nation, and the world, a major relief bill made it through a very marginally Democratic Congress. Other measures are needed, but hope that more can be done remains alive, despite Joe Manchin. There are hopeful signs in many parts of the nation that democracy is on the rise.
But the forces of darkness are indeed on the march, with shameless efforts, far too often successful, to suppress the right to vote of people unlikely to vote Republican, and to seize partisan control of state vote-counting mechanisms to make sure that if that suppression is not enough there is a second way to cheat their way to victory. What we are looking at in America is the rise of a fascist party that wears the name-tag Republican. Do not be fooled. These are the same sorts of people the Allies fought in World War II. The same sorts of people who seized control of Turkey in 2016, and who have gained power in far too many nations. The same sorts of people who admire corrupt autocrats like Vladimir Putin. Woodward and Costa have offered us a look at how such people operate when they find themselves in a position of power. No law is too sacred. No act too extreme. Thankfully, they were not as organized as they needed to be on 1/6 to succeed in their goals and they do not yet have enough power to implement their dark desires. But have no doubt that should they achieve their electoral goals, fairly or not, they will usher in a new Dark Age in America.
We as a nation are in mortal danger. We need to continue reading, learning about what has happened, and what has been hidden, so that we can be better prepared for the challenges that await. Woodward and Costa's book helps us see what has gone on, and helps us prepare, offering one Peril we should all welcome.
Five years ago, on March 31, 2016, when Trump was on the verge of winning the Republican presidential nomination, we worked together for the first time and interviewed Trump at his then unfinished Trump International Hotel on Pennsylvania Avenue in Washington.
That day, we recognized he was an extraordinary political force, in many ways right out of the American playbook. An outsider. Anti-establishment. A businessman. A builder. Bombastic. Confident. A fast-talking scrapper.
But we also saw darkness. He could be petty. Cruel. Bored by American history and dismissive of governing traditions that had long guided elected leaders. Tantalized by the prospect of power. Eager to use fear to get his way.
"Real power is—I don't even want to use the word—fear," Trump told us.
"I bring rage out. I do bring rage out. I always have. I don't know if that's an asset or a liability, but whatever it is, I do."
Could Trump work his will again? Were there any limits to what he and his supporters might do to put him back in power?
Peril remains.
This review has been cross-posted, well, most of it, on Goodreads
=======================================EXTRA STUFF
Links to Bob Woodward's personal, Twitter and FB pages
Links to the Robert Costa's Instagram and Twitter pages
Interviews
—–Washington Post – Transcript: "Peril" with Co-Authors Bob Woodward & Robert Costa by Karen Tumulty – transcript of a Washington Live interview
—–The Guardian – 'American democracy will continue to be tested': Peril author Robert Costa on Trump, the big lie and 2024 by David Smith
—–NPR – Trump's strategy to overturn the 2020 election didn't work. Next time it might by Terry Gross
My reviews of other books by Bob Woodward
—–2020 – Rage
—–2018 – Fear
—–2010 – Obamas's Wars
—–2008 – The War Within
Some other related books to check out
—–I Alone Can Fix It by Carol Leonnig and Phil Rucker
—–Too Much and Never Enough by Mary Trump
—–Fascism: A Warning by Madeleine K. Albright
—–Fire and Fury: Inside the Trump White House by Michael Wolff
—–Unbelievable by Katy Tur