My parents named me Dahlia, after the Black Dahlia—that actress whose body was cleaved in half, left in grass as sharp as scalpels, a permanent smile sliced onto her face—and when I first learned her story at four years old I assumed a knife would one day carve me up.
I'm not looking for evil. I'm looking for answers.
You know straight away that this one will be told with tongue firmly attached to cheek. The four siblings are all named after famous murder victims. The Lighthouse family has seen quite a few lives dashed on the rocks, well, not personally, or well, maybe personally. That is the crux of the mystery. There is a never-caught serial murderer on the island, The Blackburn Killer, responsible, so people think, for the murders of seven women over two decades. The family is gathered on this wind-swept, rocky isle when father dies, mostly unlamented, a heart attack,
"Dad's heart was a real bastard about it. took him out in two seconds flat. Pushed him face down in his venison stew…Mom had to wipe the meat off his cheeks before the paramedics came. It's poetic really. Dad hunted so many deer in his lifetime, and in the end, he died on top of one. Seems almost…intentional, doesn't it? Like his heart knew what he'd been up to and murdered him for it."
summoning the now-grown children (well, three out of four, anyway, as the fourth had left a note ten years back announcing he was leaving for good) back from their definitely-NOT-on-this island homes for his funeral and burial. But when the caretaker of the considerable grounds digs up dad's assigned plot, he is surprised to find that it is already occupied. The missing brother, Andy, gone ten years, has been found. Oh, dear.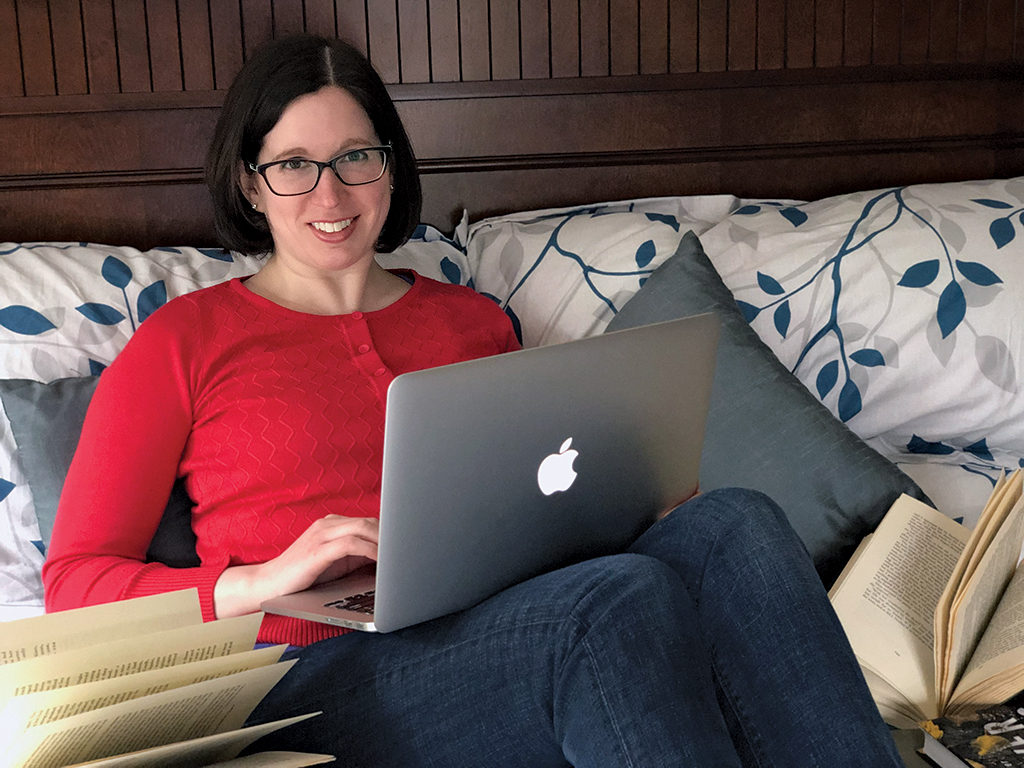 Megan Collins – image from Wheaton College
The whole thing stems from the title, which is not how I usually do my books at all. The title usually comes last, and I agonize over it. But I was working on something else, and I was trying to title that, and I asked my husband for some suggestions. And I said I want something that speaks to the family aspect of the book and he just threw out, "I don't know, The Family Plot?" And I was like, no, that doesn't work for this, but that is amazing as a title…that just rattled around in my head for a few days, until it was like a burst, that came to me, of a family that came together to bury one family member, only to find another member of the family in that grave. So then from there I thought well, what family would it be most interesting to see in that kind of story? It would be really interesting to see someone who, a family who was so interested in true crime that they built a library. And now they're in the center of true crime story. – from the World of the Write interview
Interested understates it a bit, as the Lighthouse family, stemming from mom, is obsessed with true crime, so much so that the kids, who were home-schooled, studied famous murders. In place of the usual book reports they were charged with producing murder reports. There is a room in their large, creepy home, that is designated the Victim Room, as it holds the considerable collection of books and reports the family has amassed on the most notorious serial killers, and greatest murders, solved and unsolved, of all time. No wonder the locals refer to it as Murder Mansion.
Our docent in this odd place is Dahlia, 26, returned (Dead leaves skitter around my feet as if welcoming me home – Yikes!) from the mainland where she has been living since she moved out at age 19, obsessed with finding her lost twin, Andy (named for Lizzie Borden's father).
The trust fund is how I manage the way I do—jobless, hunched over my laptop, scouring photos of any crowd on social media, looking for crinkly eyes, for the cowlick on the back of Andy's head.
She has always felt that she and Andy had a special twins bond and that, if he were dead, she would know it. Her older sibs have been holed up in New York City since they fled the island, as soon as they could. Charlie (named for the Lindbergh baby) is an actor who appears in off-Broadway, off-off-Broadway, and nowhere-at-all-near-Broadway productions, when he can get cast, and when he is sober. Tate (named for Sharon Tate) has an on-line following of 57,000 for her site @Die-orama, on which she produces miniature reproductions of famous crimes. We all do what we've gotta do to cope with what came before in our lives. Am I wrong? Tate continues coping by making a diorama of the finding of her brother's body. Charlie plans to turn the house into a temporary display, The Lighthouse Memorial Museum, to show the Blackburn island residents that the Lighthouses are actual people, not some homicidal, Addams family knockoff. Even Mom (Lorraine) Lighthouse deflects actual emotional dealing into consistently failed attempts to bake cookies, a running joke.
I just went and threw everything into it that I am obsessed with and that I love. I love true crime. Threw that in. I love secluded, dark little islands. Threw that in. I love mini things, so I had this diorama thing. I love these creepy mansions, so I had that. I went wild with all the things that excite me in the hope that if I am excited about them, hopefully it makes a good story, and other people will be into it. But yes, atmosphere, definitely tons of atmosphere… – from the World of the Write interview
There is a fun supporting cast. A mysterious local girl (Ruby Decker) used to spy on the Lighthouse manse at night when Andy was still around. The local detective on the case is Elijah Kraft, who just happens to be the son of the detective who was in charge of the Blackburn Killer investigation back in the day. He had always been convinced that Daniel Lighthouse (the recently deceased dad) was the killer and junior seems determined to pin Andy's killing on him as well. At the very least, pin it on some member of the family. We see him mostly while sparring with Dahlia. Fitz, the lifelong caretaker, does not always make it to the ferry for his nightly trip back to the mainland. Why is that? Greta, a friend, runs a café below Dahlia's apartment, and shares the Lighthouse obsession with true crime, if not the family history. She stands in for the more typically obsessed true-crime aficionados in the world.
I've never written plays, but it kinda felt like writing a play sometimes, thinking of like almost every scene in the book takes place in the house except for a few of them, so there is a kind of claustrophobic sense. And so the house really felt like a set to me that I was moving the characters around and now they're the living room and what's happening in there, and now they're in the room that they call the victim room because it has all their books about true crime. – from the World of the Write interview
She also gives us a taste of backwater mentality, and eagerness to believe the worst of people who are different. And the separation from humanity of many true-crime enthusiasts, fixated on details of murders to the exclusion of pain and suffering, the human experience of those personally impacted.
Dahlia is an honest broker, well, mostly. She truly wants to find out who killed her beloved brother, and who the Blackburn Killer might be, even if it turns out to be family. There are twists aplenty, and swaths of atmospherics. Collins clearly had a lot of fun writing this book and it comes across.
I did have one gripe. Are we really expected to believe that a family would construct an entire home-schooling curriculum around murders? It was a bit much to swallow. But if you are willing to suspend belief, and, yes, your honor, I confess to doing just that, The Family Plot is a delicious bit of mystery fluff, a fun, roller-coaster ride of a yarn. If you pick up The Family Plot looking for a very entertaining Summer read, you will be dead on.
…the fact that their bodies were returned to our shore, spit onto sand instead of carried to another coast, is proof that the ocean wants us here, contained to Blackburn Island.
Review posted – August 20, 2021
Publication date – August 17, 2021
I received an ARE of The Family Plot in return for crucial intel on an unsolved case. Thanks to Maudee at Atria.
=======================================EXTRA STUFF
Links to the author's personal, FB, Instagram, GR, and Twitter pages
Interviews
—–World of the Write Review – – video – 30:09 – by Kerry Schafer – if you have to choose only interview to check out, it would be this one.
—–Player FM – A murderous chat with CT Author Megan Collins! – Renee DeNino – Audio – 16:30
—–Dead Darlings – Interview with Megan Collins, Author of Behind The Red Door by Susan Bernhard – 8/6/20 – this interview was done long before The Family Plot came along, but still has some interesting intel, such as
My instincts as a storyteller are to begin as close to the inciting incident as possible. By the end of the first chapter, I want some sort of bomb—big or small—to have been dropped on my characters, so that the reader has a sense of the stakes right away.
—–Megan Collins: Author of The Winter Sister – also done before Collins' latest book, but of value nonetheless
Items of Interest from the author
—–Crime Reads – What Scares a Thriller Writer – 8/4/20
—–Collins' site – links to 22 other pieces
The book site for The Family Plot lists gothic among its genres. It felt like it was close to that on reading, but not quite, so I resorted to this scorecard, which I used a bit more grandly in my review of While You Sleep. So, is it or isn't it?
Gothic Novel Scorecard
Ticking off the gothic criteria
1 – setting – old mansion – check – secret passages – yep, and more
2 – atmosphere of mystery or suspense – you betcha
3 – ancient prophecy or legend – nothing supernatural here
4 – omens, portents, visions – well, portents maybe (no good tents, though)
5 – supernatural or otherwise inexplicable events – the deaths on the island – Andy's demise
6 – high, overwrought emotion – for sure
7 – woman in distress – Dahlia – yep
8 – Women threatened by powerful, tyrannical male – murder vics, presumably – there is no living tyrannical male in this telling – and while The Blackburn Killer is assumed to be male, there is no certainty of the killer's gender for most of the book.
Frequent Gothic Elements
Wind – always
Rain – don't really recall, so if it was there, it was not particularly memorable
Doors on rusty hinges – I don't think so, but maybe
Eerie sounds – not really
Character strapped in a room – no
Approaching footsteps – yep
Ruins of buildings – not really
It may not tick off ALL the boxes that define Gothic novels, but it marks enough of them to matter. It is clear that while Collins worked from her notions and was not trying to craft a classic gothic novel, The Family Plot is certainly gothic enough to count.