Maude's voice was far away, the way the chime of a bell can feel distant even if it's right in front of you. "You're too late," she said to me, to no one. "Every last one of them is dead."
"Every gift comes at a price."
NYPD detective Leigh O'Donnell is on double-secret suspension. Her prospects of returning to her job are about as real as Dean Wormer ever authorizing the return of Delta Tau Chi. On top of that, she is newly separated from her (boss) husband, the person who suspended her. He could not understand why she would pull her gun on a fellow officer, allowing a caught suspect to escape. Thankfully, her brother, Ronan (Ro), gets in touch. Seems that back home in Copper Falls, Ohio, there had been a very suspicious triple death. And they would love it if an actual NYC detective could pop by for a look-see. Leigh takes the opportunity to skip town for a while, bringing along her four-year-old daughter, Simone.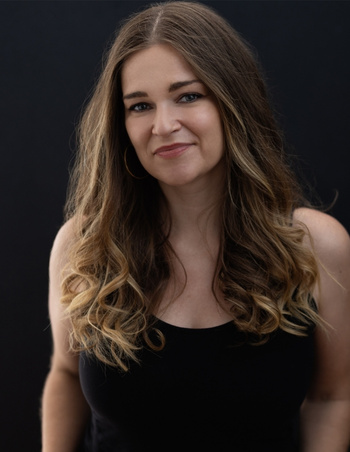 Jennifer Herrera – image from her site
Who says you can't go home again? Oh, Thomas Wolfe, in his novel of that name. Ok. Fine, whatever. Well, Leigh gives it a go anyway, taking the opportunity to introduce Simone to Leigh's uncles, to Ro, and to the town in which she had grown up. It will come as no shock that author Jennifer Herrera spent much of her childhood in a small Ohio town.
For the first five years of my life, I lived in a trailer park, which, while not economically diverse, was diverse in just about every other way. So when my family moved to a small town in rural Ohio, I wasn't prepared for how alien I would feel there. Everyone was related. They all looked alike. They went to the same church. They held the same beliefs. If you're not from there, it's unbelievable. But those places still exist.


When I was a kid, all I knew was that I didn't fit in and wanted to get out. When I got older, I started to wonder what it was about this community that made them so afraid of letting the outside world in. – from The Book Club Kit
Herrera comes up with a few possibilities about that, most of them less than complimentary to the residents of her fictionalized version. This is a place with secrets. Pretty tough to make any progress finding out the truth when you are struggling upstream against a torrent of lies.
The first-person story-telling is mostly linear with some flashbacks. Added to the presenting mystery of what happened to these three young men are Leigh's personal struggles. She wants to save her endangered marriage. She wants to resurrect her career as a detective. But she also wants to get a better handle on who she really is. For better or worse, this Podunk town is a part of her, even if she had left it years before, intending never to return. She has loving family here, in addition to painful memories. This was once a true home for her. Could it ever be that for her again? It would be great for her daughter to have a larger family tree than the few branches Leigh can offer her in NY. So, Leigh is engaging in a journey of self-discovery. But it is also a quest. You can tick off the Campbellian stages, as our hero does battle with dark forces and descends to the equivalent of hell, fending off monsters in order to reach her goal. One of her uncles even thinks of her as a classic Irish hero of legend, Fionn MacCumhaill – aka Finn McCool. The uncles serve multiple roles, connection to and intel on locals, child care for Simone, a warm, familial homey element, and comic relief.
Imagery abounds. Herrera clearly enjoys playing with archetypal images. Snakes put in appearances. There is an apple orchard that, when paired with the snakes, certainly gives one an image of a corrupted Eden. A house tucked away out of sight makes one wonder if there might be someone inside preparing to cook children. A flock of birds massing to protect one damaged member has got to mean something, right?
Shrines figure large. There are said to be shrines in the caves under the waterfall, likely remnants of indigenous people who were driven out by colonizers. The people of the town seriously want to keep their town the way it is, preserved in amber, a sort of shrine to their past, to themselves. Herrera includes a fun reference to a relevant Twilight Zone episode to bolster the image. The title of the book comes in for some use. Early on a character refers to detective Leigh as a hunter. An archetypal native personage figures large. There is even a sly reference to hunter green.
There are peculiarities that grab our attention and demand exploration. For example, threes abound here. Maud had three brothers who perished together a lifetime ago. There were the multiple deaths seven years back of three young men of eighteen. The latest mortal hat trick included men in their twenties, contemporaries of the prior three. Interestingly, the last two trifectas all turned up in the pool at the bottom of the same waterfall. Curious, no? And Leigh's mother had three brothers, the uncles of this tale. What's up with all the treys?
Obviously, poking through all this imagery stuff, looking for connections that may or may not be real, digging down into rabbit holes as they appear (What is that rabbit late for, and where is he going?) is great fun. But, pleasurable as that is, the book would not succeed if we did not feel a connection to the lead. Not to worry. Leigh has her issues, but she is definitely relatable.
On the down side, I found it a bit tough to accept that Leigh would do what she did in NYC for the reason that is offered.
The supporting cast is a mixed crew. Some stand out, like the elderly, mysterious Maud. Onetime bf and now reporter, Mason Vogel, is a confusing foil for Leigh. Her brother, Ronan, is a likeable partner. The uncles are fun. Most stand back, as supporting characters do. Means to an end, whether advancing the plot or offering atmospherics. The notion of history, both the immediate and personal history of individuals, and the larger, longer cultural history of a place, and its hold on the present, for good or ill, is palpable. The procedural elements are well done, and the explanations make a dark sort of sense. The lead is someone we can pull for. The Hunter is a fun read, an engaging mystery that will keep you well-entertained, and keep your gray cells firing for the duration.
…most of the businesses in town—the grocery store, the antiques market, the candy shop—they're all owned by the same seven families. The Wagners are the majority share, sure, but this town? It's all one big family business."
"That's insane."
"Not really. I'm sure it's like that in a lot of places. See, those seven families have never left. Some individuals left, sure, but most of them stayed. People give their houses to their kids or their grandkids. Sometimes nephews and nieces. But it's rare for them to sell to outsiders. Especially the houses close to the center of town. There are ordinances forbidding new construction. We don't get many new people here."
Review posted – 2/3/23
Publication date – 1/10/23
I received an eARE of The Hunter from Putnam in return for a fair review. Thanks, folks, and thanks to NetGalley for facilitating.
This review has been cross-posted on GoodReads
=======================================EXTRA STUFF
Links to the author's personal, Instagram, and Twitter pages
Interviews
—–Oh! Murder – Interview: Jennifer Herrera, The Hunter
—–The Mystery of Writing – The Hunter: Debut Thriller
Items of Interest from the author
—–Book Club Kit
—–Crimereads – MEN ARE THE MOST LIKELY VICTIMS OF HOMICIDE. WHY DO CRIME WRITERS KILL SO MANY WOMEN?
Items of Interest
—–Wiki on Thomas Wolfe's novel, You Can't Go Home Again
"You can't go back home to your family, back home to your childhood … back home to a young man's dreams of glory and of fame … back home to places in the country, back home to the old forms and systems of things which once seemed everlasting, but which are changing all the time – back home to the escapes of Time and Memory."
—–Discovering Ireland – Fionn MacCumhaill – aka Finn McCool of Irish legends
—–Twilight Zone Fandom – The Sixteen-Millimeter Shrine
—–ProWritingAid – Deep Dive: Joseph Campbell's "Hero's Journey"
—–Wiki on Animal House