Elon Musk is not exactly a name that rolls easily off the tongue, like say Tony Stark, the fictional person to whom he is most often compared, or even Steve Jobs, a real-world visionary, whose mantle Musk now wears. There is no question that Musk is a special individual, someone with BIG dreams and the drive, talent, and money to make them happen. But, like Jobs, and Stark for that matter, he might be an acquired taste on a personal level. In Elon Musk: Tesla, SpaceX, and the Quest for a Fantastic Future biographer Ashlee Vance gives us a picture of both the dreams and the man, peering back to where Musk began, describing his journey from then to now, looking at how he is impacting the world today, and gazing ahead to where he wants to go. It is a pretty impressive vista. Here is what it says on the SpaceX website
SpaceX designs, manufactures and launches advanced rockets and spacecraft. The company was founded in 2002 to revolutionize space technology, with the ultimate goal of enabling people to live on other planets.
It might have seemed like visiting another planet when Musk split his home country of South Africa as a teen and headed to North America, anything to get away from an abusive upbringing. He seemed to been blessed not only with exceptional analytical capabilities, and probably an eidetic memory, but an impressively immense set of cojones. He was able to talk his way into whatever he needed and deftly talk his way out of trouble as well. Sometimes that entailed a bit of truth-bending, but whatever.
Ashlee Vance – from HarperCollinscaption]Vance take us from his adolescence as a computer geek, bullied at school, through his arrival in Canada, cold-calling to get work, putting together his first dot.com startup, and using the money from that to invest in a banking-oriented company that would become PayPal. It was the mega-bucks from the sale of PayPal that would allow him to begin realizing his big dreams. In 2003, Musk bought into Tesla, then a struggling startup. The company took the early knowledge that lithium ion batteries had gotten pretty good, added some top level engineering, design and programming talent, and, after plenty of mis-steps and struggles, brought the remarkable all-electric Tesla Roadster to the market in 2008. Tesla followed this with the Model S in 2012. Not only did Consumer reports call this a great car, it named both the 2014 and 2015 versions the best overall cars of their years, and the best care they ever tested. The last time an auto startup succeeded in the USA was Chrysler, in the 1920s. But this is not about simply making a buck on a new car. The long term goal is to shift our petrochemical auto industry to renewable power, and the Tesla is a nifty start. Not only is the car amazing, the company has constructed a nationwide series of charging stations where Tesla owners can recharge their vehicles…for free. There are currently 499 such stations, with many more planned. Tesla is involved in building battery production factories, hoping to help support a growing electric-car auto-economy.

Inside the Tesla Model S – from Tesla Motors
But this was not the only big notion that drove Musk. A parallel effort was to develop a solar power business. And with the help of a couple of enterprising cousins, he did just that. SolarCity provides the solar arrays that prove power to the Tesla charging stations, but it has also become one of the largest solar utilities in the nation, installing, maintaining a third of the nation's solar panel systems. There is obvious benefit to both Tesla and Solar City in sharing gains in battery and other technology. But I expect the third jewel in Musk's crown is his favorite, SpaceX.

Falcon 9 first stage attempting a controlled landing – from Wikimedia
Musk doesn't have much going on here, nothing major, only an ardent desire to colonize Mars. But it takes the establishment of an infrastructure in order to be get from point E to point M. Musk saw an opening in the market for satellite launch vehicles. Existing rockets blast things up into orbit and then burn up on their way back down. His idea was to design a rocket that could make its way back to earth in one piece, to be reused. And he has. SpaceX is nearing its goal of launching at least one rocket a month. The manifest available on SpaceX.com lists missions to date. The company also designed a capsule called the Dragon that can be used for cargo, but also for astronauts. The cost of launching a satellite using a Falcon is a fraction of what other options charge. The next step is a larger launch vehicle. Space X is expected to launch the first Falcon Heavy later this year, offering the biggest load capacity since the Saturn V was last used in 1973. And, while this is definitely good for business in the relatively short term, one must always keep in mind that this is a stage in a bigger plan for Musk. Once the launch infrastructure is established, plans can begin to move forward to put together Mars missions. Not go, look, and explore sorts of adventures, but establishing a colony, a permanent human presence on the red planet.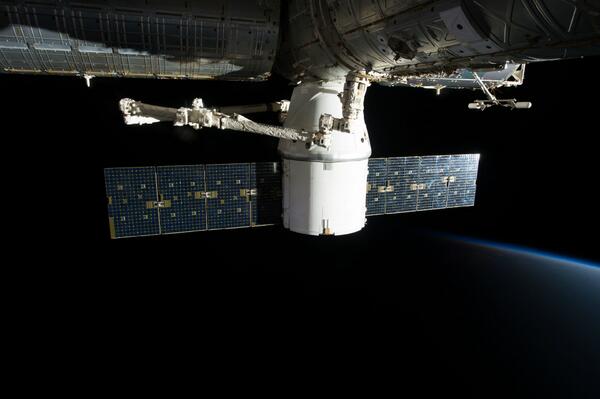 The Dragon Capsule, attached to the ISS – from Musk's Twitter page
Of course when one has one's eyes fixed on the stars (yes, Mars is a planet, I know, Geez), there is a large inclination to lose touch with earth-bound reality. In the movie, then play, then movie The Producers Max Bialystock, in order to cope with the absurd success of a play that was designed to fail, suggests to his partner, Leo Bloom, that one solution would be to do away with the cast. "You can't kill the actors, Max! They're human beings," Leo says. "Human beings? Have you ever seen them eat?" Max replies. I suspect that there are more than a few folks who feel about Elon Musk the way Max felt about the actors. He is rather notorious for his insensitivity to anyone not living inside his head. For example, here is what potential recruits are told to expect when they meet with Musk.
The interview, he or she is told, could last anywhere from thirty seconds to fifteen minutes. Elon will likely keep on writing e-mails and working during the initial part of the interview and not speak much. Don't panic. That's normal. Eventually, he will turn around in his chair to face you. Even then, though, he might not make actual eye contact with you or fully acknowledge your presence. Don't panic. That's normal. In due course, he will speak to you.
Musk has an amazing capacity for work, putting in monstrous hours as a matter of course. But then he expects the same from those who work for him.
The rank and file employees…revere his drive and respect how demanding he can be. They also think he can be hard to the point of mean and come off as capricious. The employees want to be close to Musk, but they also fear that he'll suddenly change his mind about something and that every interaction with him is an opportunity to be fired. "Elon's worst trait by far, in my opinion, is a complete lack of loyalty or human connection," said one former employee. "Many of us worked tirelessly for him for years and were tossed to the curb like a piece of litter without a second thought. Maybe it was calculated to keep the rest of the workforce on their toes and scared: maybe he was just able to detach from human connection to a remarkable degree. What was clear is that people who worked for him were like ammunition: used for a specific purpose until exhausted and discarded."
Musk even fired his loyal assistant, Mary Beth Brown, who had been with him for twelve years, after she asked for a raise. What a guy.
Ego is certainly a big piece of the picture here. But I guess if you can do it, it ain't bragging. Elon Musk is a larger than life figure, a computer geek, an engineer, an entrepreneur, and a dreamer, in addition to being a walking IED as someone to work for. He is one of the inspirations for Robert Downey's portrayal of Tony Stark in sundry Marvel Universe films. In fact, Downey came to visit Musk, specifically to get a taste of what a real billionaire techno-industrialist was like. Downey insisted on having a Tesla Roaster on the set of Iron Man, saying, "Elon was someone Tony probably hung out with and partied with or more likely they went on some weird jungle trek together to drink concoctions with the shamans." Musk even had a cameo in Iron Man II. The resulting publicity from this connection did little to diminish Musk's view of himself. Living the high-life in Tinseltown, hanging with, social, economic and media A-listers added more gas to the bag. Part of his ego issue is that he tends to take internal company timetables and announce them to the world as promises (I can see his entire staff jointly rolling their eyes, clutching palms to temples and issuing choruses of "Oh my god" and "WTF" as they spin in place), then holds his employees to those unreasonable schedules. Of course this results in many missed deadlines, much ingestion of antacid and probably the odd nervous breakdown or two.

Musk, in an Iron Man II cameo – fromWired
Musk is the sort of guy who shows up with some regularity in science fiction novels, a genre trope, like the researcher who has exactly the sort of experience and insight the President/PM/Chairman/Secretary General needs in order to stave off global catastrophe. He's the guy who has been secretly building the arc that the world needs to stave off extinction. In this case he is doing it publicly. Of course this raises some issues. Do we as a country, as a planet, really want to be reliant on private companies for our space exploration? Do we want a possible colony on Mars to be a privately held branch of Musk Industries? There are only a gazillion questions that are raised by the privatization of space. What's good for the bottom line at SpaceX may or may not be good for humanity. We have certainly seen how a reliance on the inherent civic-mindedness and good will of corporations has worked on this planet. Musk is a dreamer, for sure, and I expect his dream of making a better world through the use of renewable energy and his hopes of establishing a human outpost on Mars are pure ideals. But the devil is always in the details, and what would happen should Musk be infected by another virulent strain of malaria and not escape with a near miss, as he did in 2001? Would the replacement CEO share his ideals? Would a replacement CEO be willing to take big risks to support those ideals? Would a replacement CEO look to sell Tesla off to GM to make a few quick billion? One person can move the world, but it takes more than a start to keep things rolling. We could certainly use plenty more people with the sort of drive and ambition that Elon Musk embodies. Innovation is a rare resource and must be cherished. But like any powerful force, it must be, if not tethered, at least monitored, to make certain that it does not run amok.
Ashlee Vance has done an amazing job of telling not only Musk's story, but of making the life history of the several companies with which Musk has been involved fascinating reading. I did get the sense that Vance was, from all the time he spent with Musk, smitten with his subject. While his portrait of Musk is hardly a zit-free one, I got the feeling that there might be a few more skeletons safely tucked away in closets, a few more bodies buried in basements. Nevertheless, Elon Musk is a powerful, entertaining and informative look at one of the most important people of our time. Your personal vision of the future should certainly include checking out this book.
=======================================EXTRA STUFF
Links to the author's personal, Twitter and FB pages
Here are links to Musk's three main companies, SpaceX, Tesla, and Solar City
To Musk's Twitter – Loooooooove the image he is using for this. He really needs a pinky ring to go with it though. There are a lot of nifty videos in here
Here is the press kit SpaceX provided with its latest Commercial Resupply Services mission to the International Space Station. There are many links in there that are worth checking out.
A visit to the Tesla Factory
And be sure to check out the link Tabasco brought in – Comment #1