We've tried date nights, and marriage counseling, but spending more time together isn't always the same as spending less time apart. You can't get this close to a cliff edge without seeing the rocks at the bottom, and even if my husband doesn't know the full story, he knows that this weekend is a last attempt to mend what got broken.
What he doesn't know, is that if things don't go according to plan, only one of us will be going home.
Nothing like having a positive attitude when you're trying to salvage a troubled marriage.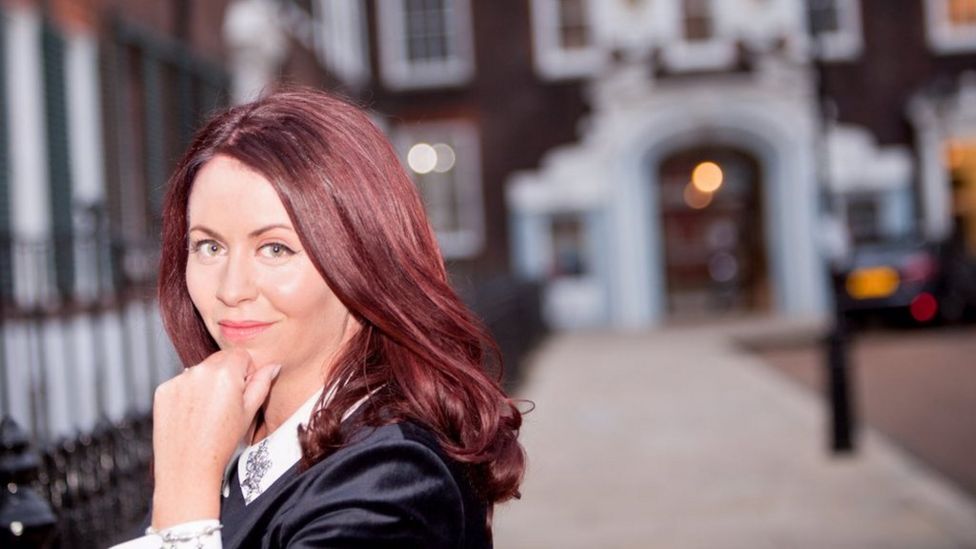 Alice Feeney – image from BBC
I reached a significant benchmark in my marriage while reading this book, a twentieth (china) wedding anniversary. It was the second time, for me. (I am nothing if not tenacious.) So, I appreciate the marital issues that arise in this wonderful thriller. (Sorry, no thriller material in either of my marriages, well, none that I will admit to in court. And no, my wife and I have no weekends planned for some remote snowy locale.) Adam and Amelia are trying to save theirs. (marriage, not thriller). A winter weekend away to a remote part of Scotland. Do or die. He is a successful screenwriter. She works at the Battersea Dogs Home. (Does that make Adam a rescue?)
We're both pretty good at keeping up appearances and I find people see what they want to see. But behind closed doors, things have been wrong with Mr. and Mrs. Wright for a long time.
All right, this is getting way too close for comfort. (see first marriage noted above) The mutual discomfort in their marriage is clear, to the reader, anyway, but there are mitigating circumstances.
Adam has a neurological glitch called prosopagnosia, which means he cannot see distinguishing features on faces, including his own.
Face blindness makes it tough to deal in a very social world, if one cannot differentiate friend from foe, or lover from casual acquaintance. But, as is the case for many people with unusual qualities, he has learned to compensate. The sound of a voice, a personal scent, individual physical movements. Enough so that he found someone willing, eager even, to marry him.
Adam's great personal screenplay is Rock Paper Scissors. It won him early acclaim (at 21) but never got made, despite repeated attempts. Now, he adapts novels by other writers, and is good at it, makes a nice living. The Rock Paper Scissors motif repeats from time to time. The notion of the story is incorporated into the structure of the novel. The game is played, sometimes with very serious stakes.
Blackwater Chapel is remote, in the Scottish Highlands (zero bars), quite beautiful landscape thereabouts, on Blackwater Loch. It is indeed a renovated place of worship. The power is not the most reliable, particularly in dire weather. Amelia had won the weekend away in a contest at work. It may not be the best of all possible times for such a visit, an eight-hour drive from London, Amelia doing ALL the driving in her Morris Minor. A tin-can antique on four wheels, is what Adam calls it. While they are there, a huge winter storm seals them in. Travel would be far too risky in the old car. They are quite effectively isolated.
Isolated, yes, but, well, maybe not entirely alone. A supposed housekeeper leaves a few notes for them. Maybe she is the person living in the only other structure within miles, a thatched cottage. There is a flock of local sheep to offer some light scares and barriers. And, of course there is Bob, their giant black lab. (Asked in an interview which of her characters she would choose if she was about to be stranded on a deserted island, Feeney did not hesitate. Bob, she said. Maybe that is because Bob, the author's creation, so much resembles her real-life black lab, down to their mutual fear of feathers.) But is that it? There have been rumors of odd doings at the chapel, with unseen things calling the name of the more corporeal sorts who show up on the premises. And doors have an odd way of becoming locked or unlocked. There is plenty more of this sort. Mysterious sounds. Evocative scratches on walls. It is definitely a spooky joint. Enjoy!
Feeney offers us plenty of atmospherics.
Adam was right, there are no ghosts or gargoyles, but the place definitely feels spooky. Everything is made of ancient-looking stone—the walls, the ceiling, the floor—and it's so cold down here that I can see my breath. I count three rusted metal rings embedded in the wall, and do my best not to think about what they were used for.
A basement crypt, reached via trapdoor, has been converted to a wine cellar. Is vino the only spirit down there?
The light from the old-fashioned candlestick holder he is carrying casts ghostly shadows around the bedroom, so that now I feel like I'm in a Charles Dickens novel.
Much of the inspiration for the book derived from a visit Feeney made in 2018, to a creepy renovated chapel in Scotland, a visit that featured a "Beast from the East" snowstorm, and a mysterious face in a window. Some other personal items made it into the book. Feeney does her writing in a garden shed, a characteristic she bestowed on Adam. There was a discomfiting wardrobe in Feeney's real-world chapel. She imagined secret stairs from there, which became the basement wine-cellar/crypt, accessible only via a trap door.
The book is told from alternating POVs, Adam's and Amelia's. It is from these that we know their marriage is in trouble. But wait, there's more! A third character (fourth if you count Bob) is introduced about a quarter the way in, Robin, residing near the chapel. She is up to something. It seems that there is certainly madness there, but is there a method to match? Finally, there are wifely letters written on the annual wedding anniversary, but never given to Adam. These let us follow the history of his marriage through his wife's eyes. They are introduced by a "word of the year" that sets the tone for the chapters to come. They also note the category of gift that is considered traditional for each year. (A partial list is in EXTRA STUFF) In each of these entries the gift, at least the sort of gift, is significant in the ensuing narrative.
There is a layer-by-layer unveiling of secrets, from both of them, which gives us a better look at who they truly are. (More of a He-Lied-She-Lied than the more traditional His-v-Hers perspectives.) Well, from all three, if we add Robin. Lots of excellent, very hairpin turn stuff. (Keep both hands on the wheel at all times) Maybe not as dangerous as riding the Do-Dodonpa, but wearing a neck-brace might not be a bad idea while reading towards the end. You may hear yourself utter more than a few "wait, what?s" There are some twists at the finale that seem inter-dimensional in their impact.
So, who is out to get whom? Is anyone, really? Are they both there to salvage their marriage or torpedo it? And what is making all the strangeness at the chapel happen? Is it really haunted? Will they both make it out alive? Will anyone? Will Adam's screenplay ever get produced?
I do not really have any gripes with the book. It maybe asks us to suspend a bit too much disbelief, no biggie. But I take serious issue with the marketing, which I believe to be dishonest. I will not say what it is about this that is not true, or is unfairly misleading, but after you read the book, I urge you to take a close look at this. You will see for yourself. Having an unreliable narrator is one thing, but this seems a step too far to me. The ff is from Macmillan's page for the book.
Things have been wrong with Mr and Mrs Wright for a long time. When Adam and Amelia win a weekend away to Scotland, it might be just what their marriage needs. Self-confessed workaholic and screenwriter Adam Wright has lived with face blindness his whole life. He can't recognize friends or family, or even his own wife. 

Every anniversary the couple exchange traditional gifts–paper, cotton, pottery, tin–and each year Adam's wife writes him a letter that she never lets him read. Until now. They both know this weekend will make or break their marriage, but they didn't randomly win this trip. One of them is lying, and someone doesn't want them to live happily ever after.

Ten years of marriage. Ten years of secrets. And an anniversary they will never forget.
Rock Paper Scissors is a delight of a read. Feeney does an excellent job of inserting hooks at chapter ends to make sure it is a challenge for you to either get up and do things that need doing, or turn off the light and go to sleep.
It seems like it would be a good idea to dress warmly when you read this. The cold of the Feeney's fictional world might give you a chill. A hot toddy might be an appropriate accompanying refreshment, or maybe some Scotch whiskey. And make sure that neck brace is firmly in place when you are entering your final chunk of reading time. You will need it.
The first match I strike goes out almost instantly—it's an old box.
I use the second to try and get my bearings, but I still can't see the steps, and I'm struggling to get enough air into my lungs.
The third match I strike briefly illuminates part of the wall, and I notice all the scratch marks on the surface. It looks like someone, or something, once tried to claw their way out of here.
I try to stay calm, remember to breathe, but then the flame burns the tips of my fingers and I drop the final match on the floor.
Everything is black.
And then I hear it again. My name being whispered. Right behind me.
Amelia. Amelia. Amelia.
My breaths are too shallow, but I can't control them and I think I'm going to faint. No matter what direction I look in, all I can see is darkness. Then I hear the sound of scratching.
Review posted – September 3, 2021
Publication date – September 7, 2021
I received a free ARC of Rock, Paper, Scissors from Macmillan in an exchange for an honest review, and the keys to my country retreat for a few days.
This review has been cross-posted on Goodreads. Stop by. There are many more where this one came from.
=======================================EXTRA STUFF
Links to the author's personal, FB, Instagram, and Twitter pages
Feeney was a journalist with the BBC for fifteen years, where she worked as a reporter, news editor, arts and entertainment producer, stealing time where she could to get in some original writing. Rock Paper Scissors is her fourth novel. She has been wildly successful.
As per Variety, the producer of The Crown will be transforming Rock Paper Scissors into a Netflix mini-series.
Interviews
—–Washington Independent – Author Q&A – An Interview with Alice Feeney by Adriana Delgado – from 2018 – on her planning and unreliable narrators
—–Bookbrowse – An interview with Alice Feeney by Elyse Dinh-McCrillis – from 2017 – short but has some nice backgr0und and personal elements
I work in my garden shed now with my cowriter, a giant black Labrador who is scared of feathers.
—–Mystery and Thriller Mavens – 8/30/2021 – Bestselling Author Alice Feeney Hosted by Sara DiVello – Video – 41:06
Unrelated aside
A scene in an old tower made me think of Hitchcock's Vertigo
Anniversary Gifts – list from Hallmark
• 1st Anniversary: Paper
• 2nd Anniversary: Cotton
• 3rd Anniversary: Leather
• 4th Anniversary: Fruit or Flowers
• 5th Anniversary: Wood
• 6th Anniversary: Candy or Iron
• 7th Anniversary: Wool or Copper
• 8th Anniversary: Pottery or Bronze
• 9th Anniversary: Willow or Pottery
• 10th Anniversary: Tin or Aluminum
• 11th Anniversary: Steel
• 12th Anniversary: Silk or Linen
• 13th Anniversary: Lace
• 14th Anniversary: Gold Jewelry
• 15th Anniversary: Crystal
• 16th Anniversary: Coffee or Tea
• 17th Anniversary: Wine or Spirits
• 18th Anniversary: Appliances
• 19th Anniversary: Jade
• 20th Anniversary: China