MUELLER IS COMING!
Da-ta da-da-dah-ta da-da-dah-ta da-da-dah-ta
da-da-dah-ta da-da-dah-ta da-da-dah-ta da-da-dah-ta da-da
Daaaa da dadada dah da-dudaaaah
Daaaa da dadada dah dududaaaah
Michael Wolff has given us a drone's (dragon's?) eye view of the competing centers vying to be the power behind the throne, with some looking, in the longer term, at carving paths for their own succession to the highest position in the realm. There is a mad king who needs to be handled. Centers of power arise, morph, wage battles both silent and overt, succeed and fail, rise, die, and sometimes rise again. What we see in Michael Wolff's Fire and Ice Fury, from our lofty perch, is the geography of chaos in the known world of the White House. Games will be played. Backs will be stabbed. Sadly, there is no magic, only sleight of hand. And it remains to be seen if nuclear dragons will be unleashed.
The juicy bits of this book have been everywhere for the last few weeks. It is highly quotable, and the publisher, Holt, the author, their PR people, and the major news outlets have been flooding the zone. Whether on-line or in print, over airwaves on TV or radio, through cable, and probably via the deep-state-news (WDSN?) that beams directly into peoples' minds, all media have been all agog with the many looks at this elephant to which they have been privy.
With so much blanket coverage coming at you, one might be forgiven for wondering whether you first saw the item you just read in the book, or came across it somewhere else. It is a little bit unnerving. I will spare you the further confusion of adding all those bits here. I really have to put some in, though. I mean you know them already, right? How many synonyms can you find for idiot?
Fire and Fury is the biggest book of the moment, the Wall Street Journal reporting that it had sold a million copies as of Monday, January 8, 2018, a day earlier than its scheduled release. Remains to be seen, of course, with a steady stream of books on Trump being published, how long this frenzy will persist. But the last time I was aware of people standing on line for hours to get a book, it included the words Harry and Potter. This book, in the words of our former vice president, is a big fucking deal.

Michael Wolff – image from Mediaite.com
The bottom line of Fire and Fury is that it presents Donald Trump as unfit to serve as president, based not on the dark view and negative press of his opposition, but the been-there-OMG-did-you-see-that experience of his own staff and supporters.
Almost all the professionals who were now set to join him were coming face to face with the fact that it appeared he knew nothing. There was simply no subject, other than perhaps building construction, that he had substantially mastered.
Wolff uses named and unnamed sources. It seems clear that his primary go-to was one Steve Bannon, a weaver of webs, a bomb-thrower, a snake in the grass, a back-stabber, a manipulator, a white supremacist, a gifted media manipulator, and a pretty bright and articulate, if sartorially challenged guy. One might be tempted to dismiss Wolff's book based on this reliance. Don't. There are plenty of other sources feeding the narrative. The question is whether the image Wolff generates by making a composite of the incoming bits makes sense. Is it plausible? Is it correct? Having seen Wolff interviewed on multiple news and entertainment shows, and attending to the back-and-forths between him and knowledgeable news people, it seems eminently clear that he got it right. There are probably some details that err a bit here and there. Maybe this person was not at that meeting, or a date may be off. I expect that the only inaccuracies to be found here will be of that sort. Niggling, beside the point. And blown way out of proportion by those with an interest in distracting you from the core content of the book. That the president attempted to stop its publication should tell you something.
What was, to many of the people who knew Trump well, much more confounding was that he had managed to win this election, and arrive at this ultimate accomplishment, wholly lacking what in some obvious sense must be the main requirement of the job, what neuroscientists would call executive function. He had somehow won the race for president, but his brain seemed incapable of performing what would be essential tasks in his new job. He had no ability to plan and organize and pay attention and switch focus; he had never been able to tailor his behavior to what the goals at hand reasonably required. On the most basic level, he simply could not link cause and effect.
Michael Wolff is a veteran author and journalist, with seven prior books to his credit. He has been nominated for the National Magazine Award three times, and accused by people he has written about of fabricating. The absence of actual lawsuits against him suggests that complaints were less than firmly grounded. He is a serious writer and should be taken seriously. It is a bit mind-boggling the access he had to the actual White House, but he lays it out. He hung out in the WH, with a huge degree of access and was able to get input from the people working or passing through there, for months. Was the administration insane for allowing this? You betcha. But they did, another sign of their unpreparedness.
Inauguration day offered a look at what was to come.
Much of the sixteen-minute speech was part of Bannon's daily joie de guerre patter—his take-back-the-country America-first, carnage-everywhere vision for the country. But it actually became darker and more forceful when filtered through Trump's disappointment and delivered with his golf face. The administration purposely began on a tone of menace—a Bannon-driven message to the other side that the country was about to undergo profound change. Trump's wounded feelings—his sense of being shunned and unloved on the very day he became president—helped send that message. When he came off the podium after delivering his address, he kept repeating, "Nobody will forget this speech."
George W. Bush, on the dais, supplied what seemed likely to become the historic footnote to the Trump address: "That's some weird shit."
As noted above, the geography through which Wolff's tale travels is one of sundry kingdoms. I could not help but imagine the opening credits of Game of Thrones as we approach each power center, the models for each of the city-states animating, offering moving, 3-D representations of each kingdom's imagery and motifs. The three (sadly, not seven) are the alt-right of Bannon and his allies (clearly White Walkers), the mainstream GOP crowd epitomized by Reince Preibus, and the family wing, considered by Bannon to be of a liberal-democratic bent, in the person of Jared Kushner and the president's daughter, Ivanka Trump, aka Jarvanka. (Cersei and Jamie?).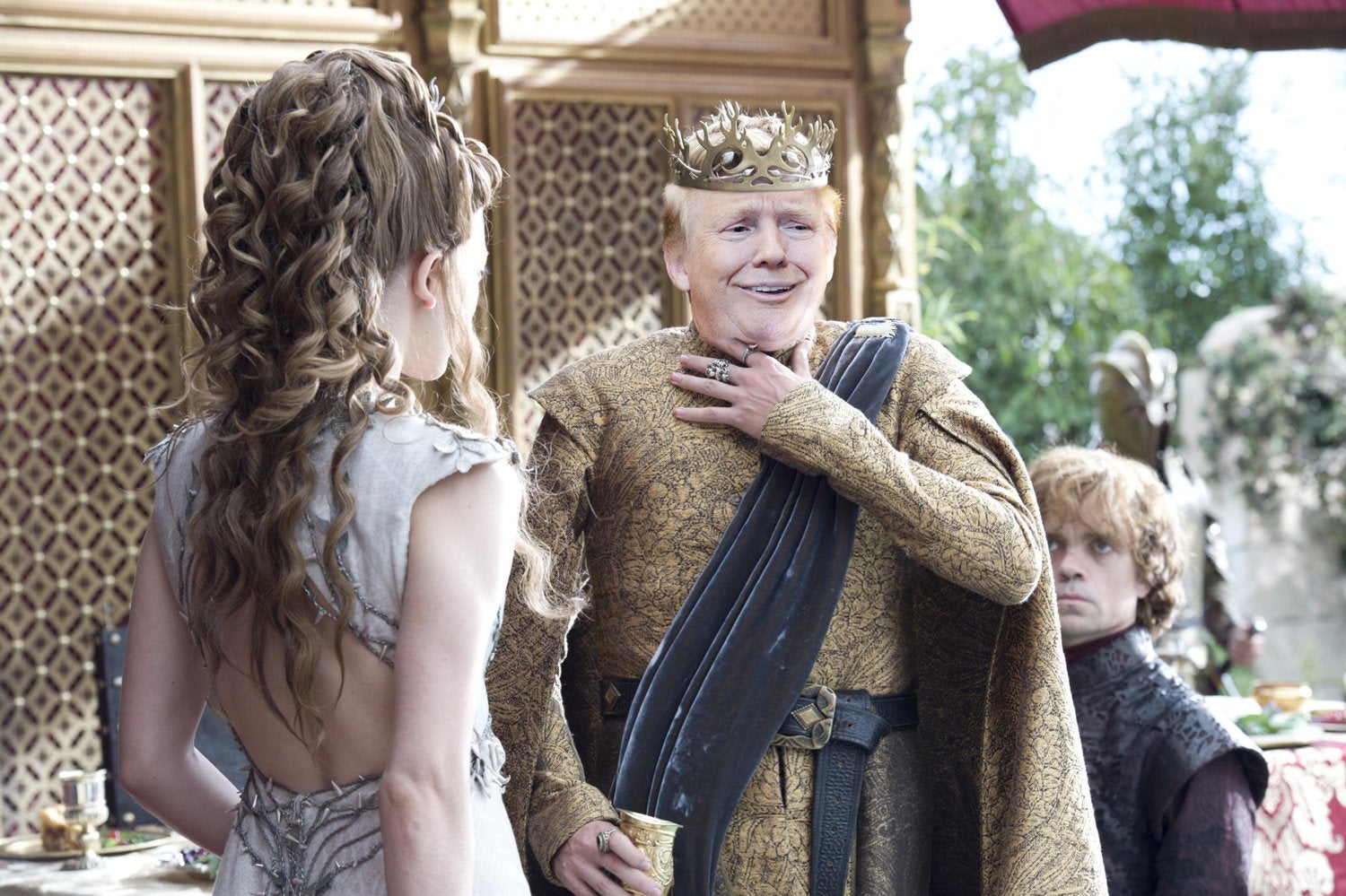 Swamp Thing as Joffrey Baratheon– image from DesignCrowd.com, by way of Huff-Po
The forward motion of the story is the events of Trump's campaign, but mostly presidency up to October, 2017. I know, I know. One of the problems with political books is that they can often be outdated in fairly short order. The several months between October and the book's publication is a lifetime in Trump years. It is impressive, given the daily churning of personnel and events in the DC universe (not the multiverse) these days that any book on Trumplandia still has relevance by the time ink on paper makes its way to readers. And yet, the issues raised here, the main issue, is momentous, and sticks.
Wolff has offered a host of quotes from his sources, many named, that question Swamp Thing's competence, not just to function as president, but to function as a human being. His own staff frequently mention the applicability of the 25th amendment (although in the real world that is a total fantasy) and the likelihood of impeachment. The sound of Robert Mueller's approaching steps echoes throughout the work, clearly feeding Trump's paranoia about being treated unfairly, and boosting his fear of being found out, labeled a squatter or deadbeat, and evicted.
In most White Houses, policy and action flow down, with staff trying to implement what the president wants—or, at the very least, what the chief of staff says the president wants. In the Trump White House, policy making, from the very first instance of Bannon's immigration EO, [executive order] flowed up. It was a process of suggesting, in throw-it-against-the-wall style, what the president might want, and hoping he might then think that he had thought of this himself (a result that was often helped along with the suggestion that he had in fact already had the thought).
Wolff, with his title, and content, offers a wonderful Game of Thrones image. But there are plenty more that could easily apply. The Producers is one that he mentions, a particularly apt metaphor, given that it seemed clear to many of us, even during the campaign, that Trump, like Bialystock and Bloom, got into the presidential race for the money, and never really intended to win. This is confirmed in the book. Personally, I think Max Bialystock would have made a better president. Another scenario that Wolff mentions is the relationship of Thomas Cromwell to Henry VIII, wonderfully portrayed in the novel Wolf Hall (no relation), with Steve Bannon in the Cromwell role and you-know-who as the guy who made such a gigantic mess, because he simply had to have things his way. One could also consider House of Cards (the original), with all the plotting, back-stabbing, and hunger for power that made that series such fun to watch, although, after Bannon as Francis Urquart, the personnel parallels fade a bit. Alice in Wonderland gives us Trump as the single-minded Queen of Hearts. The Gang That Couldn't Shoot Straight might offer an image of ineptitude, if one ignores the fact that Trump has overseen the greatest looting by criminals of the national treasury in the nation's history. For all his intellectual challenges Swamp Thing is a larger than life character with very little core, a made-for-Television president.

Swamp Thing and Bannon as Henry VIII and T. Cromwell – image from NY Magazine
One of the things I most enjoyed was Wolff's take on The Mooch. Anthony Scaramucci is the sort of Damon Runyon hanger-on one might expect to see in Guys and Dolls, or maybe a Batman flick, all puffery and attitude smeared over a core of ignorance, inflated by cartoonishly excessive self-confidence and corruption. From the description in Fire and Fury, it is not hard to imagine him in a too-wide pin-striped suit, shoulder-padded, sporting excessive pancake makeup, swinging a pocket watch from a chain, and laughing uncontrollably as he kicks some poor shmo that his minions are holding down for him, because he was a few dollars short on his protection payment.
There are some things missing from the book, of course. There is not the sort of detailed biographical material better found in an actual biography. Forget seeing an autobiography. Anything Trump truly wrote would probably be close to an actual choose-your-own-adventure kid book, given his inability to remain focused for more than a few minutes. There is not a lot about serious international threats, with one exception. In a press conference at his Bedminster, NJ property:
"His staff had not prepared him for this, but, in apparent relief that he could digress from the opioid discussion, as well as sudden satisfaction at the opportunity to address this nagging problem, he ventured out, in language that he'd repeated often in private—as he repeated everything often—to the precipice of an international crisis.
"North Korea best not make any more threats to the United States. They will be met with the fire and the fury like the world has never seen. He has been very threatening beyond a normal state, and as I said they will be met with fire and fury and frankly power, the likes of which this world has never seen before. Thank you."
Thus an increased concern about the danger of someone implementing the launch codes in a fit of pique or confusion. A fair bit of that intercontinental exchange of verbal ordnance occurred after the book was written, most notably the "My Button is bigger than your Button" lunacy. There is little discussion, although it gets a mention, of the potential implications of Trump's autocratic leanings. The telling of the tale is much more about what has already happened as opposed to what might.
It was during Trump's early intelligence briefings, held soon after he captured the nomination, that alarm signals first went off among his new campaign staff: he seemed to lack the ability to take in third-party information. Or maybe he lacked the interest; whichever, he seemed almost phobic about having formal demands on his attention. He stonewalled every written page and balked at every explanation. "He's a guy who really hated school," said Bannon. "And he's not going to start liking it now."
This is not a book about policy. It is portrait of a White House as a theater of political warfare, a candidate who never really wanted or expected to be president and a president who is not only completely out of his depth, but who shows not only no capacity, but no interest in learning to swim. Even the people who work for him see him as unintelligent, narcissistic, incurious, and lazy. They even suggest he is losing his grip on reality, presuming he ever had one. It is certainly entertaining, the bits about Trump's TV addiction, how he manages to cover his bald pate, and his pettiness about not wanting the cleaning staff to pick up his clothes from the floor. I mean, really, is he ashamed of being seen as a slob? Eating burgers in bed in front of the TV will probably gain him more support than criticism. I mean, even I can get on board with that, and I do not have a kind view of the man. But the more serious element is his mental fitness, and the danger this presents to us all.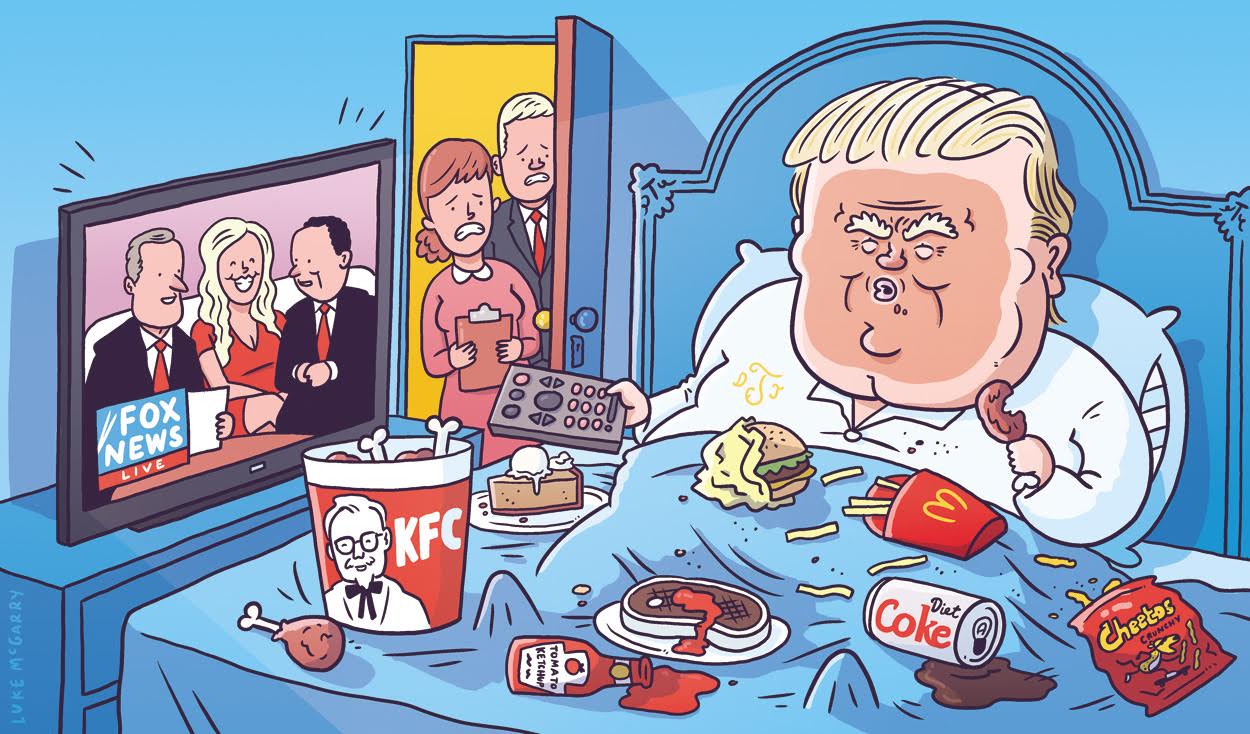 image from Wolff's Twitter feed, citing the Hollywood Reporter
There is zero chance that the Republican Party will allow their sitting president, however damaged or corrupt he is, to be removed from office under the 25th Amendment. The best chance for his leaving office is for him to suffer a serious physical health crisis, which might force him to resign. As an older, overweight, out of shape man, this is not far-fetched. Even with a Democratically controlled Congress in January 2019, there is no guarantee that the Senate would come up with the sixty-seven votes needed to convict. The significance of this is that until Donald John Trump is removed from the presidency, by impeachment, ill-health, death, or being voted out of office in 2020, we are all at risk.
Michael Wolff's Fire and Fury is an air-raid siren warning us all of peril, real and potential. It is must-read material for every American. When the GOP stands in the way of investigations into the administration, they are supporting a president who is unable to function at the needed level, a president who is uninterested in the details of governance, a president who is not in control of himself, a president who places not only himself, but the nation, and the entire world at risk. You need to know what they are protecting. It doesn't take a stable genius to know that you should be afraid, very afraid. As Dubyah said, "That's some weird shit."
Published – January 9, 2018
Review first Posted – January 12, 2018
This review has been cross-posted on GoodReads
=======================================EXTRA STUFF
The author's Twitter page
Here's a book that might come in handy – The Case for Impeachment
I came across this Huff-Po piece in my travels, after I had written the body of my review, buh-leev me. I was looking for images of the rulers of Trumpistan as GoT characters, when I came across this wonderful article by David Moye. I disagree with most of the assignments he shows, (for example, DJT is nowhere smart enough to be The Night King, or Tyrion Lanister) but had to pinch his Joffrey/Trump image for my central trope. I came up with DJT as JB on my own, before reading this, really, really. I swear. Check out the article. Donald Trump is America's Joffrey Baratheon
The Trump as a Super-Villain trope brought this fun series of faux comic book covers – Trump battles Marvel and DC superheroes on Looper.com
Just in case you missed the link in the body of the review, you ABSOLUTELY MUST SEE this video, from The Jimmy Kimmel Show – Trumped
A response from The Author's Guild to Trump's attempt to stop publication of Fire and Fury
On Thursday, January 11, 2018, as I was preparing this review, the Washington Post printed a story that was alarming in the usual way, Trump attacks protections for immigrants from 'shithole' countries. Even if a person thinks in such an ignorant and bigoted way, and Swamp Thing clearly does, how addled do you have to be to allow yourself to speak such a thing aloud in a quotable venue? It is amazing he has any toes left given how many times he has shot himself in the foot. And tomorrow it will be another daily outrage.
1/13/18 – NY Times – Mr. President, Your Toga Is Showing – Christopher Buckley's delicious comparison of Swamp Thing with a Roman Emperor of low repute – Can Incitatus be far behind?
1/17/18 – NY Magazine – Fire and Fury Began After Trump Saw Wolff Ripping Media on CNN – by Adam K. Raymond
—–March 30, 2018 – New York Magazine – a catalog (partial, for sure) of the conflicts of interest and downright corruption of this administration – 501 Days in Swampland – by Joy Crane and Nick Tabor – Introduction by David Cay Johnston

Gotta love the illustration that accompanies the above piece
—–Madeline Albright's book, Fascism: A Warning, is definitely worth a look
—– July 19, 2018 – From Greatist, The Best Way to Identify a Narcissist (and How to Handle Them) – by Sabrina Weiss – relevant not just for those who have to cope with the giant ego in the Oval
—–July 3, 2020 – Independent – Trump has a plan to stay in the White House if he loses election, former senator says by Graig Graziosi – details of one way he might try to do this
—–January 6, 2021 – The Lincoln Project – Bloodlines